Before I begin, I asked a couple of posts ago if you ever go back to a blog post you've commented on to see if the blogger has replied to you in the comments. The overwhelming response was "no, never". Ladies who do reply to comments in their own comments - maybe you could consider replying by email instead as I fear no-one is ever seeing your replies and people think they're just being ignored.
I've have entered myself in so many challenges that a round up post would be very long and rambling. I've split my challenges up into related groups instead. First up is Needlequest and Year of Samplers
The quest for the month was the design focus of Japan. I chose to try my hand at some more Sashiko. To be honest, I wasn't going to join in this month as I didn't have any inspiration, then the Year of Samplers was announced - March was to be Sashiko, perfect! I invested in some Sashiko cloth, threads and needles, downloaded some patterns from about.com and got to work...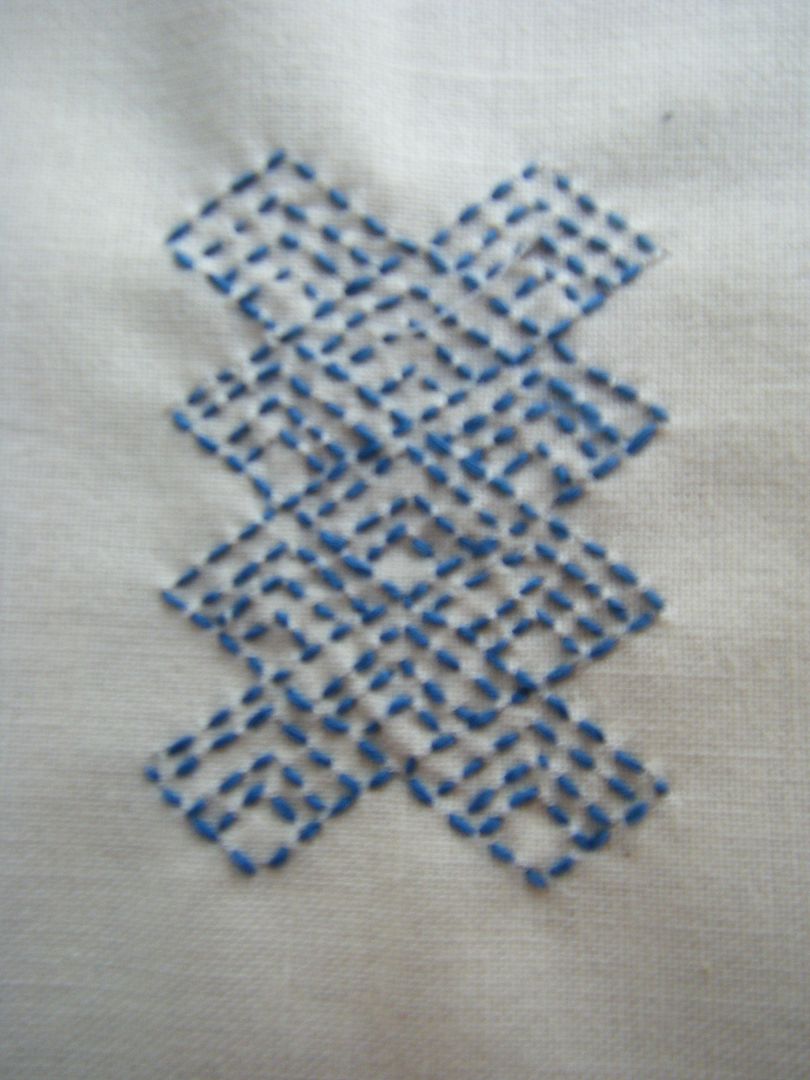 It's not looking good is it? I think the main problem was the size, I printed the patterns off with 8 to a sheet, so this is only about 8cm high.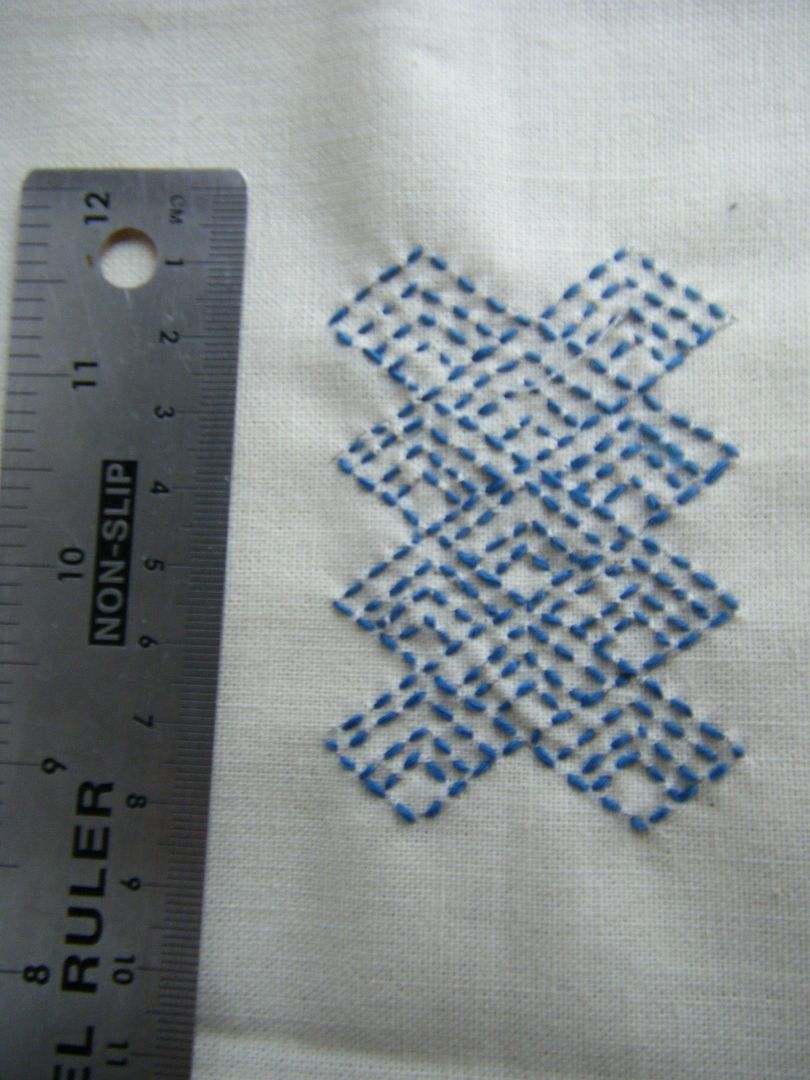 It was definitely too small. I printed off the patterns again, 2 to a page this time... much better!
This was the next pattern I attempted. It's not perfect, not by a long shot, but I started to get into a rhythm and my stitches became more regular as I worked.
Here is the first pattern next to the second. See the difference! No wonder I was struggling. I mentioned that I'd bought some specific Sashiko supplies, they weren't expensive so I thought I should give them a go.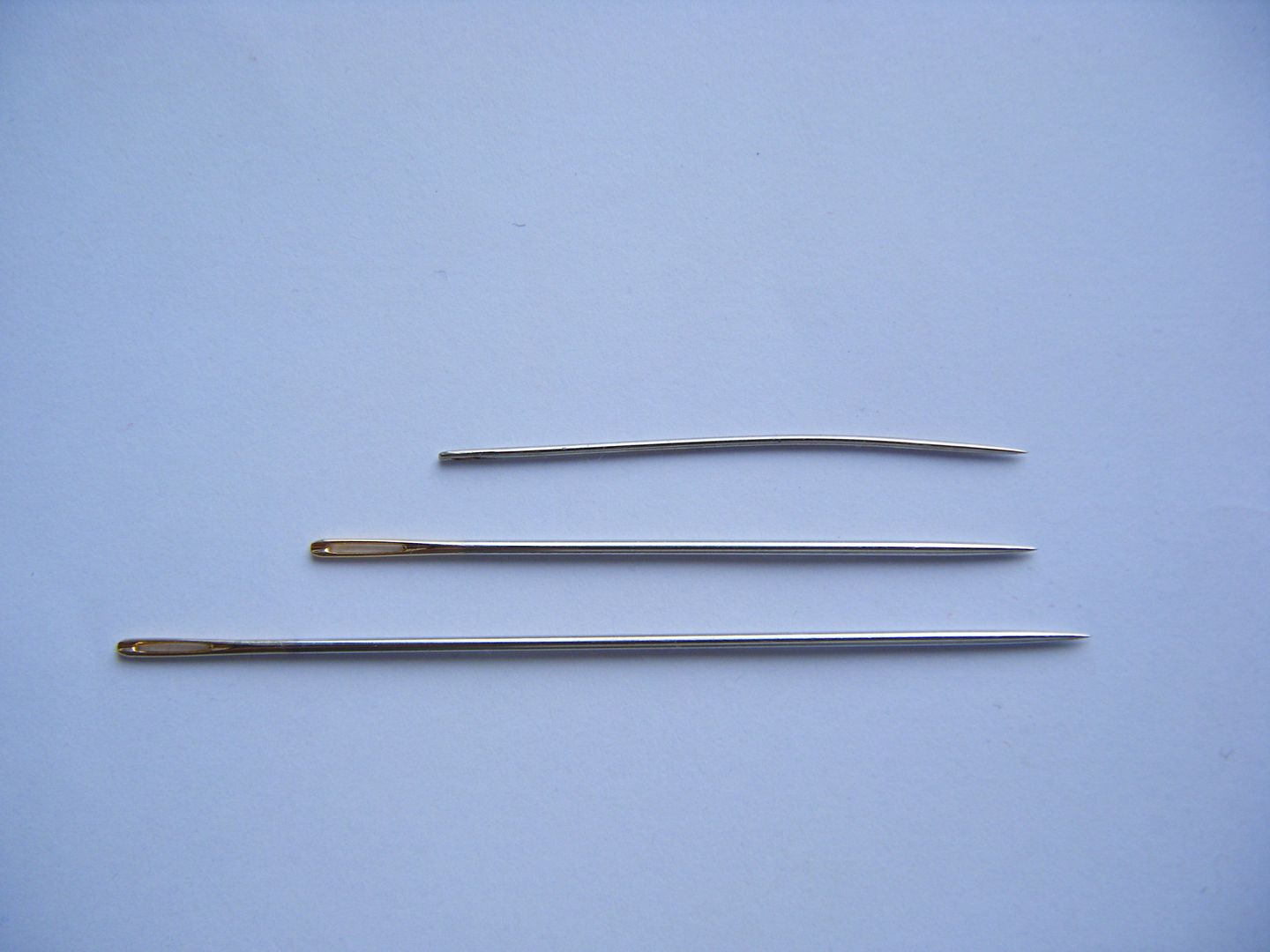 The top needle is a normal, regular embroidery needle. I know they have names and sizes, but I'm not great with all that, it's just a normal size needle! The other two are Sashiko needles. They are so long so you can load up the stitches. Sashiko isn't worked in a hoop, but in hand which was tricky at first for this frame-loving embroiderer. The needles are also much thicker which frustrated me at first, but I soon got used to it. I used the shorter one for the tiny piece and swapped to the longer one for the rest.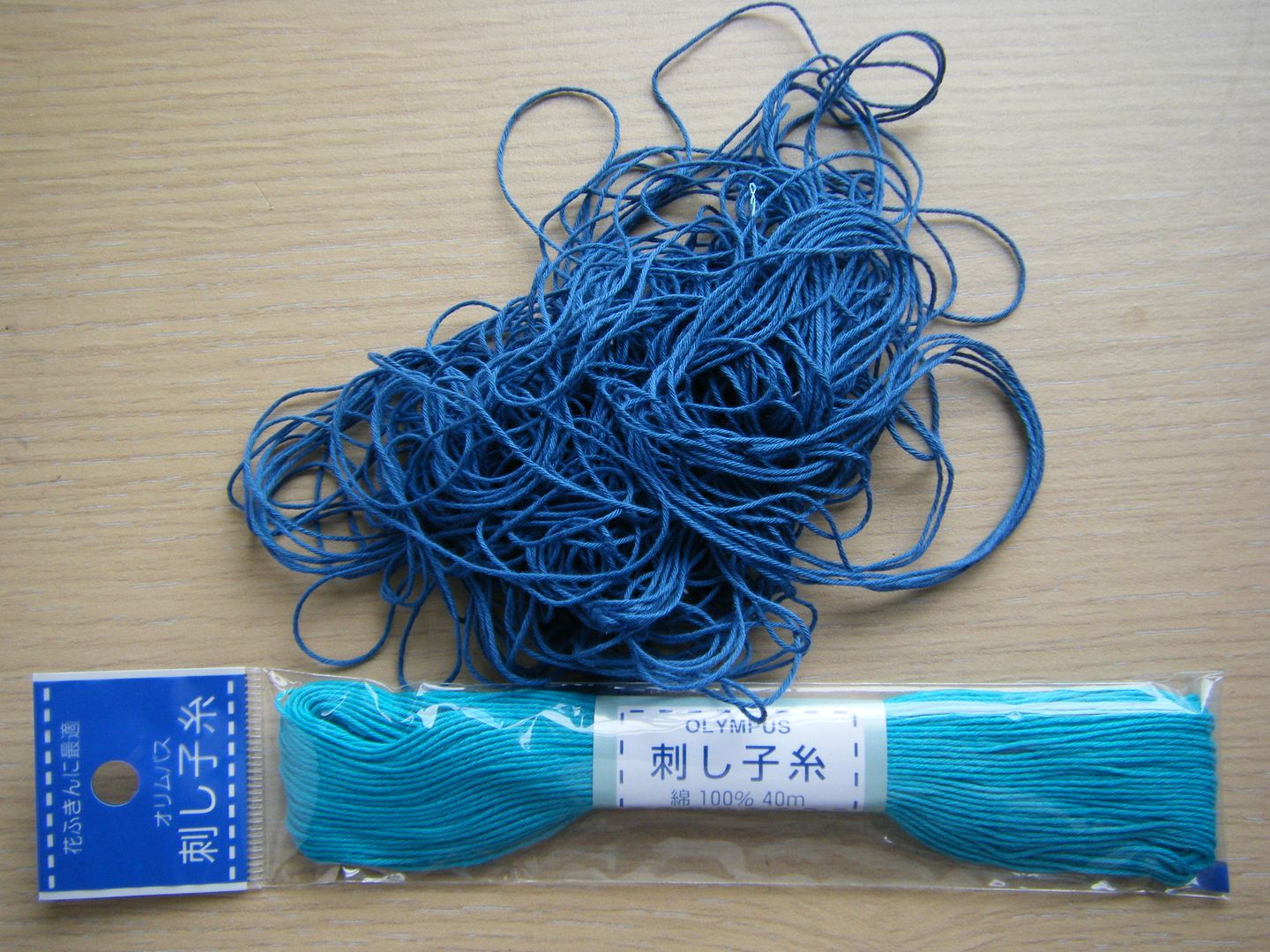 This is Sashiko thread, it's called Olympus and appears to actually come from Japan. Under that label, the two ends are knotted together, you have to undo them, but then can't get the skein back in the wrapper, hence the massive tangled mess!
Here's a quick comparison. The far left is 1 strand of embroidery floss. next is all 6 strands, the Sashiko is the middle thread then there's Perle 5 and Perle 8. It seems to be made of cotton and is very soft, but pretty strong. It's non-divisible.
I enjoyed stitching so much, I completed 6 squares. I'm not sure what this will be, perhaps a cushion cover, unless I can think of something else.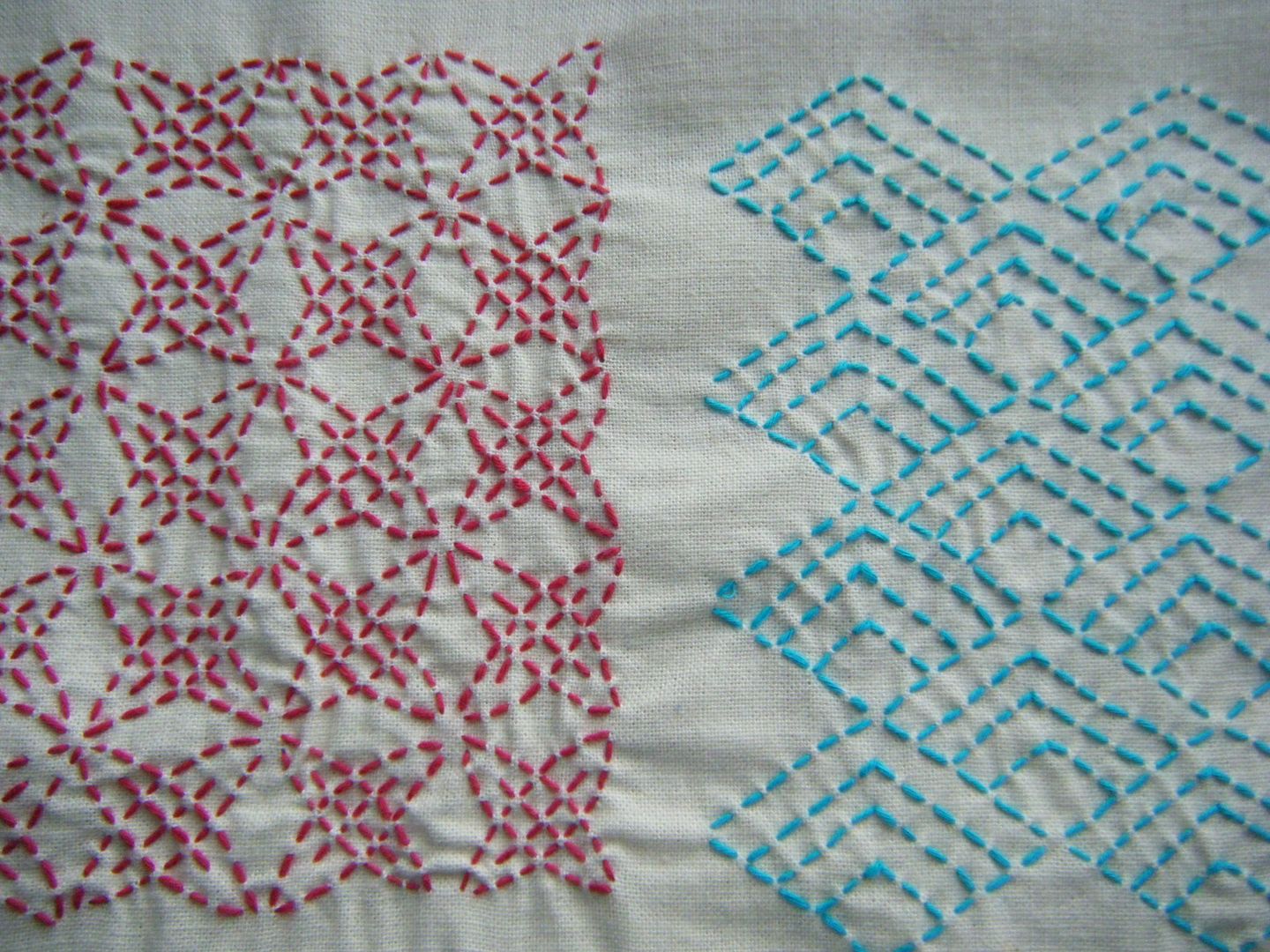 I was trying to stitch logically and work in long areas to maximise the loading of the needle. It was quite a challenge at times and I'd find I'd missed a couple of stitches in the middle of a stitched area.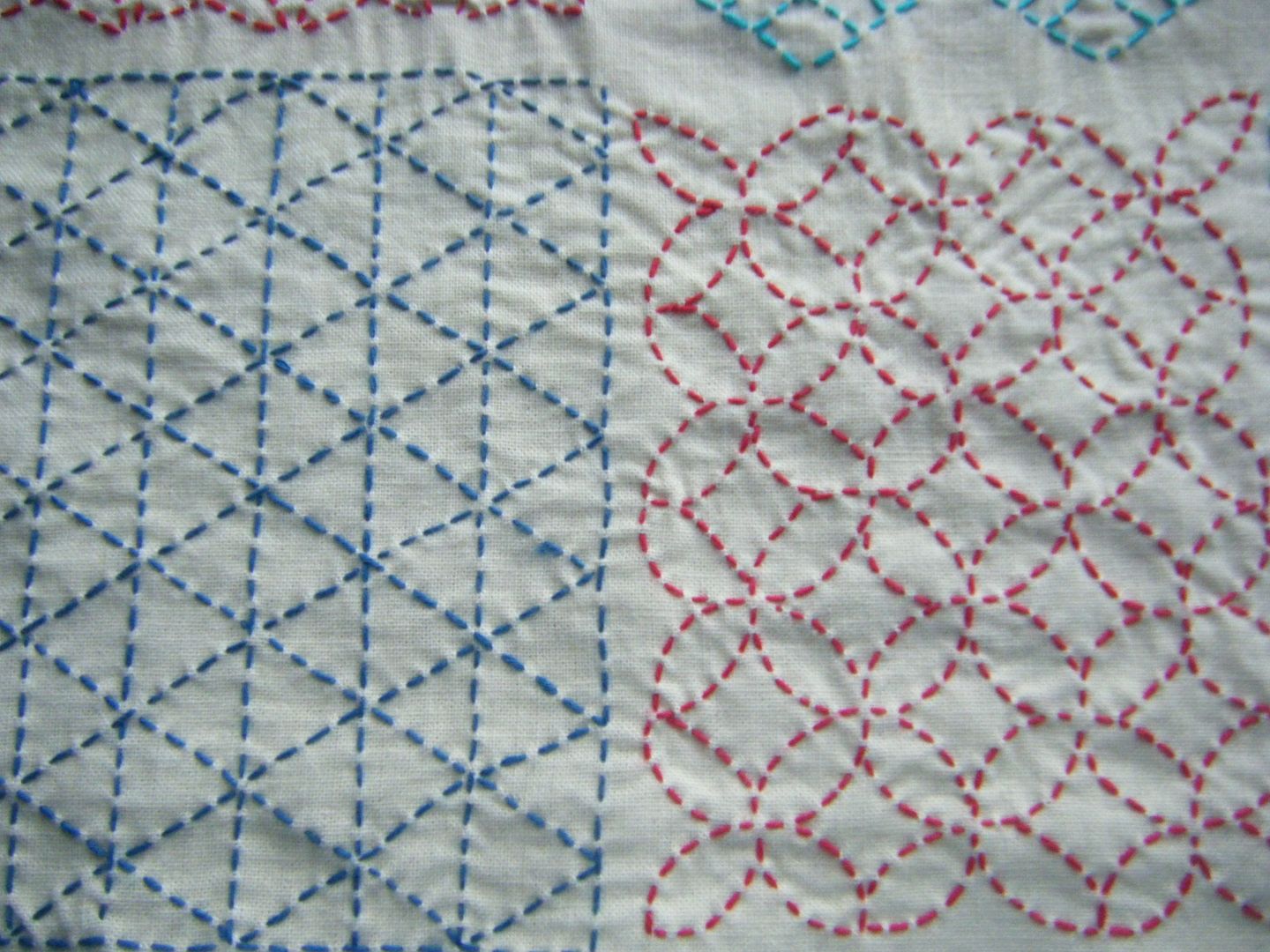 The dark blue was the first one of this set I stitched, followed by this red one. I perhaps should have practiced more with straight patterns before moving onto one with curves, but I actually enjoyed stitching the red one above most.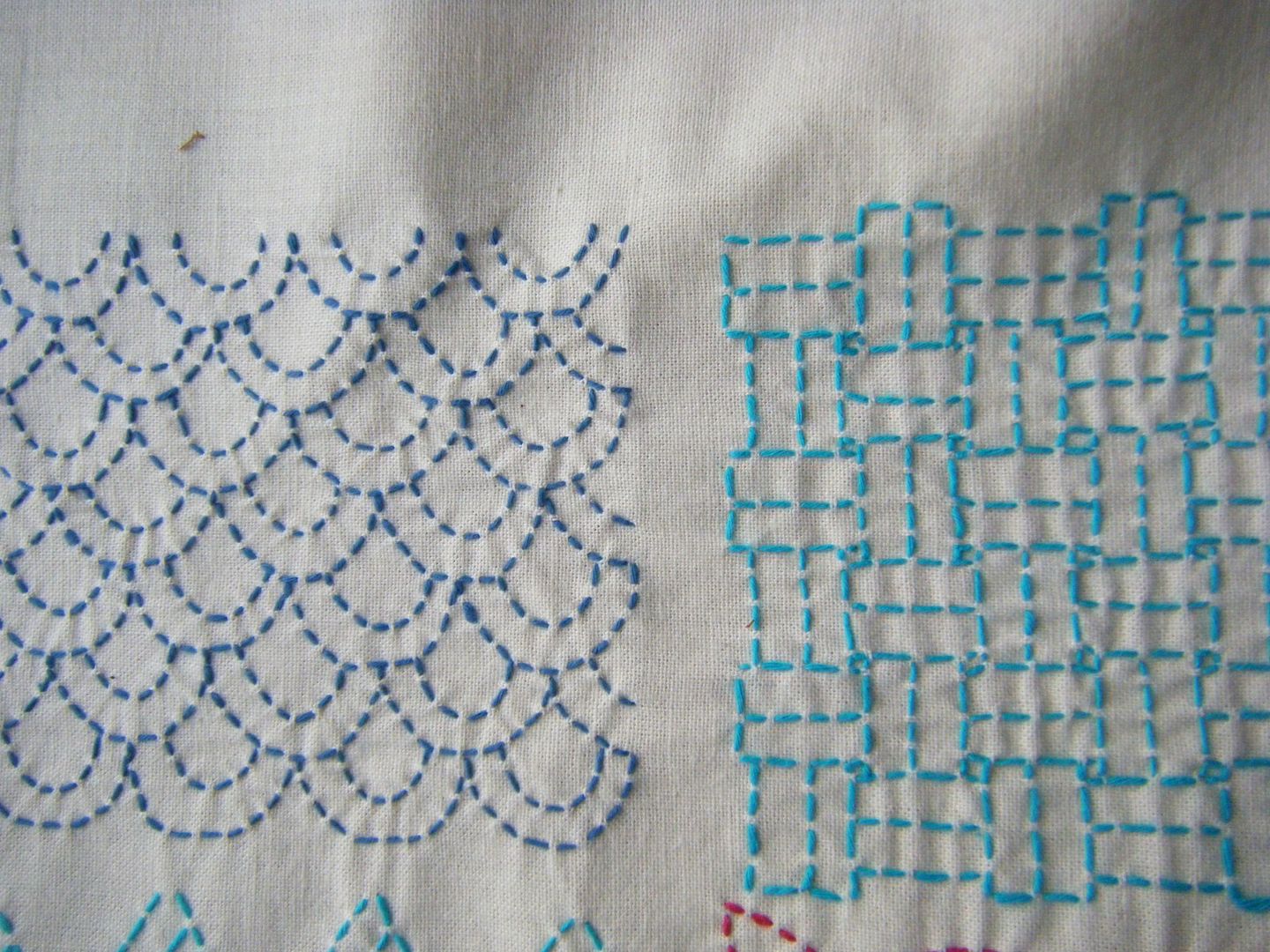 These were the last two I stitched and the best examples of how my stitching became more regular. I'm certainly no pro, but they do look better than my first attempts. This photo is upside down!
I was trying to keep the back as neat as possible so there were no shadows from trailing threads on the front. This is probably the neatest back of a piece of embroidery I've ever done.]
I am pleased I got this finished (though not made up) by the end of the month as I still haven't finished January's Needlequest piece and I suspect March's theme (goldwork) won't neatly tie up with the Year of Samplers (don't know what it is yet) and I don't want too many new WIPs!