I would like to finish my WIPs this year. I know that I'll start new projects, and some of them will become WIPs, others will get finished. That's OK, I just want to make sure these particular WIPs are done by the end of the year. I'm going to make this a page on my blog so I can keep an eye on it. I'd like to join in a WIP challenge, so if anyone sees any, let me know!
Quilting
1. I made this orange peel quilt in a QAL back in 2014! It needs backing, basting and quilting.
2. This is the second quilt in my Silent Scream series. I need to finish improv piecing it, then back, baste and quilt.
3. I started this polaroid bunny quilt back in October from the large collection of bunny fabric I have amassed. It needs lots of blocks making before it can be a full quilt.
4. These are the mini-bee blocks I collected to make a quilt for Siblings Together. I didn't get a chance to do this last year as I was too ill at the time, so I will get it ready for this summer.
5. I started a medallion quilt with these New York Beautify Flying Gueese wedges. The curved piecing is not going well so it stalled...
6. I finished this And Sew On quilt back in 2013! Except I never really finished it... I never quilted the actual blocks and they do need it. It's time!
Sewing
7. I started making a top, my first. I intend to finish it!
8. Not technically a WIP as I haven't started it... I did buy the fabric for it so want to get this bunny kit made up.
9. Similarly, this Alfie Lapin clothes kit is all ready to go and I bought the fabric to make the bunny. I didn't need the pattern as I made a Luna, but then I got the book for Christmas! Lots of Luna clothes coming up...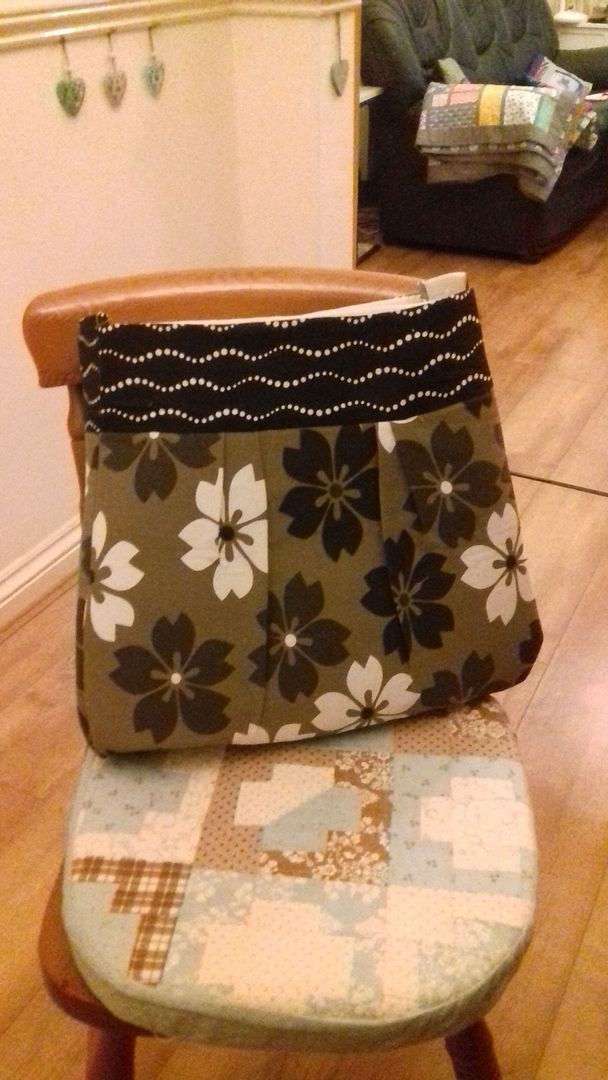 10. I began working on this bag over Christmas, I haven't posted about it yet. I want to get it finished asap as the zip broke on my usual bag and I'm using an old one which only has 1 pocket! 1 pocket! What's the point in that?
Embroidery
11. We took a Casalguidi class in June, I need to finish the class piece. It's the woven picots that are putting me off, they're so boring!
12. Slightly cheating here! This Mellerstain Parrots crewel piece is my current project for the SAL, so it's very likely to get done!
13. I started this goldwork brooch at the Knitting and Stitching show in November, it shouldn't take long to finish it and make the second one that I bought the metal threads for.
14. This needlelace bird is from a class in April or May. I really need to finish it, but it might take some research to find out what to do!
15. This Broderie Anglaise piece is from the Knitting and Stitching show, so not an old one. It will take a lot of work to finish this!
16. I started this Pulled Thread piece in November at the RSN. Such a shame I was so ill and upset at the time, though hopefully we will take another class there. Anyway, I like the piece and it came with great instructions so I'll get this one done too.
Misc