I have had some brilliant post recently! First up was a parcel from my lovely bloggy friend Nancy. Before Christmas I was moaning on my blog about how I couldn't find any sewable vinyl. My other lovely bloggy friend Sandra offered to send me some. Of Nancy's vinyl! Oh yes, Sandra is definitely a cheeky one!
Well, Canada post took it's time, and I'm sure the Royal Mail had hold of it for a while too before they deigned to deliver it to me, but it was well worth the weight. Besides the vinyl (which would not photograph well - all that being clear doesn't bode well for an amateur photographer like me!) she included 3 gorgeous fat quarters of Fig Tree Designs for Moda fabric, I've been lusting over that range (and all the Fig Tree Design ranges actually) recently! Also enclosed was a card with a picture of Nancy (!) and this gorgeous book thong by Sandra. That word - thong - always makes me laugh. It has such knickery connotations in the UK!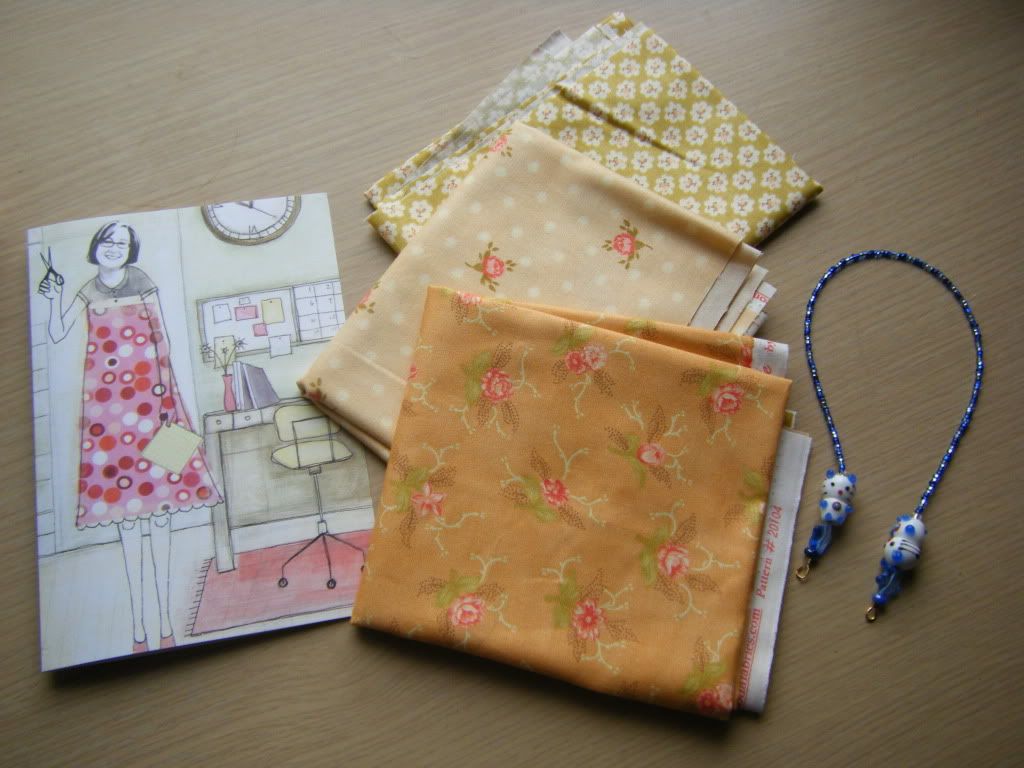 Thanks Nancy and Sandra, you're both stars!
Next up to arrive was the giveaway I won at Follow the White Bunny. Check out these cute Saffron Craig fabrics! Parts of some of them have already been used! Come back next week if you want to find out what I used them for.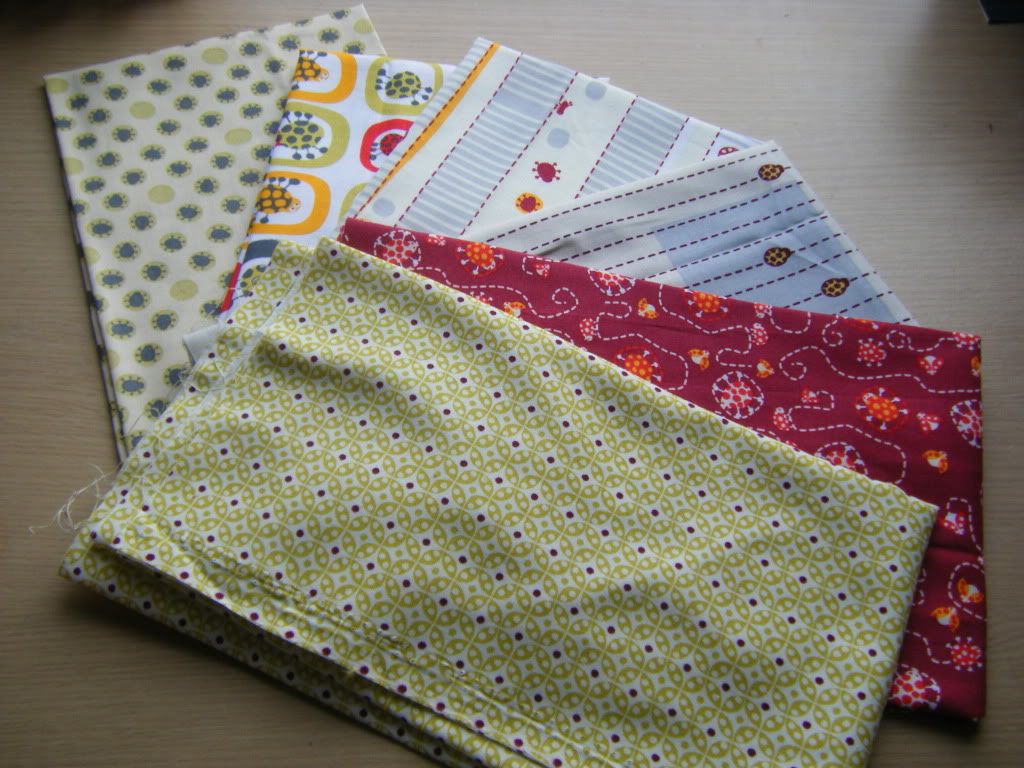 The third piece of yummy mail was a layer cake of Bliss. Yes, that's right. I gave in and bought it. I just love it so much and it's rare over here, especially as we don't really have LQSs. It's sitting in my sewing room, being admired (by me). I will be using it to make a sewing machine cover / thread catcher / pincushion. The pattern was in Homespun and I'll post a link when I've made them. I wanted to be able to see this fabric all the time so something for my sewing table is perfect (and gives me a good excuse to bring the machine down to the newly decorated dining room - the room that's been a building site for over 3 years but isn't anymore!!). Second up with the Bliss will be some kind of diary / organiser which I'm still designing in my head right now.
The forth piece of posted excitement should be my win from Kite & String - a fab bag pattern and fabric... I'm very excited about this one.
Fifthly, oh yes, it goes on, I'm awaiting ANOTHER giveaway prize (how lucky am I??) from the lovely Tezzcan. I won a charm pack of Moda Hideaway. This fabric was new to me so I looked it up on United Notions and I love it!
Finally... (possibly)... I gave in and ordered the Bag Making Bible. I've broken my Craft Book Challenge promise but I had to have it. It was a matter of life or death. Well actually it wasn't, but I bought it anyway!!
All these giveaway wins (that's five in total!) have inspired me. I'll be going to the Hobby and Stitch show at Birmingham NEC at the end of the month and I'm going to pick up a little giveaway prize... then I just decide when I want to give it away. Not when I get to 100 posts as that will be before the show! Maybe 100 followers... but you could be waiting a long time and I don't want to say "become a follower for an extra chance" as I don't want gratuitous followers - I only want followers who enjoy my blog, not ones who read it to win something. Aha, I think I've thought of something to celebrate, you'll have to wait and see...