When I showed you my Union Flag cushion, I pointed out that I'd pieced the blue block rather haphazardly and that it only occurred* to me later that I could have done a pinwheel block. I rather fancied a pinwheel block and I knew I had to get cracking on some Christmas presents so I cracked open my layer cake of Petite Ecole and using
this tutorial
at Modify Tradition I started cutting. I made a test block first. It doesn't meet very well in the middle, but hey, it's my first one!
*occurred is one of the words that I just can't spell. I have no idea if this is right.
Test block done I started by cutting my squares, I did them 5" to make the most of my layer cake. Then I pinned them all. I had to draw the line in disappearing ink as I went along as it kept disappearing!
With the squares sewn down the middle, I cut them in half to make my HSTs. Wahoo, I made HSTs!!
Then for the tedious part. Open 'em up and iron those seams flat. I hate this part!! Anyone got any tips for making it easier than having to prize each seam apart with my finger?
Ta da! Half an hour, a full water reserve of steam and lots of cursing later...
Here they are all trimmed and laid out with the trimmings. I hated trimming them almost as much as the ironing bit. Or maybe more. No, ironing was worse. I trimmed them down to 4.5 inches.
I matched them all up into a nice order, then I chain pieced them.
More tedious ironing! Anyone want to come and be my seam-ironer?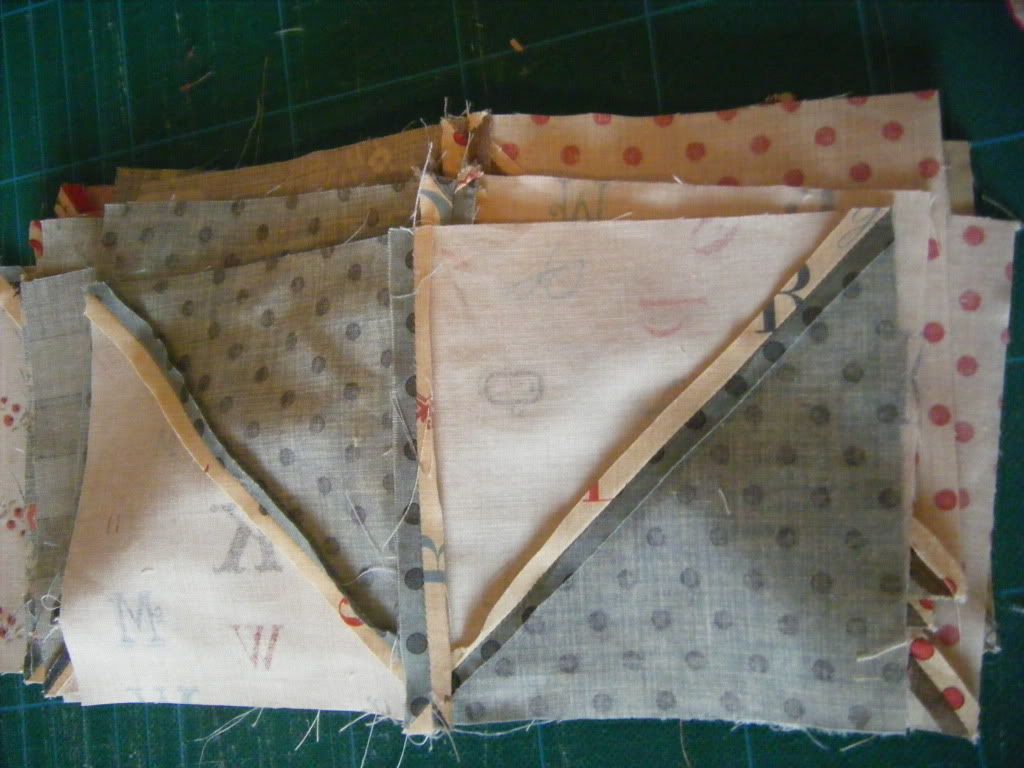 I then laid them all out to see what they looked like and make sure I had enough pairs.
Then I sewed them into blocks. It was not particularly successful. Here are all the blocks with points that don't match.
Want a closer look at my imperfections?
And here are the ones that do match! 5 of them. Yes, just 5.
But what was I making? A table runner, imperfect points and all, this will be a Christmas present! I've just got to wait for my quilting pins to arrive and I'll be backing and quilting and binding it. Yes, binding it. I'm scared!
P.S. there was more ironing of seams and trimming after the blocks were made, then more ironing when they were sewn in pairs, then more when I sewed the two columns together but it's tedious even typing about it.