Morning ladies. I'm up bright and early this Sunday morning. Well, it's 11:20 so fairly early for a bank holiday weekend and the start of two weeks off work! I also got confirmation of my trip, I'll only be going to China, not Japan, but it's still good news. I leave in 3 weeks time and I'll be there for 3 weeks. I'll be taking my work laptop with me so hopefully I'll still be around, though I don't know if I'll have anything to post about.
Oh, I mentioned last week I was going to see The Inbetweeners Movie - if any of you were thinking of seeing it, go! It's so funny.
So, what's this frustration I'm talking about? Well, one of my friends had a little baby boy back in March, I see him every Thursday in the cafe near work as she's a work colleague on maternity leave and comes back to meet me and another friend. He's teething at the minute and a bit cranky so needs his dummy but often spits it out (dummy is the UK word for pacifier and a much better one I think - I can't imagine a toddler saying the word "pacifier"!). If it goes on the floor, it's game over. I thought that one of these dummy clips I've seen around would be the ideal thing for him. He's too young to stuff it back in his mouth himself, but it'll stop it going on the floor.
I went to Hobbycraft for some crocodile clips but they don't sell them. I search the web, I found them in only one place on ebay and bought some. 3 bloody weeks they took to turn up.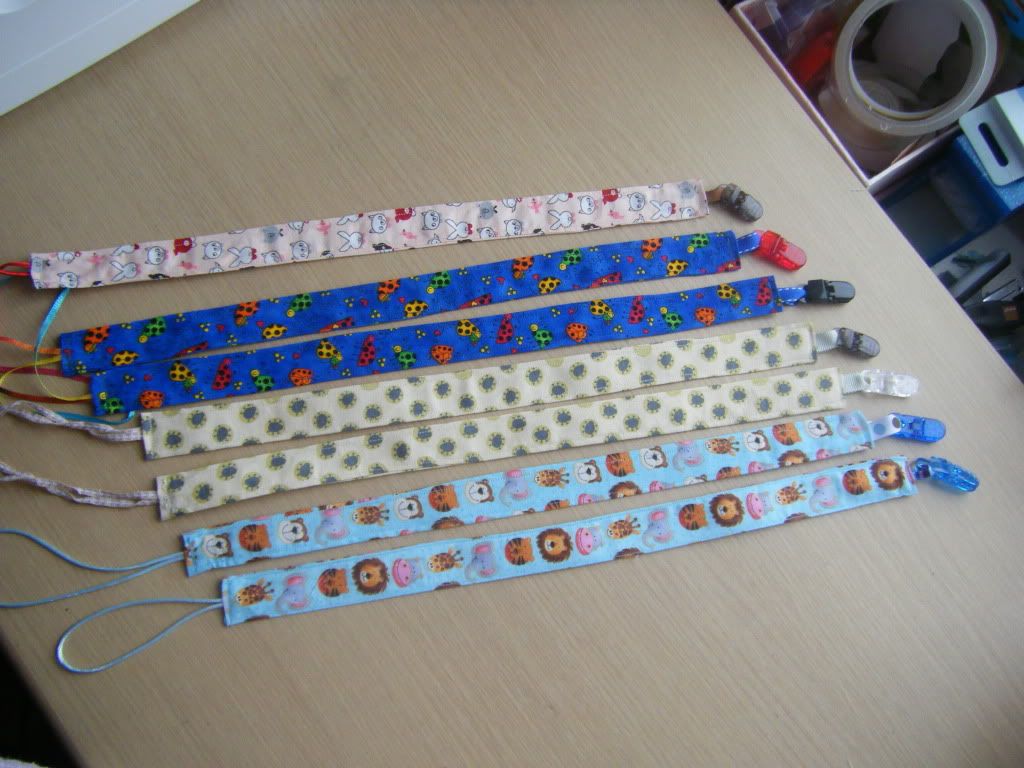 I made one of the blue ones with animals on it first and realised they were so quick and easy I'd whip up a few. One of the peachy coloured ones went wrong, the interfacing got snagged when I turned it and when I tried to pull it into place it tore.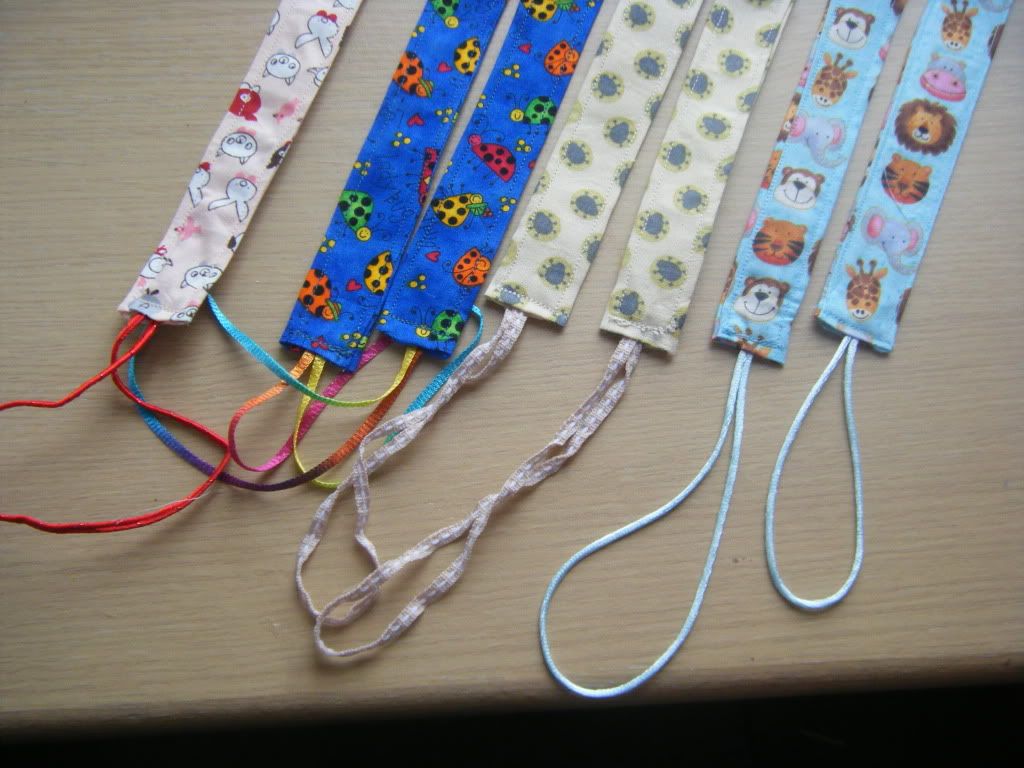 I didn't use a tutorial for this, I made it up myself but didn't take photographs as there are about a billion tutorials out there already. I used little loops of ribbon or cord for the dummy end - these will be looped through the dummy handle, then themselves to secure it.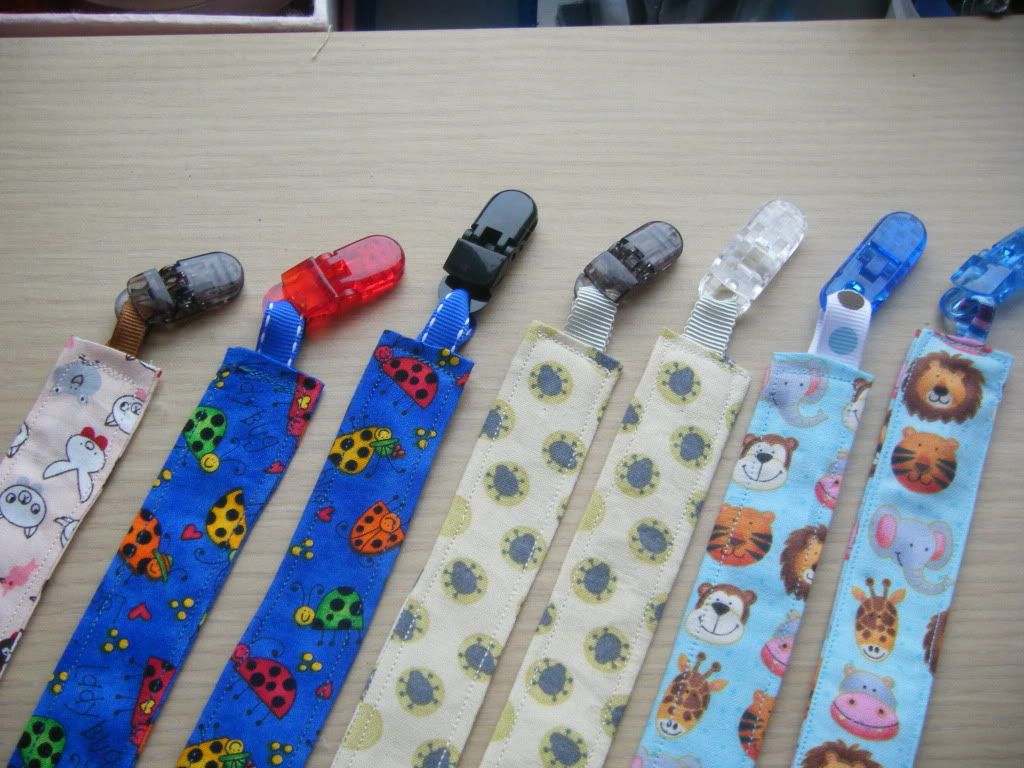 A tab of co-ordinating ribbon on the other end holds the clip in place. I thought I'd give baby Max a couple and put the rest in my shop. Unless anyone wants one?
Speaking of sending things to bloggy friends (a tenuous link I know!), I got two wonderful parcels this week. First up a swap with Jacey (Jacey, I can't find the link to your blog!) in Texas. We met in the comments section of someone else's blog and I sent her some English chocolate in exchange for some American sweets. She sent me a family bag of Twizzlers - my favourites, and some cola bottles. Both packs are decimated so I can't show you a picture!
The second parcel was from the lovely Susan who blogs at Canadian Abroad. If you haven't met Susan, go over and see her. She blogs every day and is a prolific sewist. She'd asked if anyone wanted some fabrics she'd bought early on in her sewing journey and considered to be ugly! I thought they were beautiful and snapped them right up! What do you think:
Thanks so much Susan! Now I just have to work out what to send you in return... It might be after my trip to China so please don't think I've forgotten you. Nor you
Allie
, just got the buttons to sew on and your seat belt cosies will be with you. I apologise for the delay, I blame the stealing of my mojo which recently occured.
Speaking of my mojo (wow, I could write Dave's Tedious Links - a small Radio One reference for you Brits there), I think it's back. I've been cross stitching up a storm, working on my giant granny and this afternoon, after I've spent some quality time with the rabbit's poo, I'll be sewing up these:
More fold away shopping bags, cut from a "vintage" sheet I found in a charity shop. I'm loathe to say it's vintage as I have no idea how old it is! It's just someone's cast off, but at £2.50 for a flat double sheet and 2 matching pillow cases I couldn't pass it up! One of these will be a birthday present and the other 3 will be Christmas presents - Allie, I will be joining in this month!
Is it wrong to make someone a birthday present/Christmas present from a thrifted sheet? Especially as the finished bag will have only cost me pence to make?