Oh yes, I am, famous that is! I got home from work, sorted out poorly Tiff who'd been taken to the vet by my parents for an operation to sort out her overgrown teeth, then sat down with the latest issue of Simply Homemade which had been delivered. My plan for the evening was to work on my embroidery journal for January, but I can't see that happening now, I'm too excited! Flicking through the magazine I got to the page on "Crafty Blogs" and there I was! I'd love to show you a picture but I can't get to the desktop computer which is attached to the scanner at the minute as there are rabbits in the way so I'm on my laptop, I'll take a picture tomorrow though as I just know you're all dying to see (don't worry, I'm not that deluded, I know I'm the only person in the world who is excited about it - Mr CA was pretty taken aback though, I'm not even sure he knew I had a blog and he certainly doesn't know what it looks like or what one is!).
Now I'm here, I suppose I should show you some photos. Want to see my latest LANT? I've had a go at needlefelting. I'd bought the tools and then put them on a shelf. I also had some of the merino wool tops as I'd bought them to do some wet felting, which still hasn't happened, so I thought I'd experiment a little.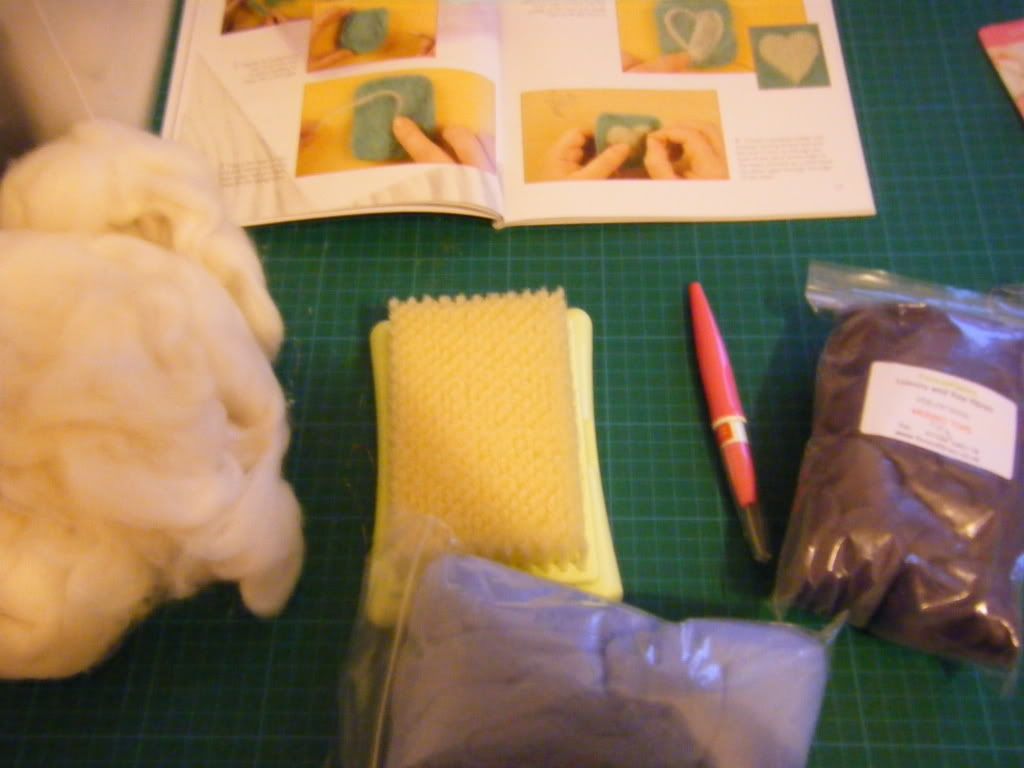 Here's my equipment - some wool felt, a brush pad thingy that I'm not convinced is the right tool for the job, a needle felting tool and the book "Beginner's Guide to Needle Felting" - so this qualifies as a Craft Book Challenge too.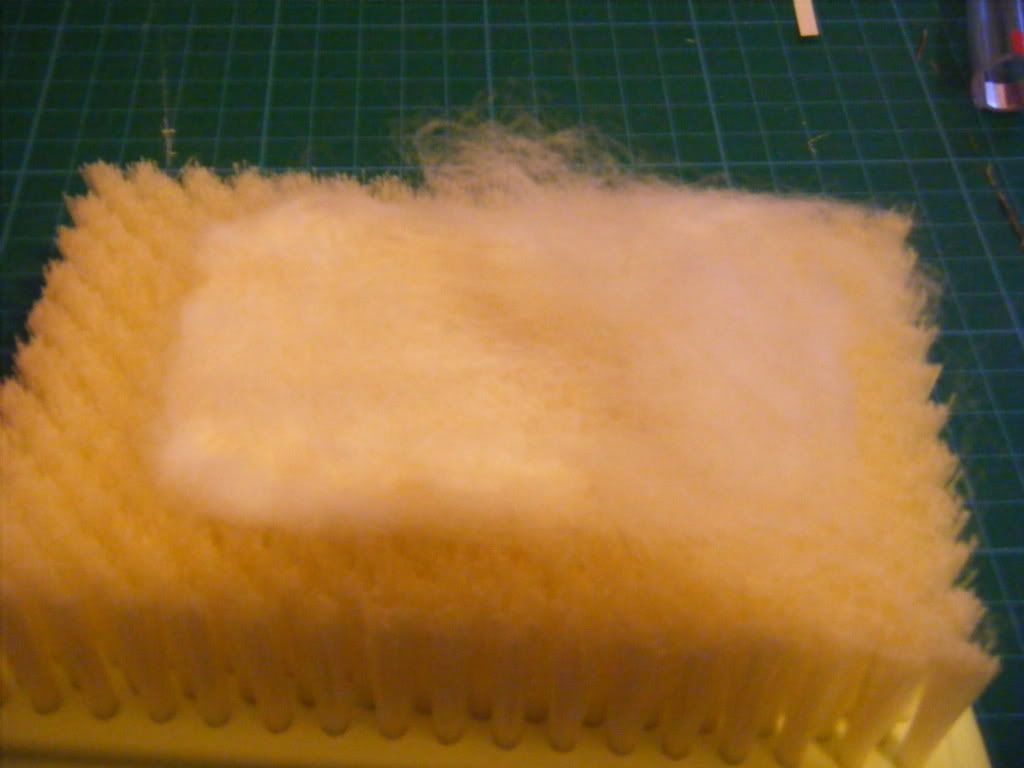 I put some wispy layers of white wool on the brush thing and jabbed away. Quite satisfying. I added some purple in an attempt to do a heart pattern.
Hm, not so sure about that border. So it was time for the second experiment. I'd bought some biscuit cutters in lieu of the very expensive needle felt moulds.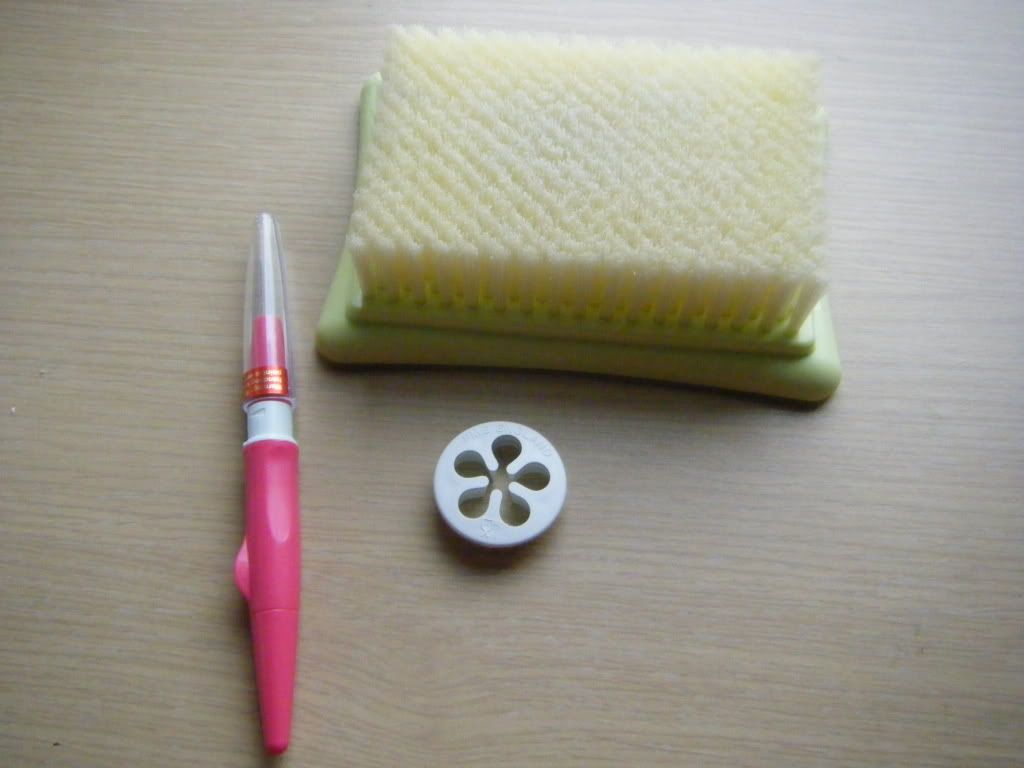 I pressed the biscuit cutter into the brush matt type thing and jabbed away. Jab, jabbity jab.
Needle felting only takes tiny amounts of wool, but I seemed to be putting half a sheep in this mould!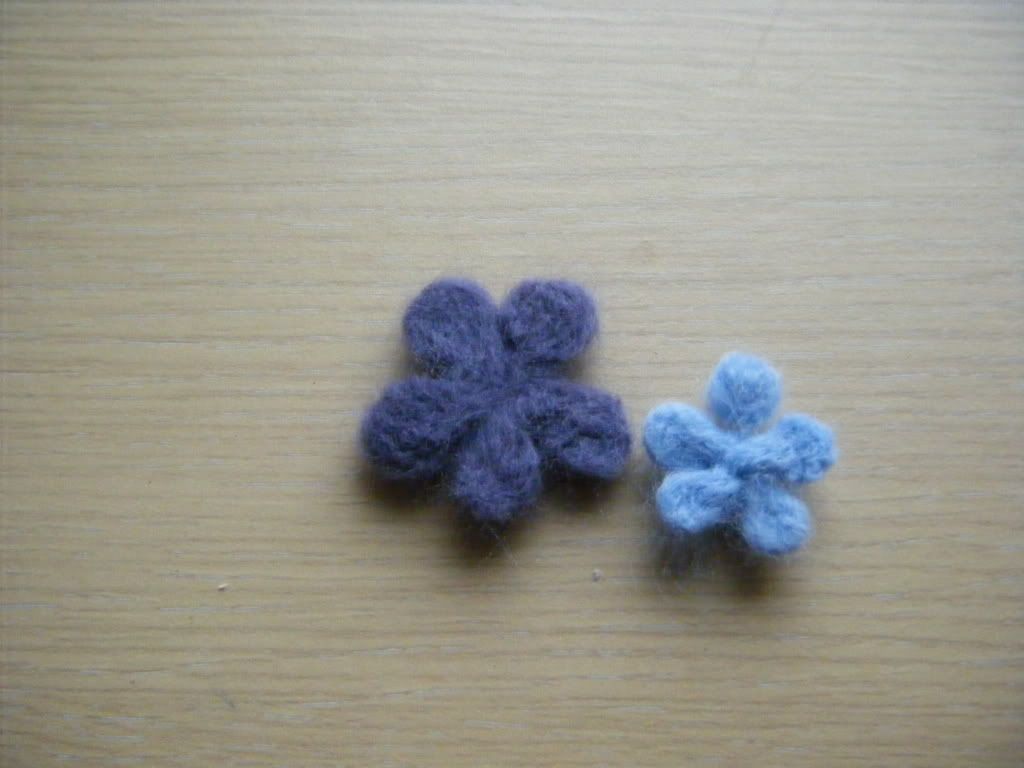 Ta-da! a couple of VERY thick flowers, one with a falling off petal. Hmm, not quite sure I'm getting this.
So I had a go at a free-hand heart. Yep, definitely not my forte! And the backs? Well, this is the reason I'm not sure the brush matt is the correct tool, the backs are really hairy:
I then thought I'd have a go at something like nuno needle felting. Now I have no idea if this actually exists, I suspect not, but my first go at felting was on a workshop for nuno felting which is a version of wet felting where you use a piece of muslim as a base. Have I spelt that right? I assure you it was a piece of cloth and not a person of faith. Anyway I cut a bit off one of my husband's old shirts (in my pile of old clothes which are waiting to be cut up and sewn with) and had a go at nuno needle felting.
Nope, don't think that working. At this point I got fed up and went downstairs, but I will not be beaten by bits of sheep and a sharp needle. I'll give 3d needle felting a go next - I mean, what's the point of being able to walk before you run??
Right, I'm off to bask in the glory of my fame, eat homemade fish and chips and go on and on and on about my magazine appearance to Mr CA. I've got a lovely weekend ahead, after taking Tiff for her post-op check up (not part of the lovely weekend) and shovellling half a ton of poo out of the dinning room (rabbit poo that is), I've got a full body massage to go to and a day out for lunch and the cinema to see The Help on Sunday with my mum - who I will bore silly with talk of my fame of course! I should be back over the weekend to show you my poor attempts at the TAST challenge week 1.