Good morning everyone. I've been threatening you for ages with a competition and now the time has finally arrived! Ladies and gentlemen, I proudly present...
I have very kindly been sent £10 worth of materials from Will at
Abakhan.
The aim of the challenge is to use those £10 worth of new materials along with "old" materials that I have to produce an entirely new item and I want you to join in!
The Challenge
You do not have to go out and purchase new materials! You can use materials from your stash, but just to be clear here - your stash counts as new. Old materials include old clothes, old bedding, an old jumper you've frogged for the yarn, an old piece of furniture, anything you like! As the emphasis is on combining old and new, I've set my limit for new materials at £10, you don't have to stick to this limit, I won't be coming round to check, but the idea is to not have "spent" too much (of new materials or from your stash" on this challenge - I wouldn't want to see a full-size quilt of new fabric with a small patch of an old shirt for example.
The Prize
You have just over a month - the deadline for entries is 30th June 2012.

Deadline extended to the 31st July!

There will be a prize. As this is open to international readers and as the Royal Mail has just hiked up their prices, I've decided the best way to reward you and not them is by sending you a voucher to your choice of online shop. The value will be £20 which is $30 US, €25, or 70 Papua New Guinian Kina.
I can only do this in countries where I am allowed to purchase in your currency via the internet using Paypal, if not, I will send you a voucher for a UK or US shop.
The prize winner will be chosen by Mr Random-Org, so each project means 1 entry, you can enter as many times as you like.
The Rules
1. It must have been made by you sometime between May 19th and July 31st
2. You must use "old" materials
3. You must use some new materials, but not excessive amounts
4. The deadline is midnight on 31h July 2012 UK time
5. The winner will be selected in the first week of August, I will email the winner so please make sure I have a way to contact you
6. Your item DOES NOT have to be sewn - you can use any craft medium from crochet and knitting to painting and drawing and anything in between
To Enter
Post a blog entry on your blog and put the link in the comments on THIS post, you must link back to this post in your entry. If you do not have a blog, you can post a link to a Flikr photo-set, please write about your project under the photo. No blog or Flickr? Email me (click on "view my full profile" in the top left of this page and it will bring up a link to email me), but don't forget to leave a comment as this is where I'll take the prize winner from.
Here's a button for you to use.

The lovely
Pam
has made me a grabbable button!! It's over there on the right hand side at the top, so please take one and display it on your blog to help me spread the word.
My Challenge
I will be playing along with you, though I won't be eligible to win! So, here is what I'm starting out with, these are my new materials all supplied by
Abakhan: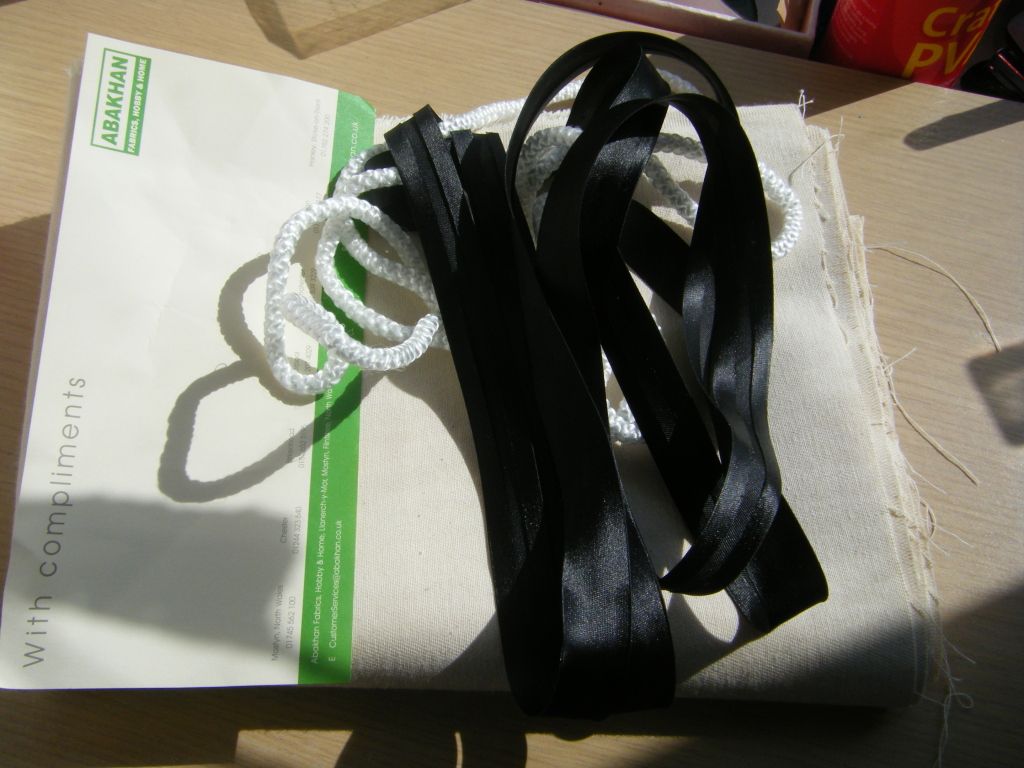 2m of denim drill
,
2m of black satin binding
and
2m of 6mm piping cord
. Below is a picture of my old, a ripped poof that I'm going to reupholster. I will be adding some further old materials to this in the form of old clothes, but you'll have to wait and see what I do!
For a little inspiration, here's a Something Old, Something New... project I did last weekend. A mat for my very messy, very drippy coffee machine.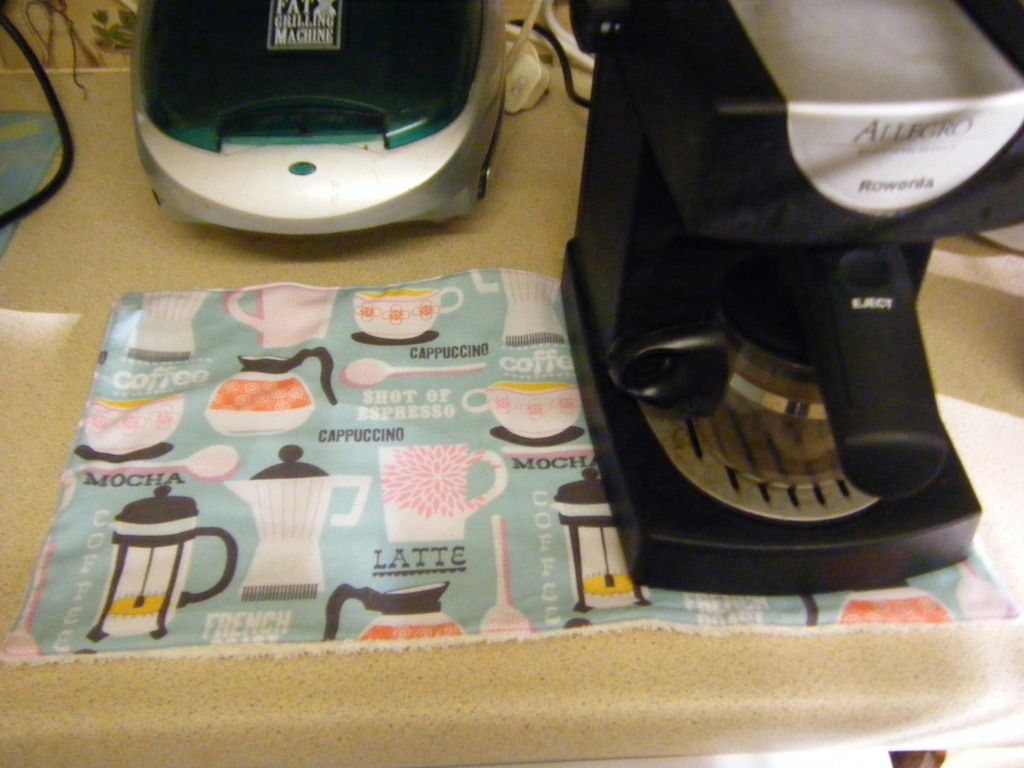 Here's what I used to use, an old tea-towel.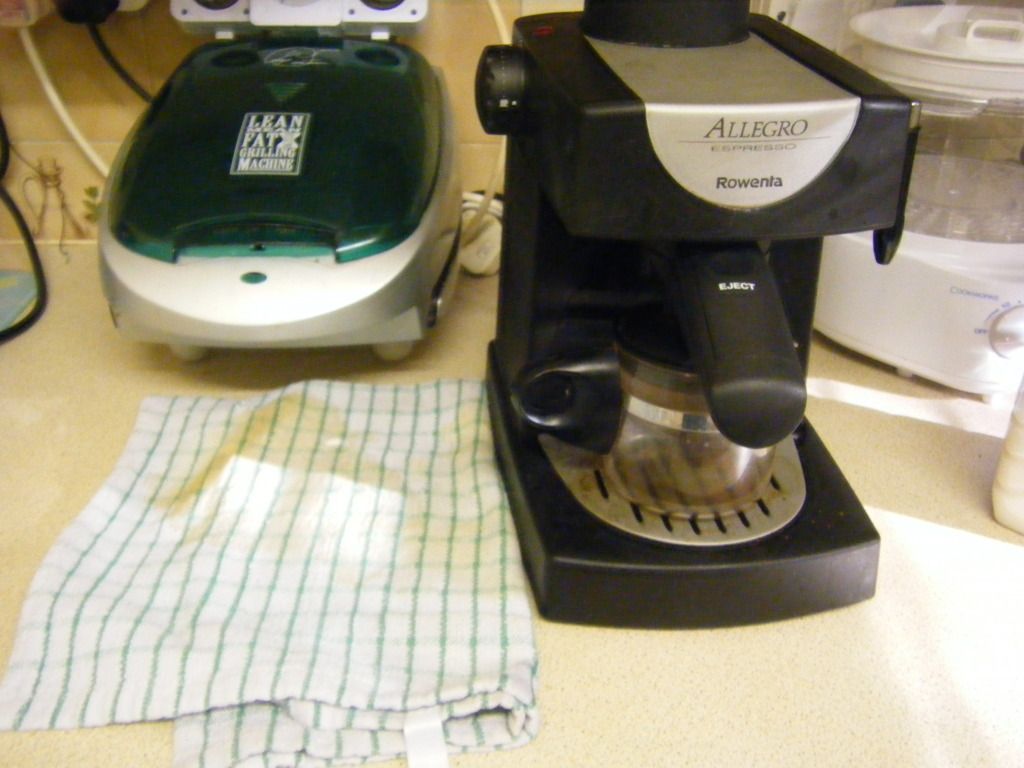 I used a piece of this gorgeous coffee fabric, I've completely forgotten who makes it! And 2 old face clothes that were still in a good condition, but were getting a little worn around the edges.
It was very simple to make, I joined the two washclothes, cut off all the hems (I did try unpicking but it was a bit of a nightmare), cut the joined washcloth to the same size as the fabric and sewed them rightsides together. I turned through and top stitched. It measures about 20 x 10 inches.
I have another 3 in the making, using more washclothes and an old teatowel, but the construction got delayed as I had a bit of a lace "issue". I'll post about it more when they're finished.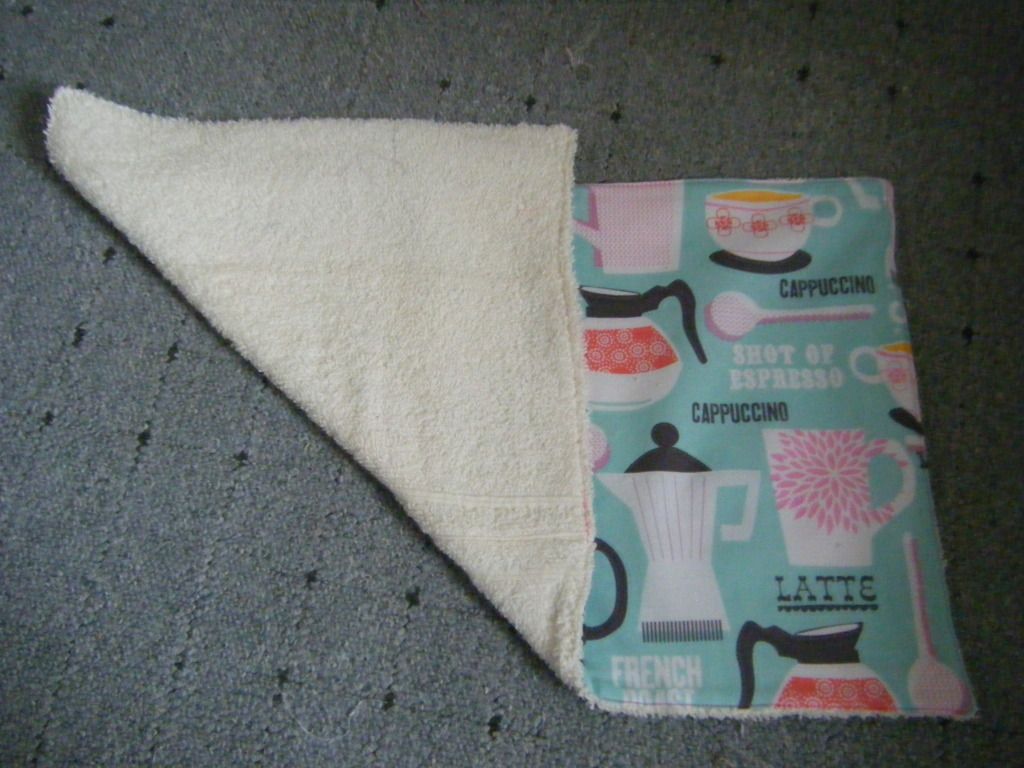 Much better!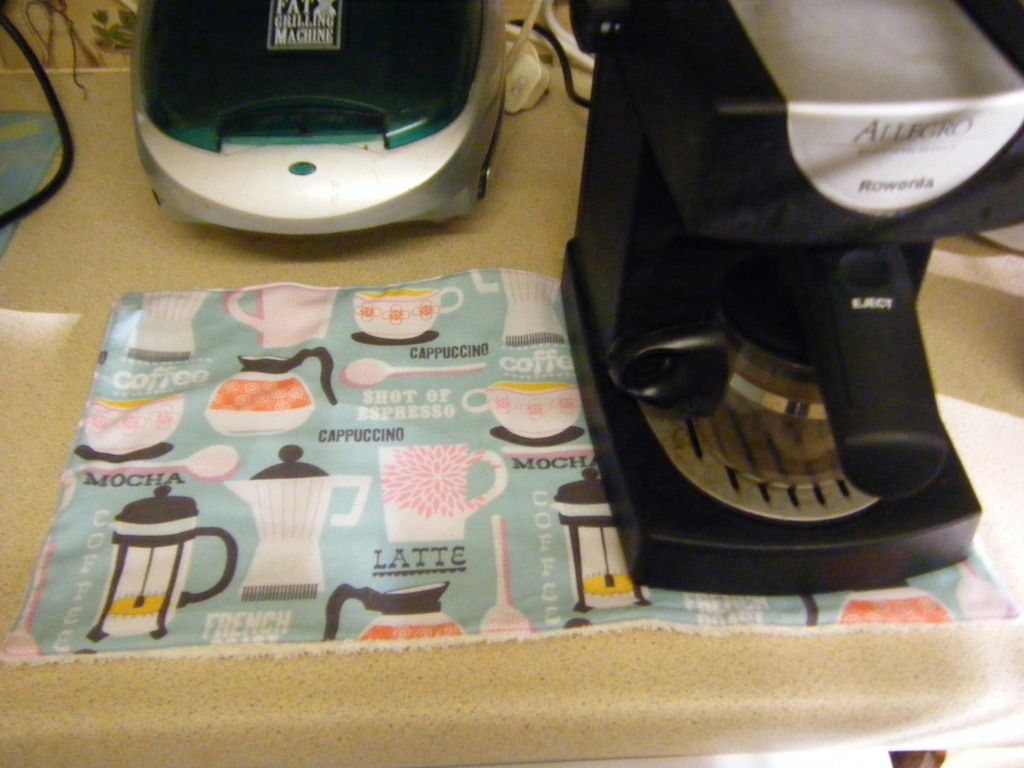 So ladies and gentlemen, get your thinking caps on, grab some old material and some "new" and get creating. Don't forget to comment here, one comment for each project, with a blog link, a Flickr link or a comment to say you've emailed me your project. I'll show all emailed projects on my blog.
P.S. You can also leave a non-competition comment if you like, I'll only count the actual competition ones when I do the drawing.