Good afternoon ladies. Well, I seem to have eaten my own bodyweight in food this weekend. Ooops... I should probably go and do some exercise to burn it of... or I could sit here looking at blogs and eating chocolate. What do you say? Yes, you're right, it is Sunday evening and clearly the best course of action is to carry on eating so my body won't think that I'm starving and start conserving the pounds. Let the eating continue!
Anyway, what did I come over here to write about, I don't think it was my flabby bum... Oh yes, that was it, glass. So, this Wednesday will be week 4 of my glass class. I
showed you
my design for the panel above my door, well I started working on it last week. I cut some base glass for the fusing and started cutting the coloured glass but, apart from cutting myself twice in almost the same place and not even noticing, I didn't get much done. I was going to take photos for you but it's just pieces of glass and I didn't think you would be interested.
I thought you might be interested in seeing what I did in my first week though? I made a fused glass bowl by layering smashed pieces of blue and purple glass on a white base piece and putting it into a round form before putting it in the kiln. I collected it on Wednesday...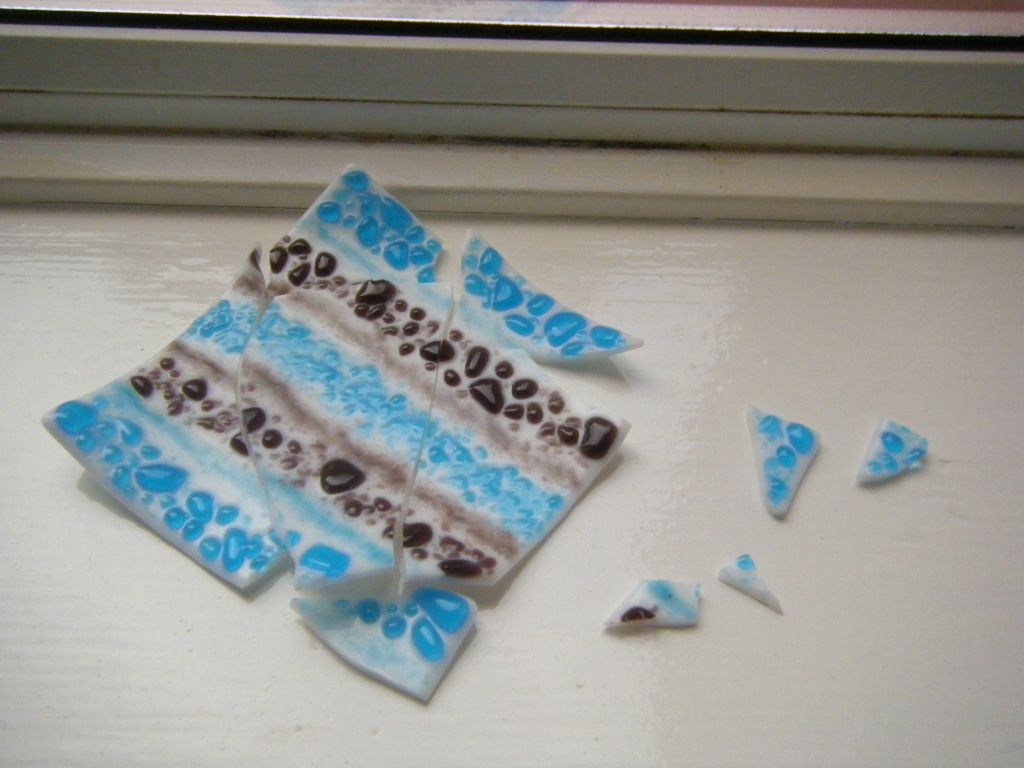 ... and dropped it on the floor last night. Before I'd even photographed it. Remember Mr CA
dropped my copper foiled suncatcher?
Not having much luck am I? I'm starting to think it doesn't look good for my rather large, time and effort-intensive door panel.
Ah well, in for a penny... thought you might like to see the smashed suncatcher too:
Right, I'm off to cry in a corner, speak to you in the week.