Good evening ladies! It's Sunday night, we've just got back from visiting my beautiful little nephew down in Bristol and hubby is in front of the footie, so I've got free rein to blog for a couple of hours - yay!
We actually left around 2 for the 2.5/3 hour hour drive home, but ended up for 2 hours at a standstill on the M5. There was a crash involving a coach and 3 cars. Everyone was out of their cars as it was red hot and people were strolling up and down the carriageway. I sat in the car, door open, reading my book. Then we moved again and passed the crash site. Around 8 ambulances had gone racing up the hard shoulder and at least 6 fire engines. The remains of the cars were still there. It must have been pretty horrific and it was very sobering.
Anyway, upsetting as that was, I'm not here to bring you down, I'm here to introduce Ungar.
Ungar is Finnish. He was made using this tutorial from The Long Thread though I actually used the pattern from the 2011 Sewing Calendar. Ha ha, another Craft Book Challenge completed.
Ungar has a tube of beads inside him, his neck is the perfect size for 4-month old hands and apparently his ears are delicious! So where did he get the name? I always name the toys I make for Jacob, and assign them a nationality. We've had Pedro who's Spanish, Gunther - Jacob's little German friend and Brian, who's English. Poor old Ungar arrived at his new home nameless! My brother suggested it should be something easy for Jacob to say. I asked what he could say (bearing in mind he's 16 weeks old) and learnt that he often says Ungar. So Ungar it is. Sounds Finnish to me. Jacob did indeed say Ungar rather a lot and we a little confused when each time he said it Ungar was thrust into his hand.
Ungar was supposed to have a friend.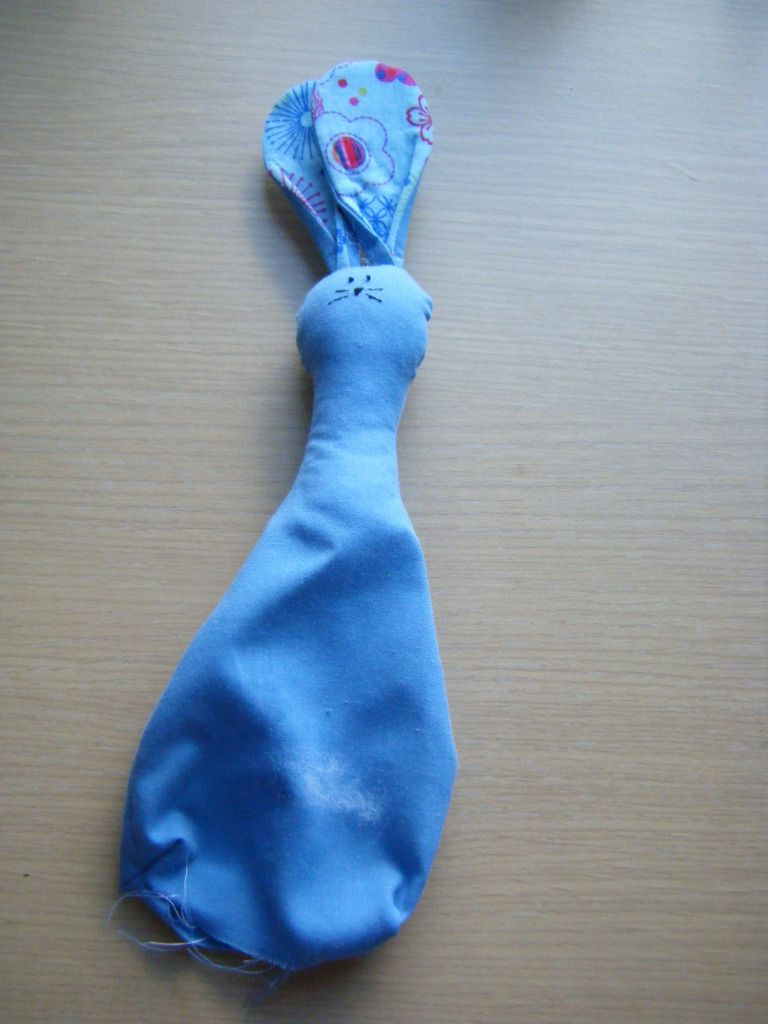 I'd almost finished stuffing him when I found a split seam. I'd ran out of time before going down to see Jacob, so I'll get him finished for next time. I suspect that by that time Ungar's ears may have disolved...