Afternoon ladies, and what a lovely afternoon it is! Hot and sunny... though I am inside! We had a great family day out with friends and family yesterday. We went to Sherwood forest and picnicked by the Major Oak before heading to the craft centre. Only one artisan was at work unfortunately, a silversmith, but she's agreed to give me and Mr CA silversmithing lessons, we'll be doing it in October, how exciting!
Having lived abroad twice, travelled extensively and living in a country which attracts immigrants, I've met a lot of foreigners over the years. They always ask where I'm from and I say "Nottingham". I get blank looks. There are then two things I can say and they'll know exactly where I'm from - Nottingham Forest, or, more often Robin Hood. It's nice to come from somewhere with such a world-wide recognised legend (and I mean Mr. Hood, not the footie team!).
Anyway, I've gone off on a tangent, back to the craft. Oh, another tangent coming up - whilst talking to the silversmith, we got into a discussion about the word craft. I said it used to be a sign of real talent and a mastery of a skill, as in craftsmen and craftswomen. These days it makes most people think of little old ladies knitting or kids cutting and sticking (wrongly I might point out!). Mr CA said that people who used to spin, weave, knit etc at home were called crofters and the skilled professionals were craftspeople. Anyone know if this is true? Or do you completely disagree with my opinion of the word "crafts" these days?
So, I'm right up against the wire again with this week's Zakka Style Sew Along, it won't be so for the next two weeks, next week's is done and the week after's is drying in the kitchen as we speak... If you want to take a peak, you can find the linky here. And this week's host is over here.
This week's challenge started with a little embroidery. I changed the pattern slightly from "Sugar Cookie Mix" to "Rebecca's Cookie Mix" as this is for my goddaughter, and I have no idea what a sugar cookie is! Surely all cookies have sugar in them?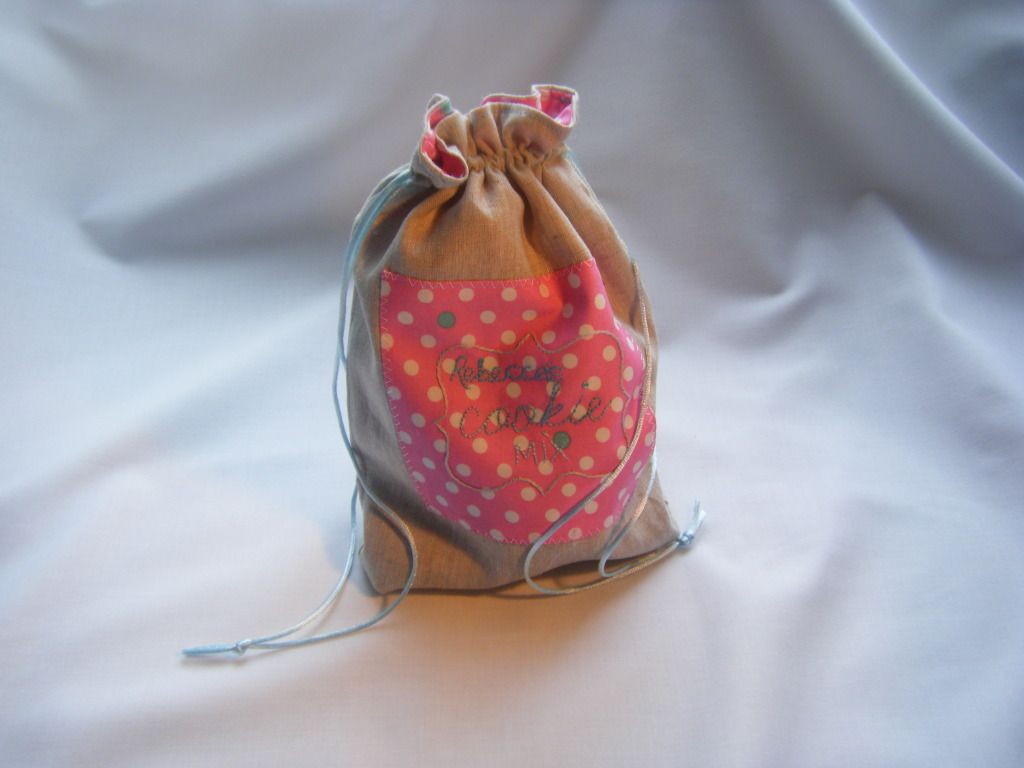 I also modified the bag. In the book it was an unlined bag, filled with fibrefil and closed with ribbon. In my experience, parents of young kids live with little bits of games and toys all over the house, I think it's a lot better for the parents if such games/toys are provided with their own storage so I made the bag lined with a drawstring closure. I didn't fill it with fibrefil, I've left it empty so the biscuits can be kept inside.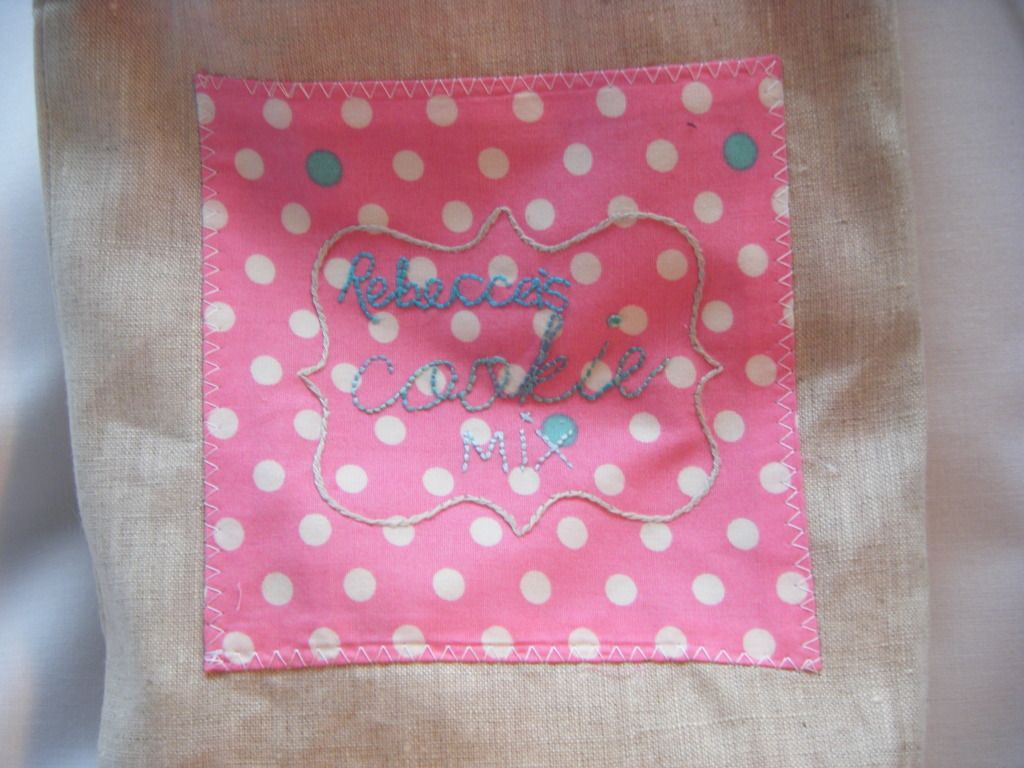 Here's a close up of the embroidery. Still not very clear despite me putting some of the things I've learnt about photography into practice. This was lit from the front and the back and on a white sheet. Hmmm, more reading required!
Here's a close up of the lining - it's the same material as the embroidered patch. I used blue cord in the drawstring to match the embroidery.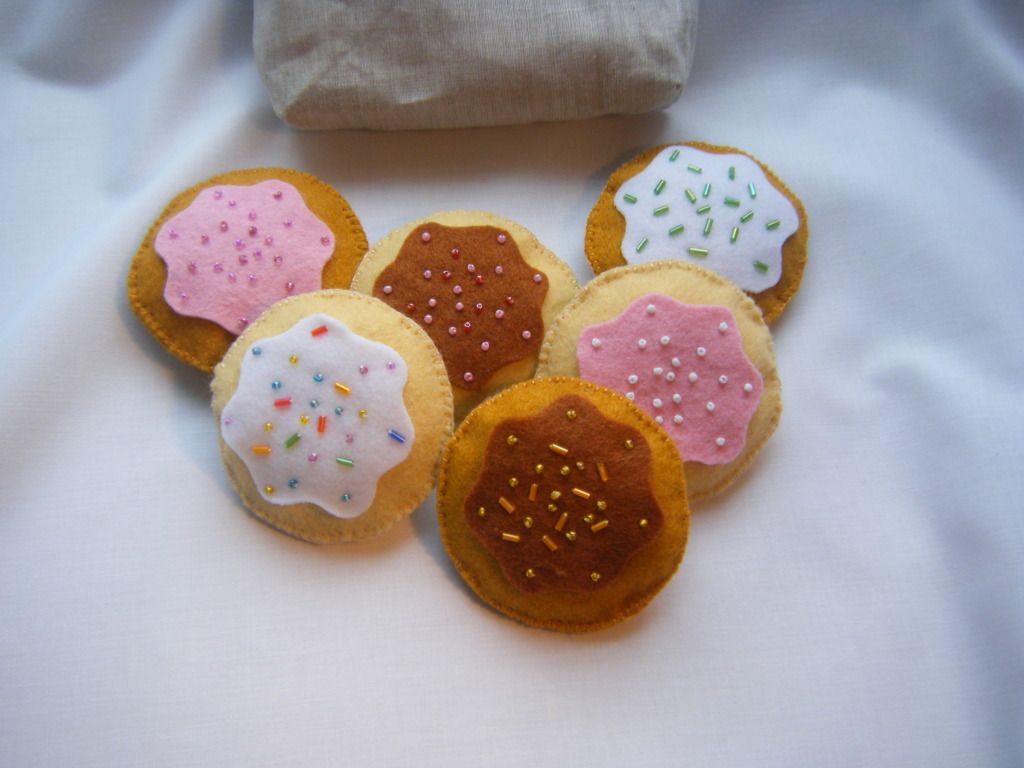 Next up were the cookies themselves. All handsewn from a mixture of acrylic and wool felt. I mixed up my two supplies of felt accidentally and I do find it difficult to tell the difference... I don't think I'll bother spending the extra cash on wool felt in the future!
This was a nice little project, albeit mainly hand sewing. I found no errors or difficulties in the patterns, though any of you who follow the Flickr group for the SAL may have seen the recent posts by Rashida Coleman-Hale herself? She responded to our errata thread and explained that these things are out of her hands and she's very in favour of having pattern testers after having read our comments. She came across as very down to earth and as caring what we all though. I suppose I think of craft authors as not being real people, she's definitely made me see that is not true and I'm going to be more sympathetic in future to craft writers. The final decision on what's included and the style of the writing is with the publishers, as is the decision not to include step by step pictures or diagrams or to have the patterns tested. So, my focus has moved - come on publishers, get with the programme, we're your target market so it'll pay to listen to us!