Well hello, hello, and happy Thursday to you all. Today I've got some really crap photos to show you. I do apologise, I tried SO hard to take good photos, but my camera just hated these necklaces.
Last Saturday me and my lovely mum went to yet another craft class at
the Bead Shop in Nottingham.
This class was peyote stitch stars. The tutor was Steph, we've had her for several classes and not only is she lovely and talented, she's also infinitely patient!
We learnt to make these pretty necklaces, using peyote stitch to make stars. I picked it up pretty quickly and steamed ahead. I used size 9 beads to make stars about an inch tall, but Steph had examples of smaller size 10 beads used to make smaller stars.
I bought some of each, so expect to see more of these! They were really quick to whip up, I made two in the 3-hour class, but also did a fair amount of gossiping. I altered the colours for this blue / black / grey version, changing the outer colour earlier than in the green necklace above.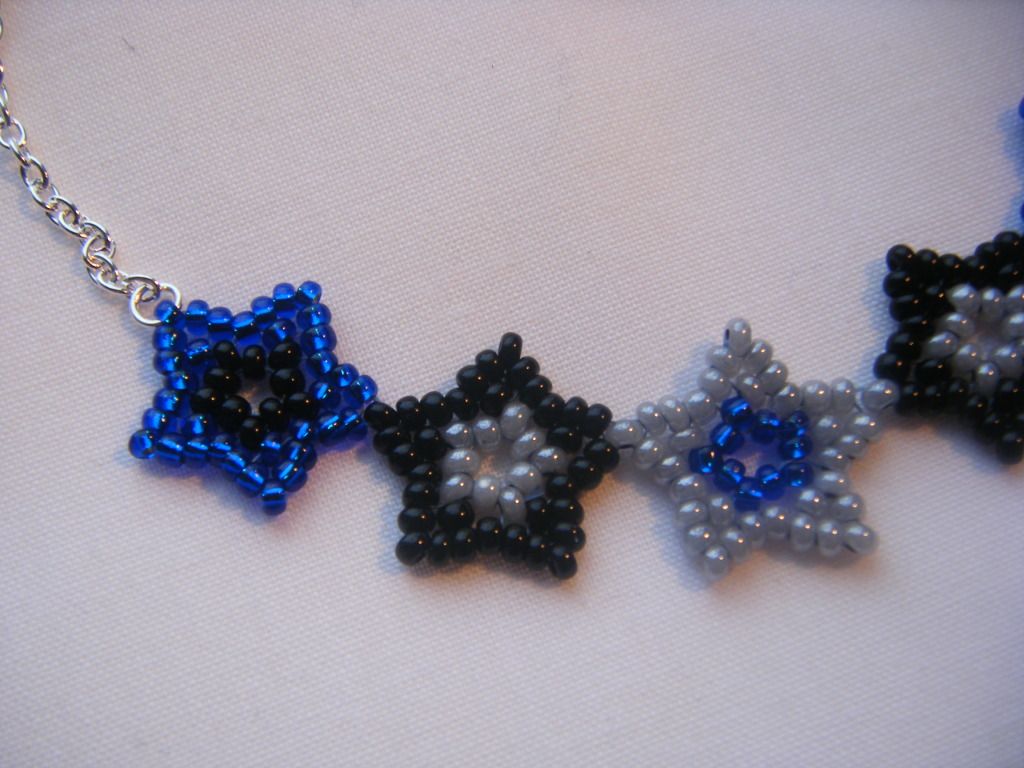 I managed to get a half-decent close up of this one, close up of seed-beads are hard as they're shiny and tiny, especially living in dark and dull England. I couldn't get a decent close up of the green ones at all, you'll have to use your imagination!
I love beadweaving, but I very rarely do it, I don't know why as it's very relaxing... maybe I should get on that tonight?