My apologies. I have two terrible photos for you today. I am only including them for posterity!
One of my colleagues asked to borrow my
red brick stitch necklace
for the work Christmas party and asked if I had earrings to go with it. Now, I think I've mentioned my aversion to earrings before. Despite once sporting quite a few holes in my ears, I also had one in my belly button and 2 in my nose. No more! They make me feel sick. But... she offered to pay so I decided to make some.
I only remember to take a photo in my car on the way to work the day I had to give them to her. So I took a photo on the passenger seat of Norbert, in the rain on a cold, dark, dull morning.
Pretty bad picture, but the earrings are actually pretty cool. I made two rings and hung them individually with chain from the ear wires so they dangle below each other. She's now asked me to make her a matching necklace.
The other terrible photo is more chicken scratch lavender hearts. The day after the craft fair my best friend asked if she could have them for her Nana's Christmas present, I said yes, then someone ordered them from my
Folksy shop.
I said I'd whip some more up, and whip them up I did. Once you've done the pattern a couple of times, these are so easy to make. I finished them on Wednesday night and needed to give them to her the next day. I put them in a box and had to take the photo inside, on a rainy, dull, dark evening. Oh the joys of living in England.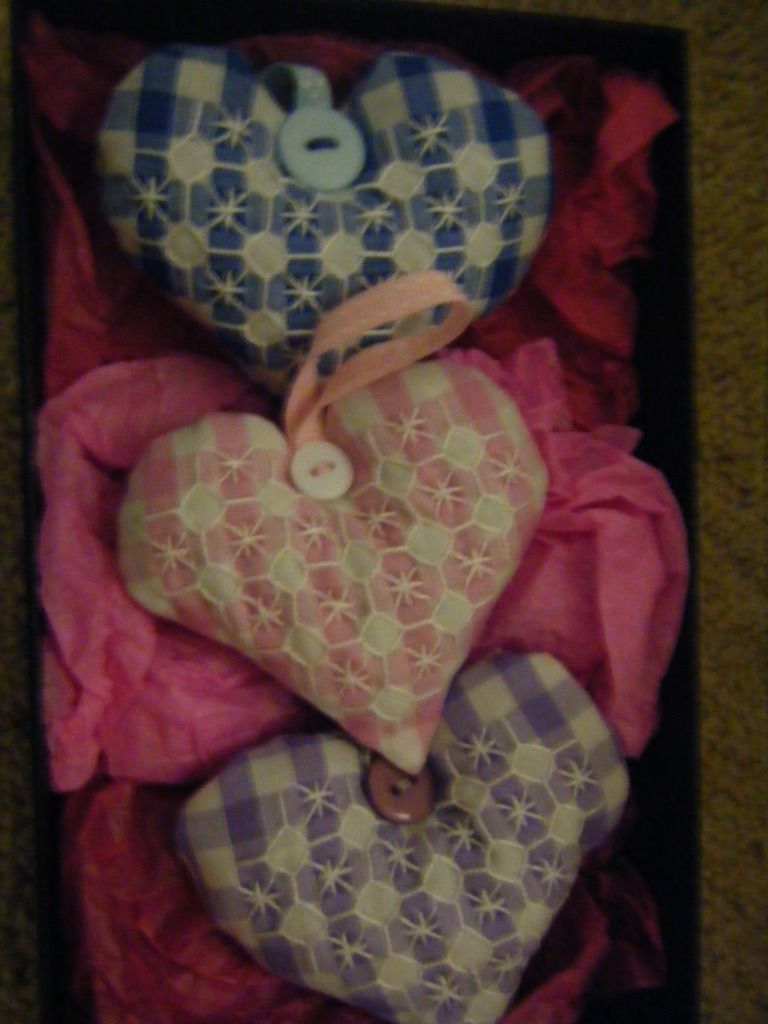 If you'd like to see better photos of hearts just like these, try over
here.
The photos are better, but not great as it was still me who took them!
I'll be back soon to show you the Christmas cards for my close family (if I get them finished!). I forgot to take photos of the Christmas cards I sent to family and friends!