What my title lacks in imagination, it makes up for in information. My excuse, I'm sticking to it!
The Skill Builder BOM I'm referring to is hosted by
Pile O Fabric
. It's a year long BOM with 2 blocks each month using a variety of techniques to make a full quilt. I bought some fabric especially for the Skill Builder, thinking I'd do the block in solids.
Incidentally, UK readers, these fabrics came from
The Village Haberdashery
where Kona solids (which these are) are just £1.75 a fat quarter! Bargain. I bought a selection of blues, Sand for the background and some orange.
To cut a long story short, I bought fabric based on requirements for the wrong BOM and do not have nearly enough. I've decided to add in whatever solid blues I have hanging around and some blue prints to bulk it out. With it being a year-long BOM, I can buy some more fabric later in the year if I need it.
This is
lesson 1
which were January's blocks. Yes, I'm behind, already.
This is the Soundwave block. It's improv-piecing - well the strips are all a certain width, but the lengths were improv'd.
And this is the Magnum block. Anyone who's participating in the BOM will see that this block is wrong. The blue strip in the top left corner shouldn't be there, but I had a small measuring "incident". I may remake that part of the block.
The quilt is Quilt-As-You-Go with FMQ. These blocks should be done already and February's pieced. Ah well, I've got a year to catch up!
As I'll be QAYGing, I want blue prints on the reverse, finding very few in my stash prompted a bit of a shopping spree. First up are my goodies from
Prints to Polka Dots
(affiliate link). Yes, I know that Daisy Cottage doesn't fit the blue theme. Nor do the red prints, but I was lacking in red to and they were having a sale!
These little lovelies were also bargains, this time from
Threads and Patches
where I also bought the crewel wool I mentioned earlier this week.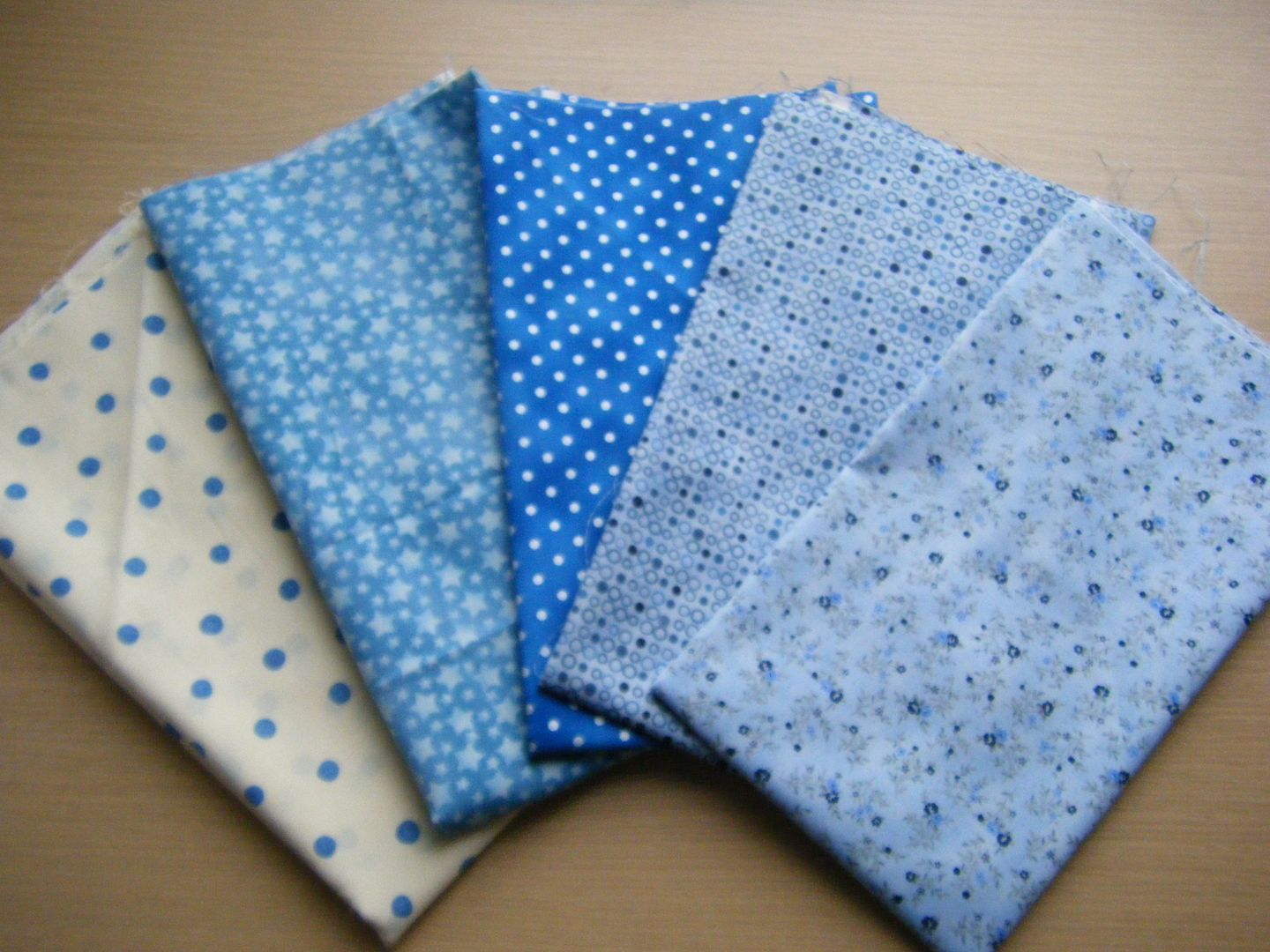 I also bought this panel which is currently being made into a book for my lovely little nephew. These kind of panels to make soft books are in real short supply.
Well that's all for today, enjoy your Friday!