I really did intend to join in Ange's craft book challenge last month, but I didn't get time to make a project from a book. This month, I have! In fact, I already have two in the bag - I'll write a separate post about the other project.
Over the long bank holiday weekend (in England we get Good Friday and Easter Monday as holiday) I did a lot of experimenting. The first thing to come out of the craft box was my polymer clay.
I own a couple of books by Donna Kato and I tell you, I could just sit and read them like books, well I have, they're full of gorgeous pictures and she explains things so well. This project comes from The Art of Polymer Clay Millefiori Techniques by Donna Kato. Before we go any further, I'd just like to point out that any failure is on my behalf, not Donna's!
It all started with a few canes and a heart shaped cabochon. I made a mould for the heart shape using some packaging that some brads came in. I've completely forgotten to take a photo of either the mould or the packaging, but if you want to know what I mean when I say I made a mould, see my previous posts here.
I also managed to forget to take photos of the canes I used, other than this pretty cool zipper cane.
The heart itself is a bit of a mess, it was too big really, but the smaller heart mould I made just wouldn't have been big enough. It is approximately 4" high.
There is so much I don't like about this. The purple and black leopard skin-like pattern is supposed to be dots but my cane was a disaster. Likewise the stripy leaves... You can also see the joins in the zipper.
But, not to be put off, I decided to try my own thing on the smaller heart mould (approx 2" high) which I cast from a glass necklace I have.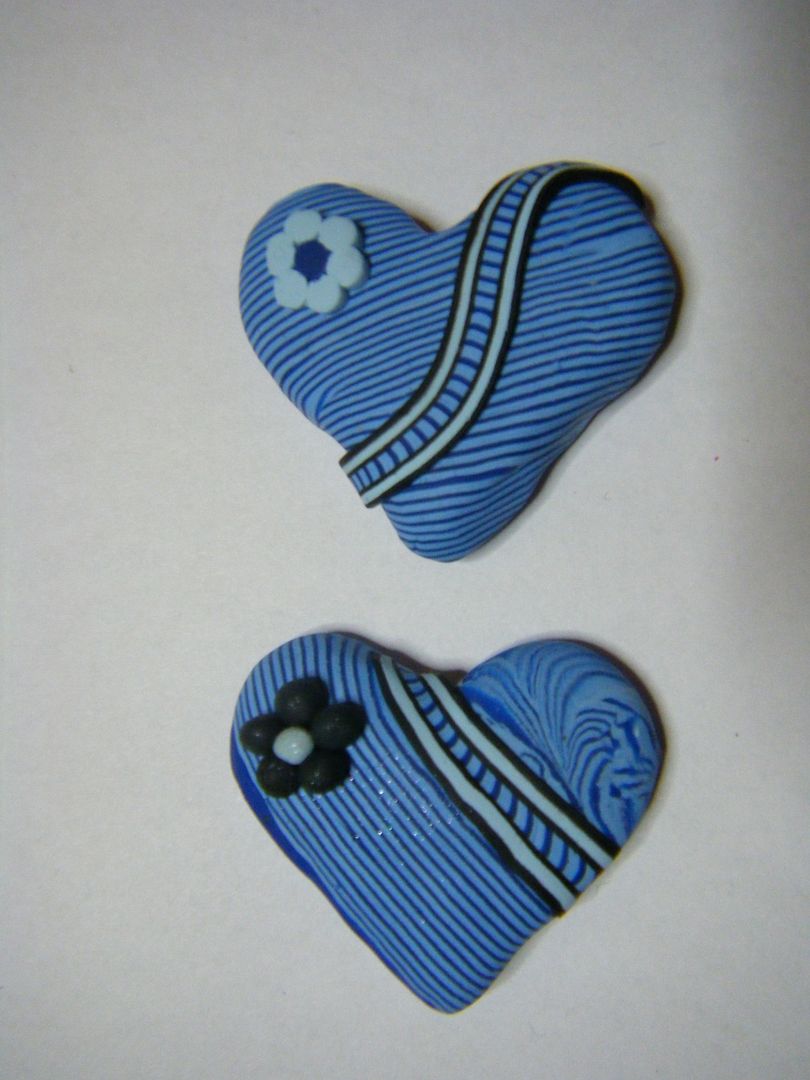 The top one is a heart of scrap clay covered with the stripy cane I'd made and used part of for the zip. The zip isn't pressed into the heart so it stands proud. The little flower is made from extruded tubes which I sliced. The bottom heart started with a heart moulded from scrap play, but I loved that pattern at the top left so incorporated it. The zip is pressed in to the heart on this one so the only raised piece is the flower which is made from tiny balls of clay. These two will become brooches with a brooch back glued on.
So, one failure, but two successes!