I was telling you on Monday about the yarn bobbling I saw during our weekend away. We left Bishop's Castle on Sunday but instead of going straight home, we stopped off at Ironbridge Gorge, where neither of us have been since we were kids. It's a whole host of museums, about 10 I think, all close together. The main event is a Victorian town. Well worth a visit if you're in the area. There are all kinds of shops, a school, foundry, blacksmiths, a pub and houses. You can change your money for old money when you go in and everything is priced in both currencies.
In one of the little cottages I spotted this:
A handpieced hexy quilt and a yo-yo doll's quilt. There were three beds in the cottage, each with a hexy blanket. Those hexies are about 1" by the way! When I turned round, I saw one of the ladies who works there (in full Victorian dress) hexing away. Of course, I stopped for a long chat. Mr CA nearly dropped to the floor asleep...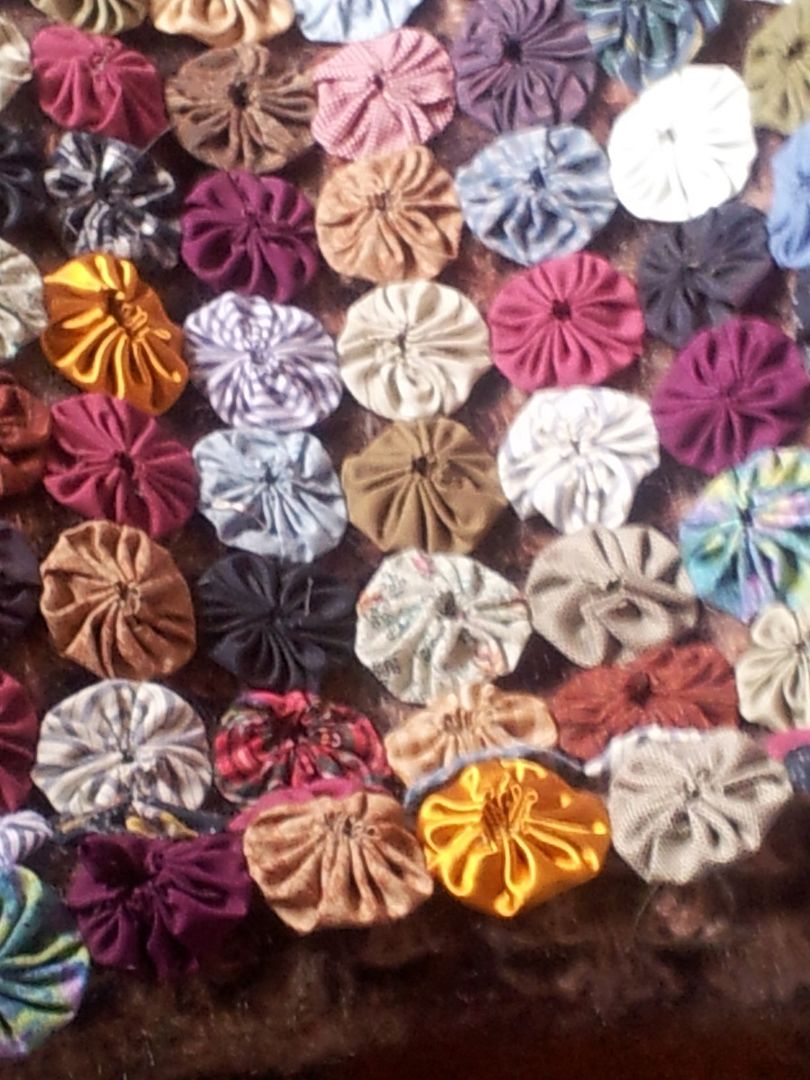 One of the other cottages held a handcrank sewing machine and a lady had been doing patchwork. Unfortunately she'd gone for her lunch as I wanted to ask her about the method she was using, I think it was quilt as you go onto a blanket, and the fact that I spotted several different recent lines of Moda squares amongst the old-clothes she was using! Not so authentic there Ironbridge!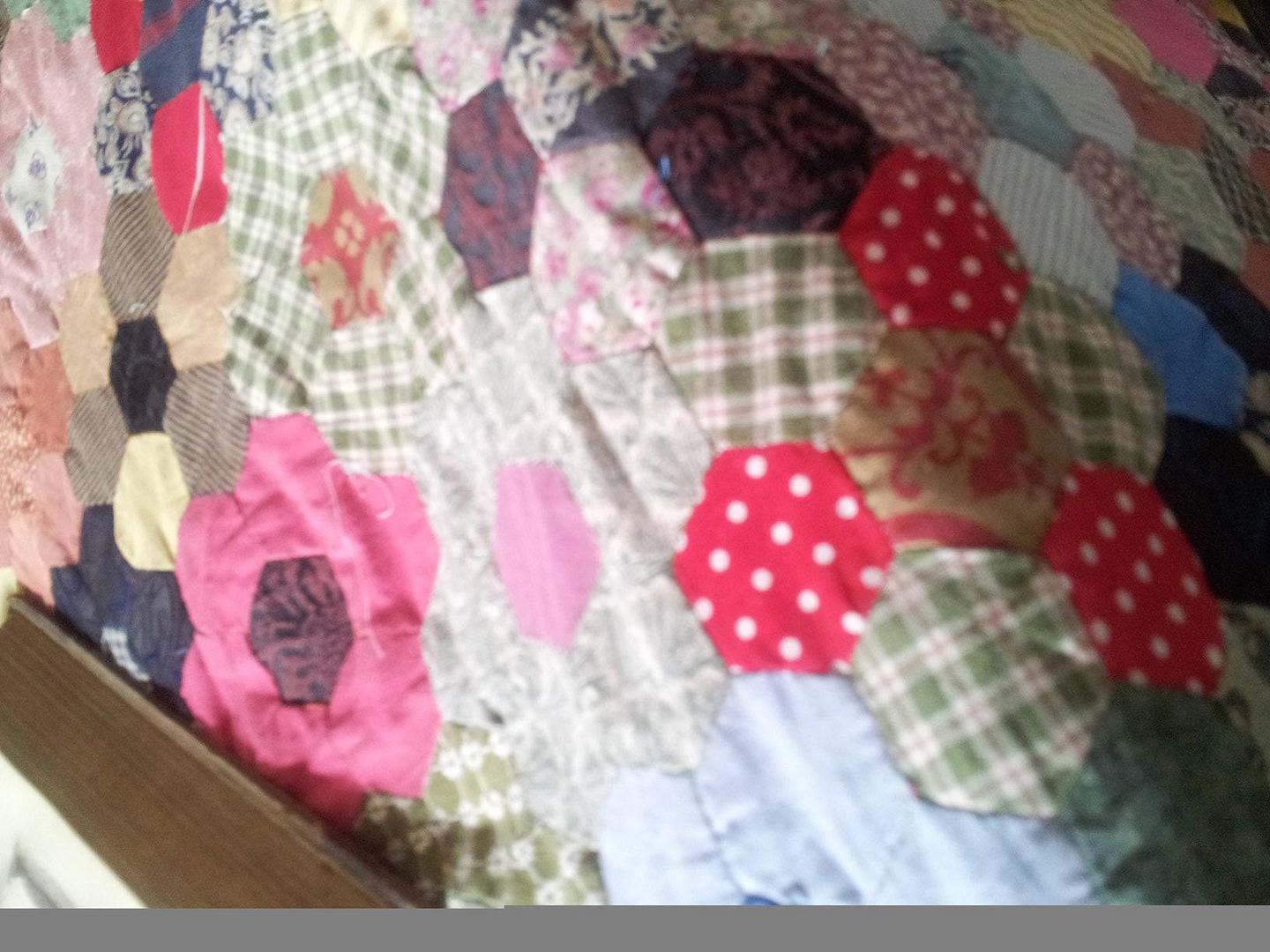 There is a dressmakers and haberdashery, so I spent 5d of Mr CA's Victorian money on this half yard of beautiful sage fabric. You have to have a souvenir!
There were people making stuff all over. These are made from plaster of Paris and I intend to paint them.
Some things you can have a go at. I dipped this candle. A really easy process, I had one of those "why didn't I think of that" moments.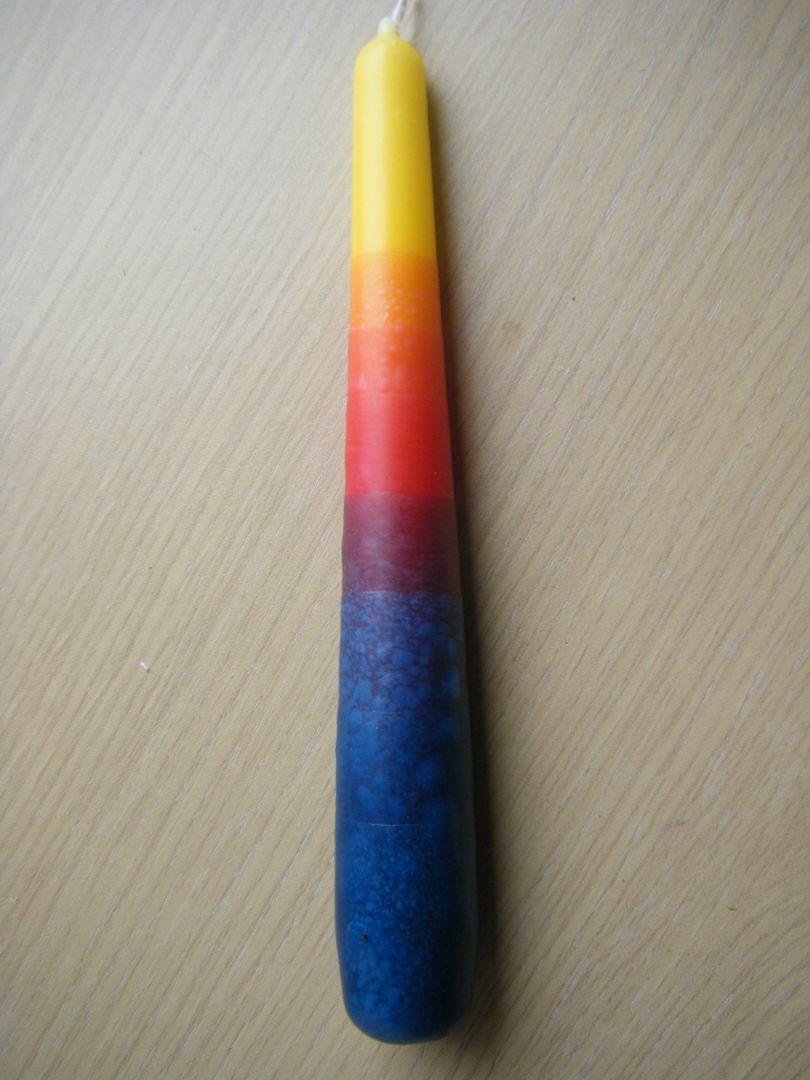 Unfortunately, there was nothing else I could have a go at on that day. A criticism of the place is that you aren't told the times of things when you enter - for example, we walked all the way down to the bottom and stopped for a coffee. After that, we saw the school house which said there was a lesson in 1/2 hour's time. If we'd known that in advance, we could have timed our visit around it.
Next we went to the China Museum. I was really excited as it was billed as very hand-on. I wanted to have a go at the pottery. There wasn't even anyone demonstrating. The place was almost deserted, except for the gift shops. A couple of the exhibitions were even closed but they'd charged us full price! I wasn't impressed. I was particularly disappointed that I couldn't have a go at glass blowing, advertised as available for £5. I'd have loved to have tried that.
I did buy these porcelain flowers though. And ate quite a lot of biscuits. Then fell asleep in the car.