I think you all know that I have 4 lovely bunnies at home? Last Saturday was a meeting of the fab East Midlands Quilt Guild of Moderness (I can't remember what it's called! How bad is that!) at the fab Stitchcraft Studio in Grantham. It's well worth a visit if you're in the area, as well as rooms for Guild meetings and classes, they have a shop stuffed full of fabric and a cafe. Kerry wanted to do a demonstration and workshop of the Turned-Edge Applique method and our homework before the class was to find a photo. Well it had to be one of the buns. I chose Colin as he is white with brown patches. Tiff is all brown, Ellis is all white and Harry is all black so I thought Colin would be easier. I had no idea what I was in for!
That was my homework. I had to find a photo, trace it and then enlarge it. Kerry gave instructions on how to enlarge it in Photoshop to which my brain went "duhhhhhhhhhhhh?". Luckily I had a brainwave and took it to work to enlarge on the photocopier. I then traced this enlarged version on to freezer paper (which they no longer stock in Hobbycraft. I went in for freezer paper, beading needles and grout and came out empty handed! Sort it out Hobbycraft.)
Above is what it looked like by the end of the class, and after about half an hour at home later. Yep, I had my doubts but you shouldn't doubt Kerry, she knows what she's doing! I may have got more done than this other than for two reasons. Firstly I'd taken my sewing machine, but not the foot pedal or power cable. Secondly, and much more excitingly, Trudi showed me the basics of FMQ! If you don't know Trudi, she is a master quilter. No, scratch that, she's THE master quilter. Seriously, go and have a look. I desperately need to practice what she showed me and I had intended to do that on Sunday afternoon, but after finishing Colin, my machine threw a wobbly...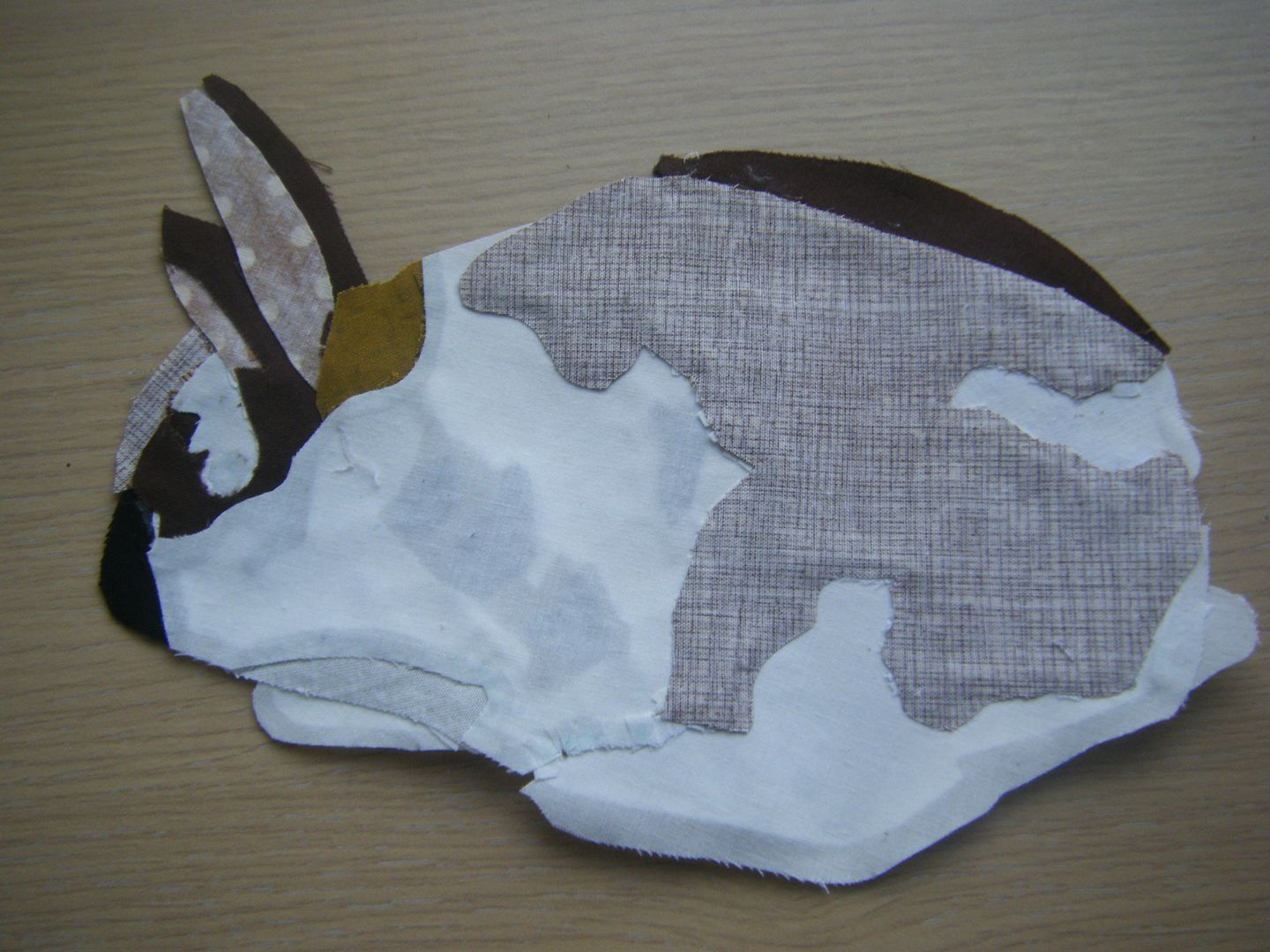 So this is the completed Colin from the back. No the back of the bunny Colin, that would just be his great big round bum, this is the back of my applique Colin.
And here he is from the front! I was so happy!! I put it on Instagram immediately. I've only just discovered Instagram. I mean, I knew it existed, I don't live in a bucket, but I couldn't get it on my phone before. I'm still finding my way round. If you want to follow me (and why wouldn't you?!?) I'm thecraftersapprentice. Think you need an @ symbol before that? Or a #? Or is that Twitter?
Here's Colin with his photo. Not bad eh? I think I captured him quite well.
I put him on some background fabric. I bought this fabric a couple of years ago, no idea what it is, but it seemed perfect for a bunny as it's a bit grass lice.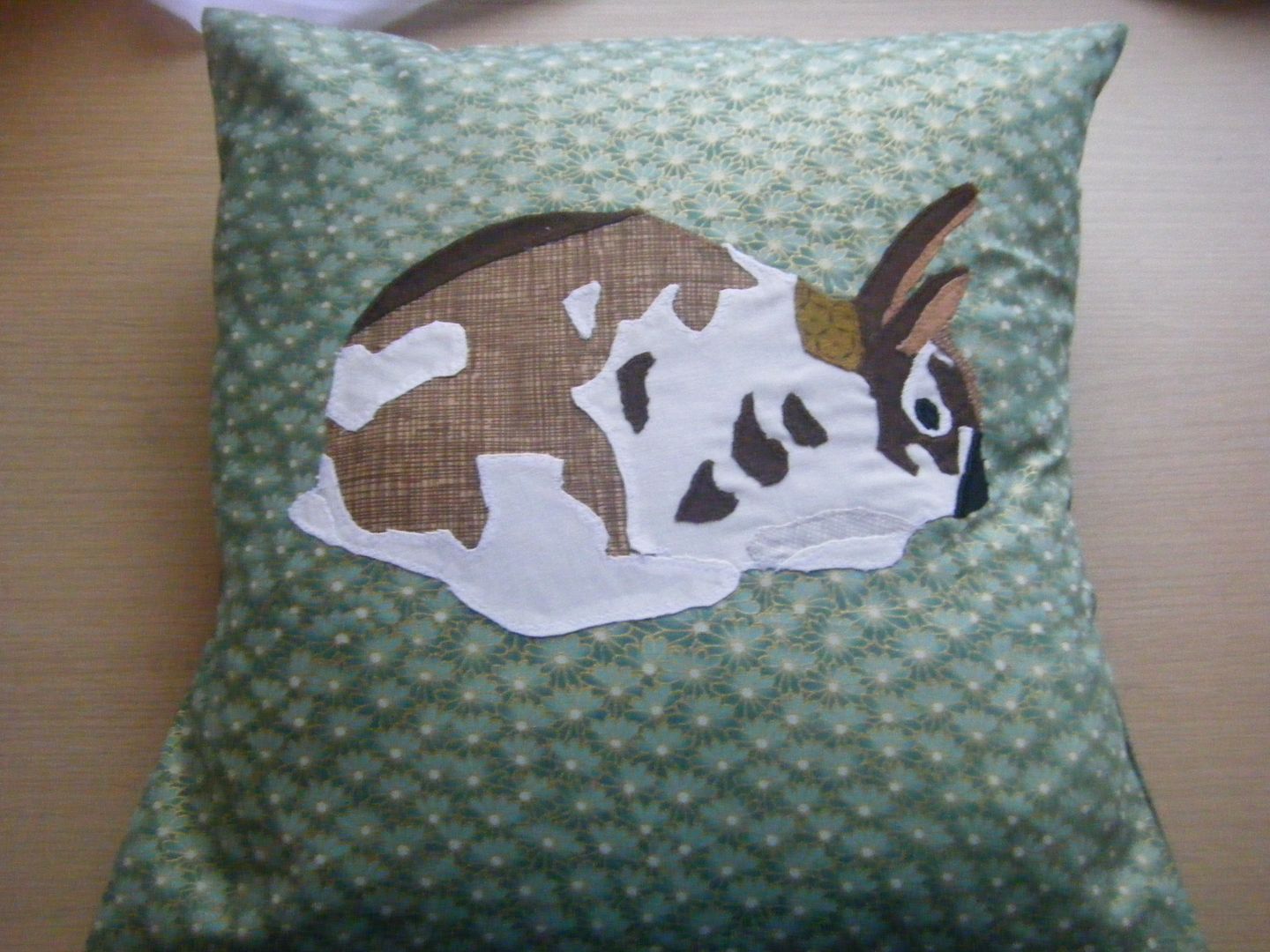 Then I turned him into a cushion. It just has a basic envelope back and I decided against quilting him in the end, so no binding either.
Mr CA didn't notice until later that evening, but he was quite impressed and agreed it looks like Colin. I might have to have a go at the other three, I need to get some good photos with shadows on them and stuff (according to wise-woman-Kerry).
Disclaimer: No bunnies were harmed in the making of this cushion.