It's the end of the month, so it's time to have a look at all the challenges/alongs I seem to have joined - what was that about not joining in much this year??
First up is Needlequest. The theme was silk shading, which I interpreted as long and short stitch. Cue the Scabious V&A kit I bought and almost finished years ago. This is a rework of it as I'd run out of thread. I got quite a lot done considering I work full time and don't spend all my spare time on one project.
I certainly think my long and short stitch is improving. I've done all of the long and short stitch flowers and now I'm working on the stems, which are stem stitch, and the leaves, long and short again.
I never expected to finish this in the month, I'll carry on working on it. I'm really loving stitching this piece.
What do you think? Successful so far?
This was also my "old" for Something Old, Something New. The "new" was a ribbon flower brooch which, sadly, never made it out of the drawer (though I did find it!). A semi-success there then!
The Sew Kitschy BOM block was sewn, last minute, but not only pieced but also finished and made into a trivet! Resounding success there (if I do say so myself!).
My piece for the Craft Book Sew Along also happened, though I honestly can't remember if I mentioned it or not! It was this spiral rope necklace.
I managed to join in Fiona's New to Me in 2014 with my turned-edge applique Colin and my efforts at woodwork!
I've still got 2 months to go on the 2014 Finish A Long, and I'm going to need it! On my list:
1. Restart and finish Crewel Flowers - working on it
2. Finish hooking my rug - I have done a little
3. Finish Jacob's quilt. So far I have cut 16 squares so a long way to go with that one! - still sitting on the sofa...
4. Sew chair cushions for my dining room. I have completed 1 piece of patchwork for 1 chair and now I've lost it... - sitting next to Jacob's quilt fabrics, minus the lost block...
5. Handquilt/machine quilt my And Sew On quilt. - I did take it to the EMMQG meeting, so it's had an outing!
6. Finish the wrist warmers I'm crocheting. - erm... nope!
7. Cross stitch the last Silhouettes picture for my dad. - I took the kit and put it in my WIP drawer, that's progress I think?
One item I really should have included in the FAL is my mosaic tray. It's a work in progress and has a slight chance of being finished. I never showed you, did I?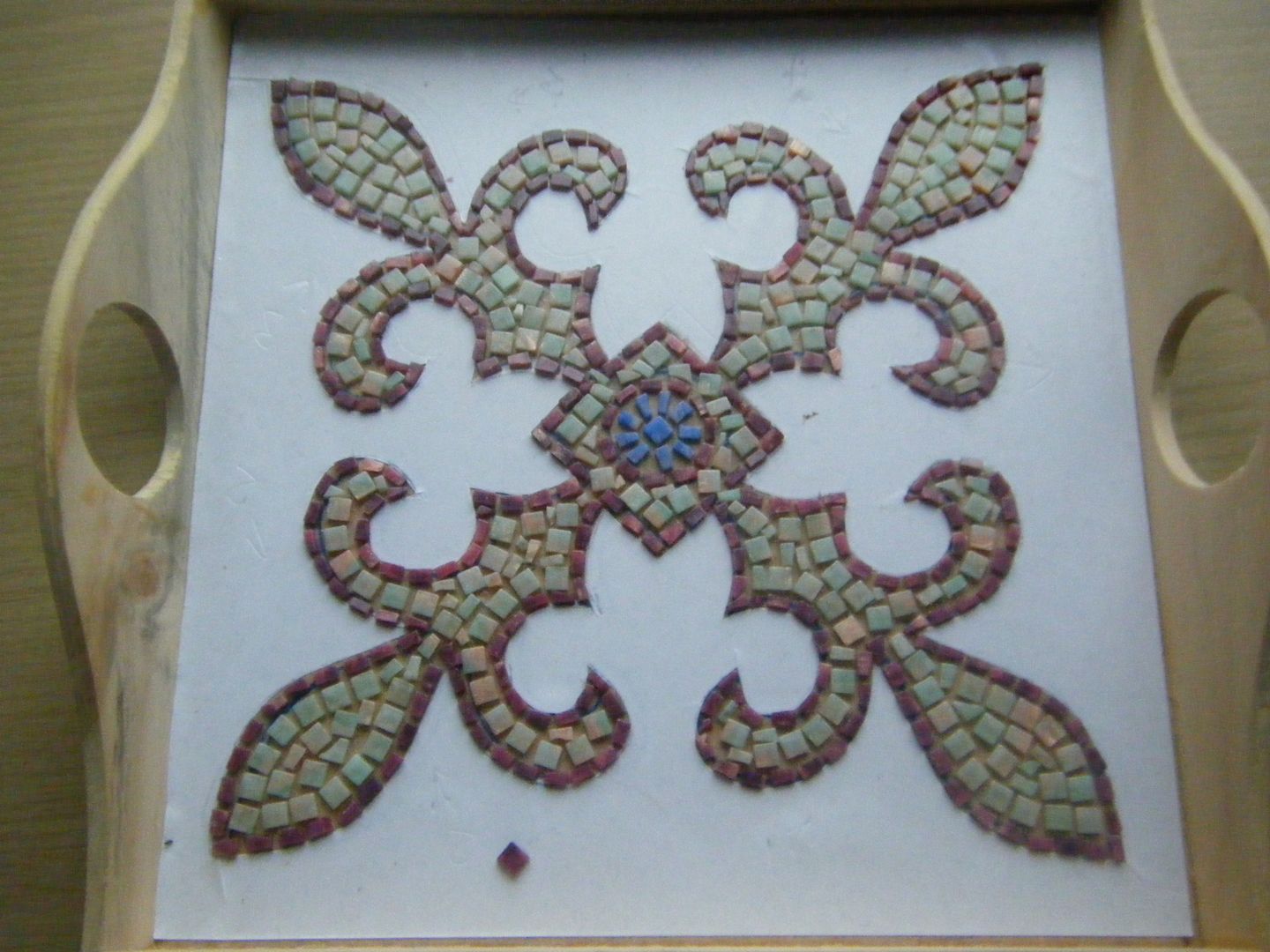 The last mosaic I did, the house number sign, had me putting on the tessarae with glue. This uses a double-sided sticky sheet, so it's a different method. It's easy and good fun.
I joined, but never admitted it, the Smalls Sew Along. The perfect excuse to get some of those small cross stitch kits and cover kits done. My entry for January is very, very, very nearly done. Should be done tonight...maybe.
I didn't join in A Lovely Year of Finishes this month, but intend to next month. I also discovered the Rainbow Scrap Challenge. I know, I know, I don't need another challenge BUT, I desperately need some scrap baskets, and what better way to make them than from scraps? January was blue so I might have to try and shoe horn that it soon, I'll start next month. As in tomorrow.
Oh! Before you go, pop over and say hello to Tiff and Harry.