A friend's birthday meant a new piece of jewellery... time to turn to my favourite beading book: Seed Bead Stitching: Creative Variations on Traditional Techniques
(affiliate link - if you do click over and buy something, I'll get a few pence towards an Amazon voucher).
I decided to try a new stitch and opted for the Diagonal Peyote which reminded me of flashes of lightning.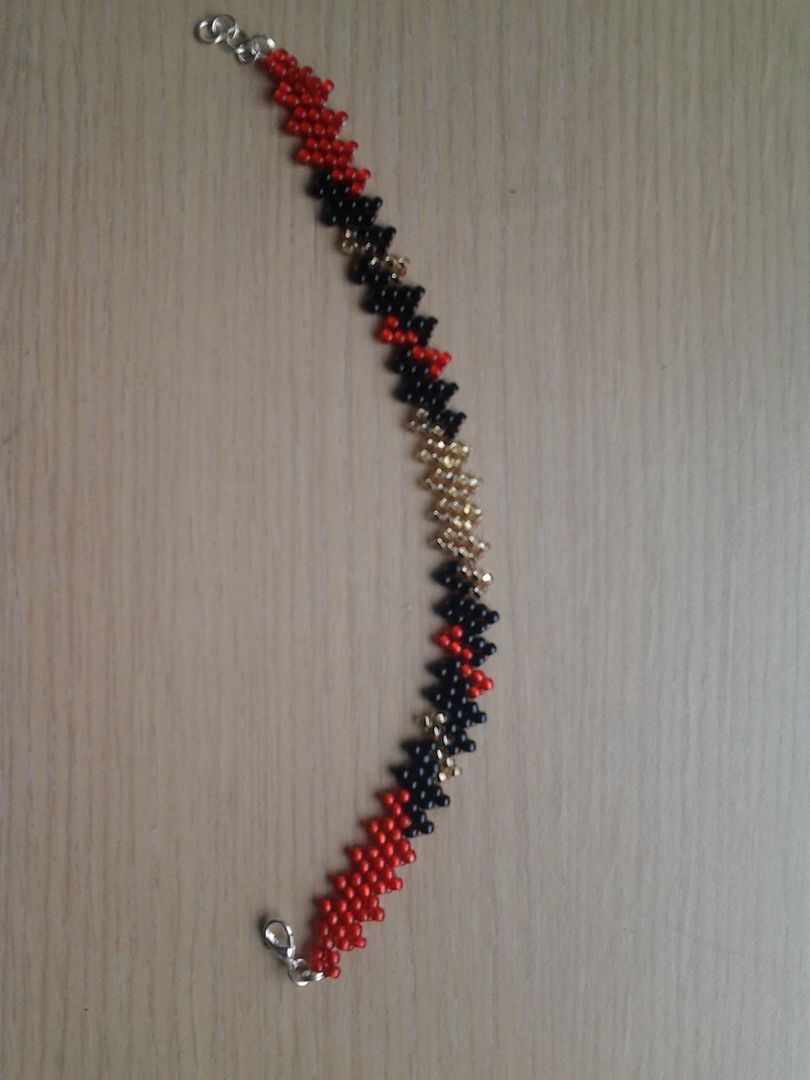 I used red, gold and black 8/0 seed beads to make this bracelet. The sample in the book is all one colour, but I wanted to put a pattern in. It was really easy to stitch and didn't take long either, so I thought I'd make a co-ordinating necklace, using dangles.
The book shows most of the pieces of jewellery with various dangles and I really like the look. I had a quick look through my stash and chose some white and black heart beads and some red and clear glass beads that I thought would work well. For some reason, i really don't know why, I switched to size 10/0 seed beads for the necklace, so it's quite thin.
I measured to try and make sure the dangles were central as they're incorporated during the stitching, not afterwards.
Unfortunately I've not been well recently, so I've yet to see the friend in question so don't know if she likes it. She's a good friend so she'll say she does! Again, the photos are dreadful. I've invested in a pop-up lightbox which should be delivered next month, it's to be used with a smartphone and I'm hoping it helps. My camera has gone funny, I can take photos and see them, but can't download them, so I've been using my tablet. The picture quality is better than my camera! I hope the lightbox can be used with the tablet but I'll have to wait and see. I'm pretty sure my pictures will still be the same crap standard that you're used to from me!