The lovely folk at G
MC sent me another book to review.
I was so lucky to get my hands on Stitched Blooms
by Carina Envoldsen-Harris, a book which has been on my wish list since it was published.
Before we go any further, the disclaimers. I was sent the book for free to review but I was not told what to say and all opinions are 100% my own. I didn't receive any monetary compensation. Links in this post, as with all my book posts, are affiliated. If you click over and buy something, I get a few pence towards an Amazon voucher.
This book is aimed at the embroiderer - any embroiderer as long as you like whimsical designs rather than realistic thread painted pictures. A beginner could pick up this book and stitch their first design, equally a seasoned embroiderer could flick through the motifs and find many they'd want to stitch.
The introduction includes a few pages on colour theory, information on fabrics, threads and equipment. There is then some getting-started information and a dictionary of basic stitches.
This is followed by 20 projects ranging from skirts to soft toys and including this rather original calendar frame.
I love this duvet cover and would love to make something like this, but white bedding is so impractical... or am I the only one that spills coffee and squash in bed pretty much every morning (it's hard to find your mouth at 6am...) ?
Projects are accompanied by a stitch diagram, showing which stitches are used where, though of course you can ignore this and do your own thing, even using a completely different motif or set of motifs if you wish. Most of the projects involve stitching on pre-bought, or pre-made if you prefer, items, but the patterns are not included. They are for some projects such as the stuffed horse and the glasses case.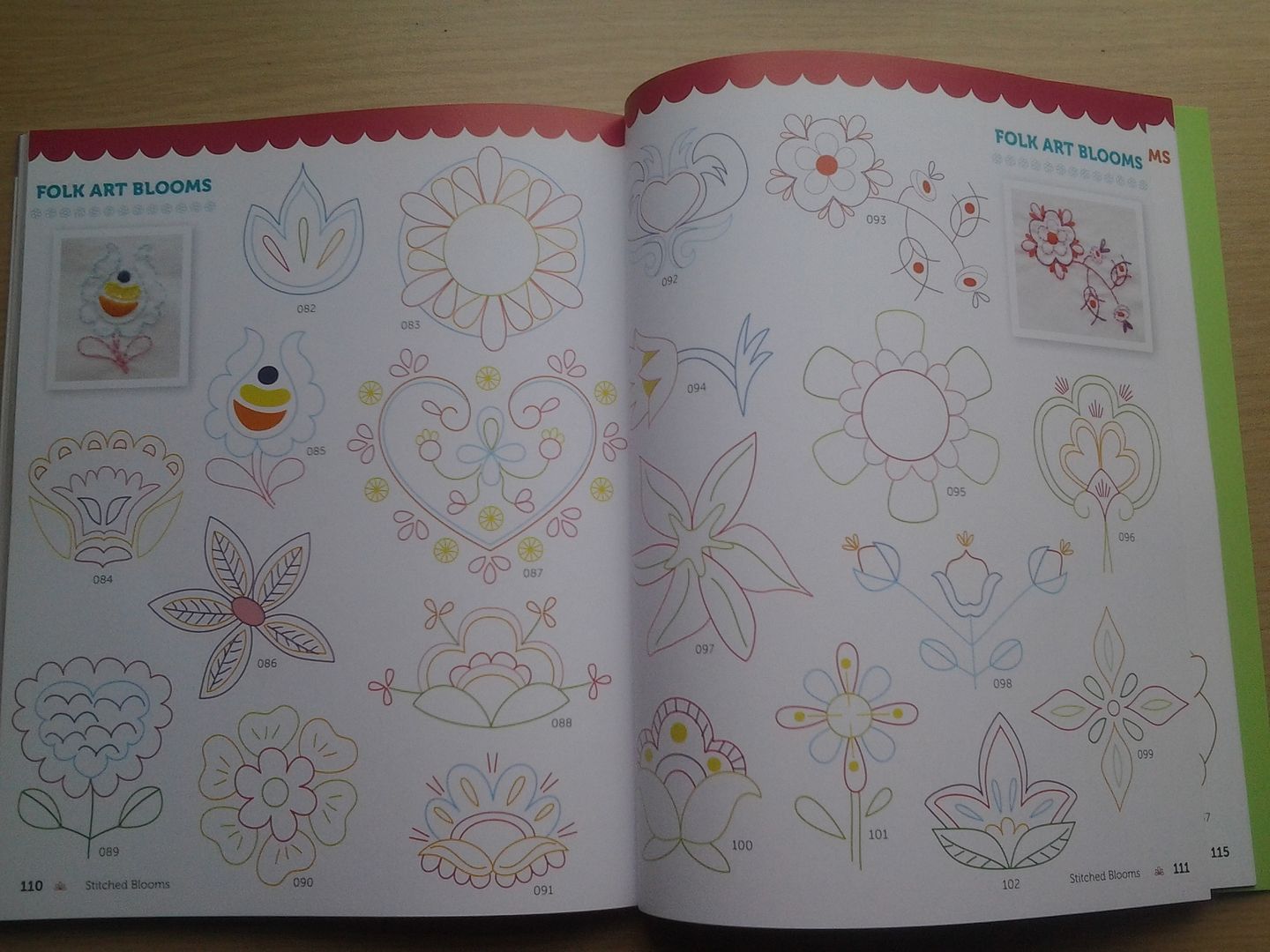 At the back are 25 pages of stitchery motifs, including borders and corners, flowers and leaves. These are all also included on the CD which is tucked in the back of the book.
I wanted to do something a bit different for my project, so I chose a design from the book and traced it onto a little wooden box. I then pyrografied it (no idea what the actual verb for pyrography, or wood burning, actually is! I usually call it pyrografication).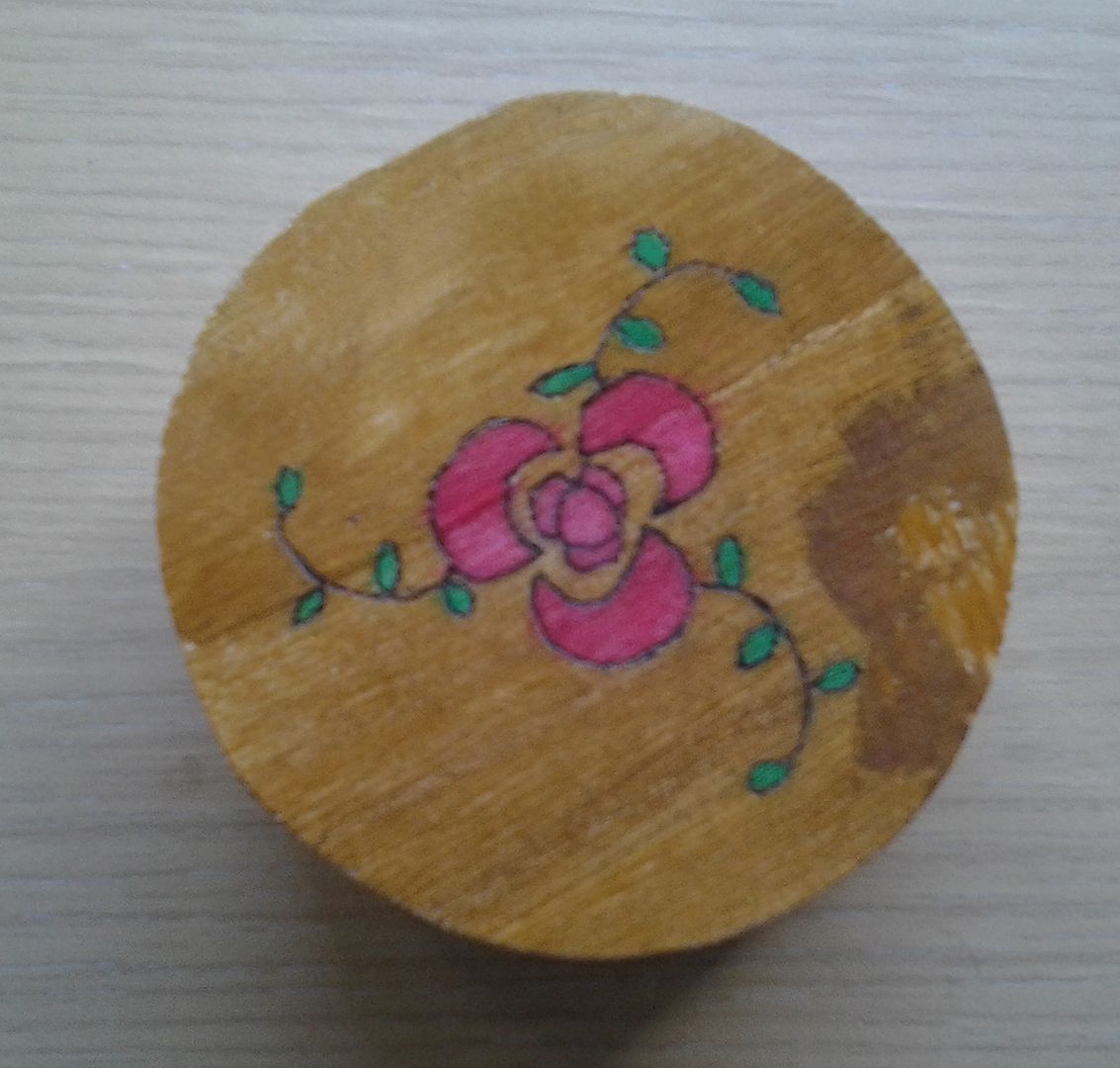 This is my first attempt. I use a Dremel VersaTip for pyrography and, this being my first attempt with this tool, I didn't realise that the hole on the side pumps out heat and so managed to burn the side of the lid. I tried sanding it off, but alas, the wood was such crap quality it just went dark brown. I tried colouring over it.... I'll be decopaging this attempt!
So I tried again... another small accident with the hole, but I don't mind that so much, it adds authenticity (she tells herself). The lines aren't great as the wood quality is so poor, but for 80p each, who's complaining?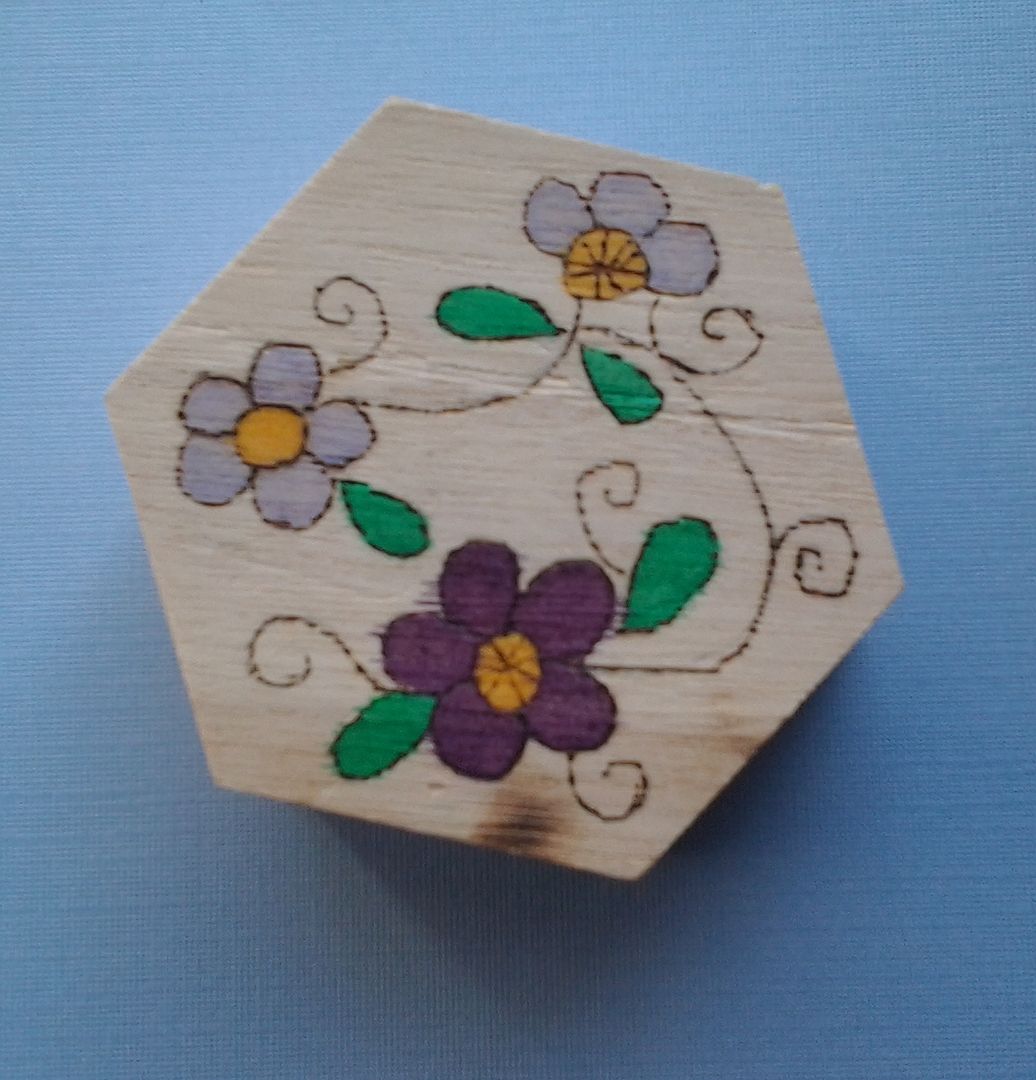 It's coloured with brush markers, which are basically felt tips. I thought I should probably try stitching a motif too, as this is an embroidery book.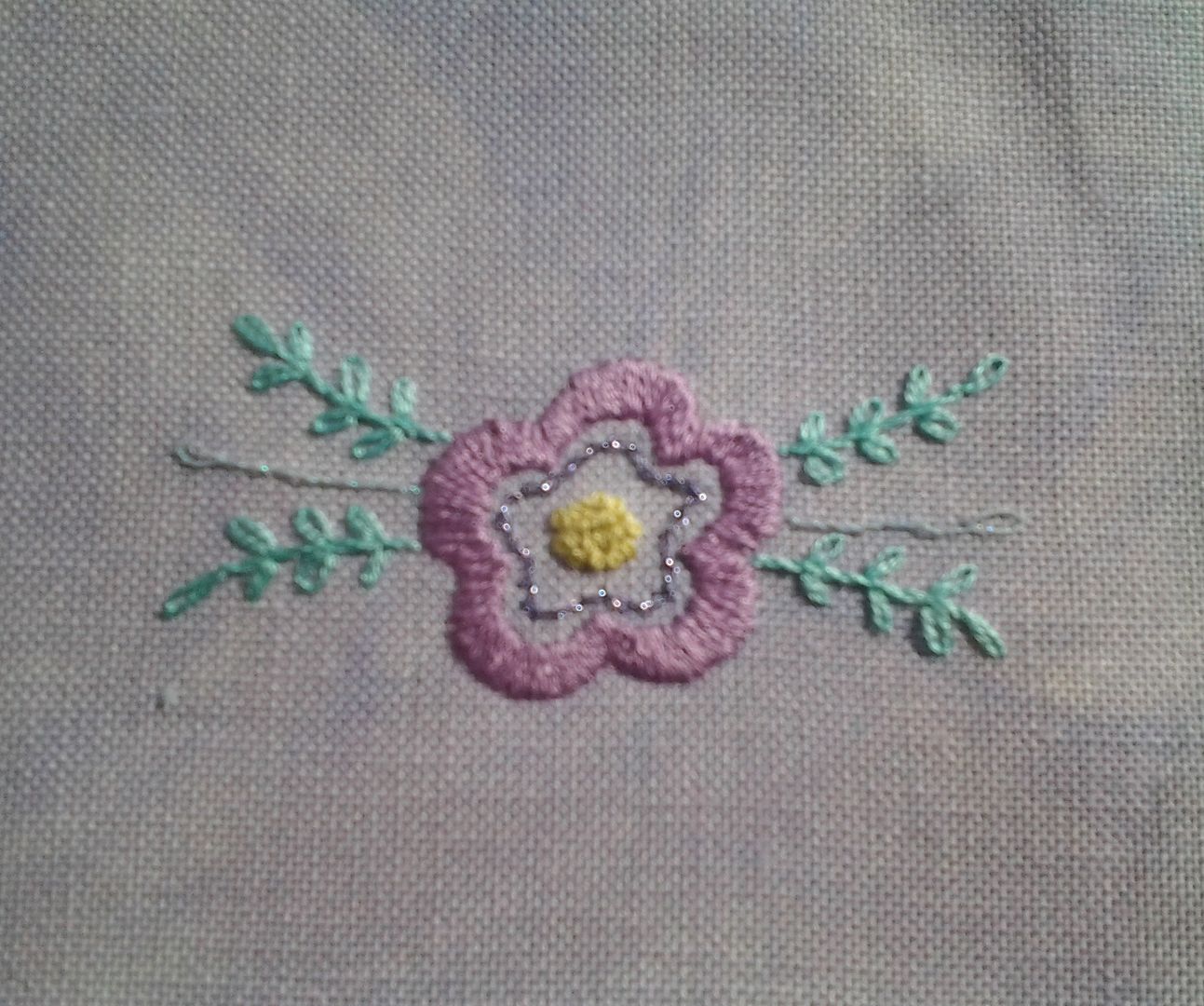 I used Madeira silks and DMC Light Effects (metallics) to stitch this little flower. It's about 4" long and took a matter of hours.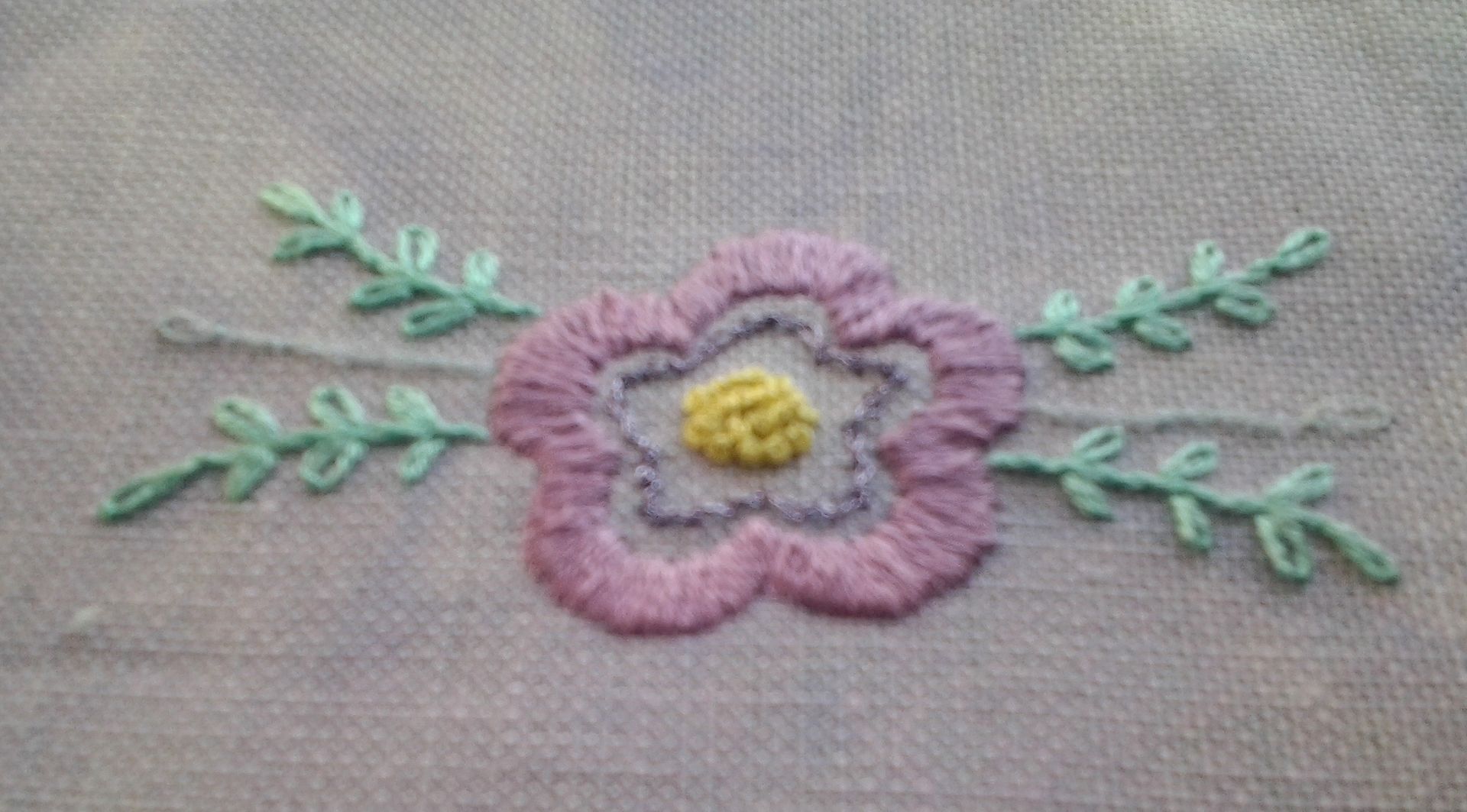 French knots in the centre, satin stitch for the purple, a line of twisted chain in metallics inside, leaves in stem stitch and lazy daisy with the central stems in metallics.
I used this scrap of purple dyed even(ish) weave that I had in my stash. After stitching, I saw it also had minty-blue highlights in it too which you can just see to the left of the photo. I have no idea what I'm going to turn it into - answers on a postcard.
So what do I think of this book? I think it's a lovely addition to the bookshelf of anyone who likes this simple form of embroidery and it would be great for a beginner. I love Carina's style and her use of colour. There are a couple of projects from the book I may tackle at some point, but I can see me using the motifs over and over and my brain is whirling wondering what other craft I could apply them to.
Paperback: 128 pages
Publisher: Lark; 1 Pap/Cdr edition (7 Feb 2014)
Language: English
ISBN-10: 145470425X
ISBN-13: 978-1454704256
Product Dimensions: 0.9 x 20.3 x 25.4 cm
Linking up to: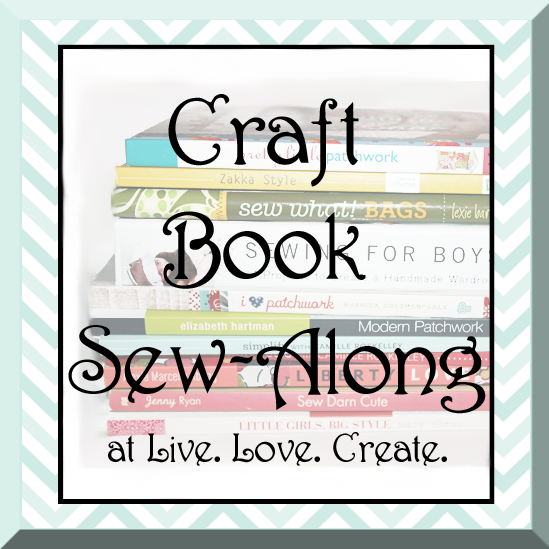 Disclaimer:

I was given a review copy of the book by GMC however this review and all opinions are 100% my own, I was not told what to say. Amazon links are affiliate links.