This is the last post about my trip to The Manor House Hotel with my mum, and I feel sad writing it! We had such a good time that I'm sad it's all over and I'm back home and back at work.
The final class we took was glass painting. I don't think I've ever shown any glass painting on my blog before and I can't find any examples of my work, but this was something I used to do a lot of in my late teens. I even took it up again when I lived in Poland - I would paint on empty vodka bottles!
We were given free rein in this class. The tutor gave her talk and showed us some examples and techniques and off we went. I'd just been silk painting and wanted to use the same flower motif as I'd found it easy to draw and very effective too. I chose a short square vase and used a Pewter relief. The relief forms a barrier for the paint and stands up above the surface.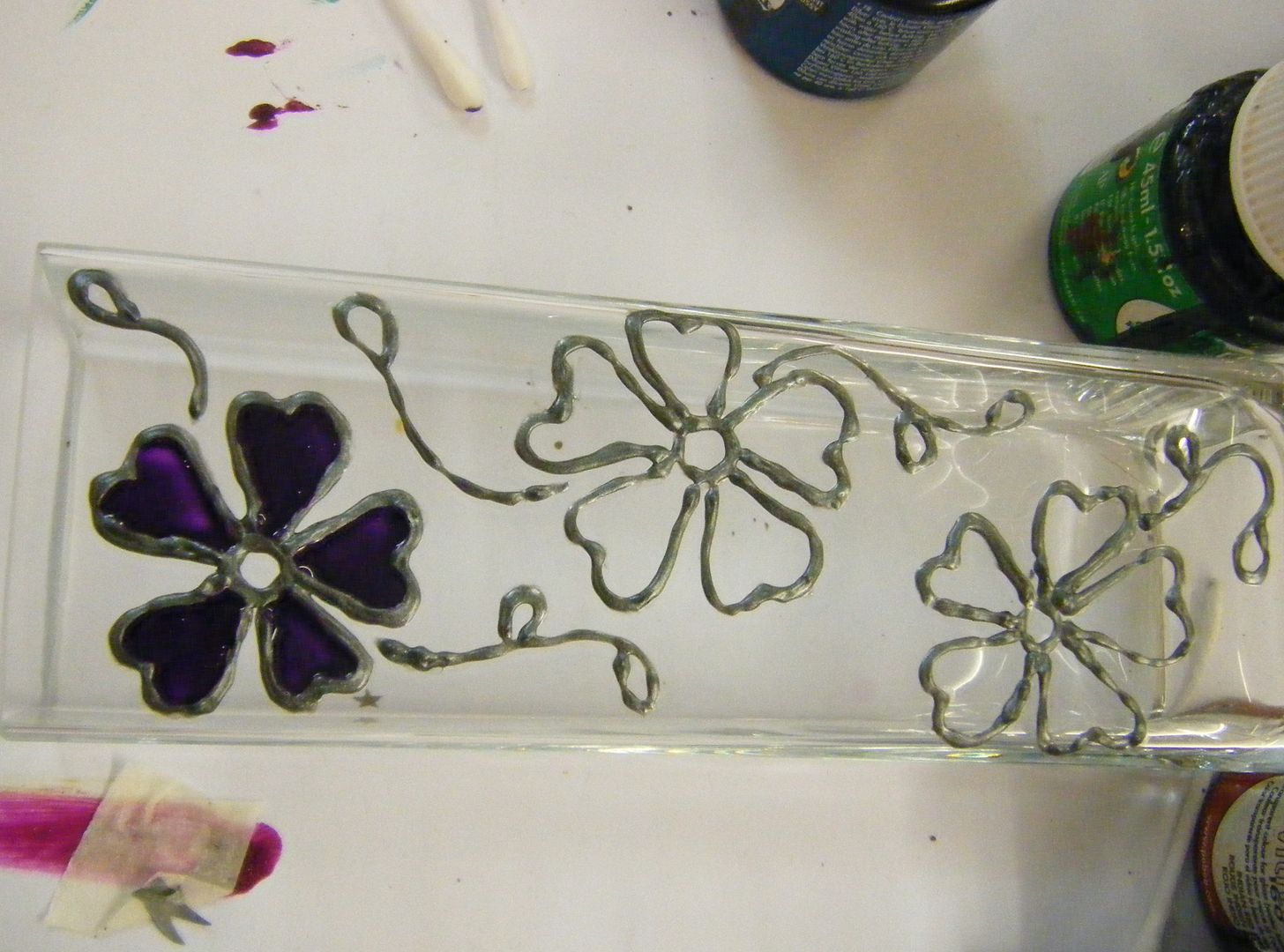 I gave it a quick blast with the hair drier before painting in the flowers and little leaves.
I am very pleased with it, but when I gave it another blast with the hair drier so it was dry enough for me to carry back to the hotel room, the paint blobbed a little.
Having finished the vase, I started on a candle glass.
This time I used a pearl relief and really like the colour, though I think the finished item looks better when you look through from the other side to the back of the work. I did the flowers freehand though of course you can trace a pattern.
I already knew I loved glass painting before the class and I did enjoy it. I have no idea why I haven't done any in years... I feel a new hobby coming on!
The next day we drove home. It took me 8 hours of driving, including 3 stops as shortly after setting off I had a panic attack. I couldn't shake the anxiety so it was a thoroughly horrible 8 hour journey with me having anxiety attacks the whole way home... Such a shame to end the holiday on that note. I had to rest all day Saturday as I think the episode really shook me up. 7pm on Saturday saw me asking Mr CA if it was bedtime yet!