As this is a jewellery post, you can probably guess that I went to another workshop at the Bead Shop Nottingham. I do have ideas of my own for jewellery, pieces half done, patterns I want to try, but my illness/condition just seems to get in the way a lot of the time. I know I've mentioned it a few times recently, but it is a big part of my life, like it or not (and I don't), and I've stopped being so scared of people finding out that I'm depressed. Anyway, back to the subject of the post.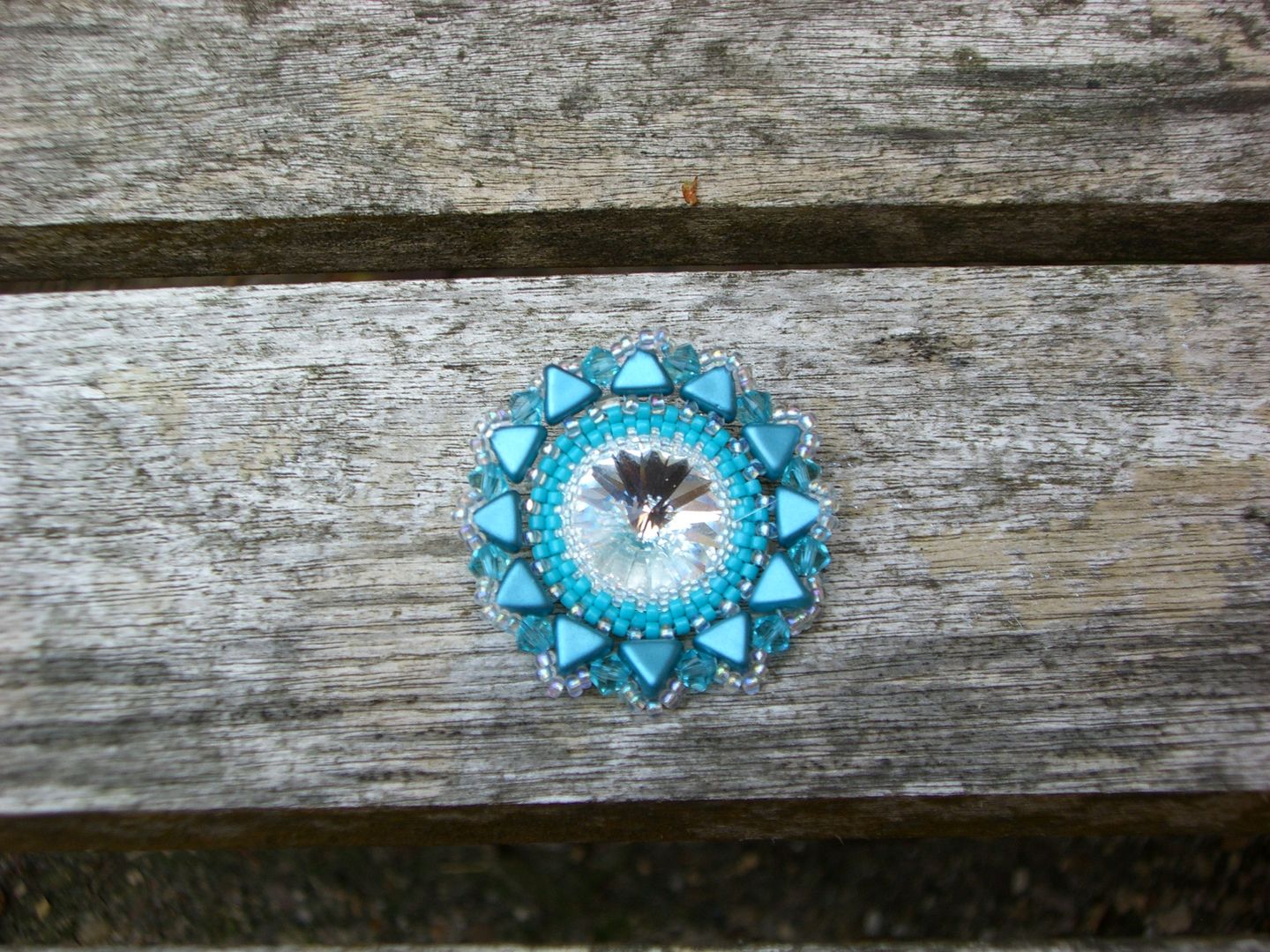 The workshop was to create a pendent or brooch using Kheops beads bezelled round a Rivoli. Did that sound like I was speaking Greek? I'll break it down.
These are Kheop's beads:
Before you start thinking my photography skills have improved, the photo is stolen from the Bead Shop's website, but I give them so much free advertising, I'm sure they won't mind.
This is a Rivoli:
It's a round crystal made by Swarovski, (photo stolen again). We used an 18mm diameter rivoli in the class. It's rounded on the front, but kind of pointy on the back. This allows you to encase the sides in a beaded casing and it'll stay put. Oh, here we go, I've stolen a photo of the back:
Bezelling, or creating a bezel, is the way that you encase the sides of the rivoli, holding it in the middle of a piece of beadwork. What I've done below is made a bezel round the rivoli, then added rows of Kheops and Swarovski bicone crystals.
I just couldn't capture the colour very well. The Kheops I used are the same ones as the first photo on this page, the sead beads are clear and turquoise, the crystals are turquoise too. I've added a couple of size 8 beads on the back so that I can add a piece of silver beading wire through and hang it very simply. You never know, in a few months when I get round to it, I might even post a photo!