Good morning ladies and gentlemen. It's time for the 3-weekly update on my latest WIP. I finished the Princess Bride for the last check in, and now it's time to present my next project. I am cheating slightly for this update, I haven't actually stitched on it at all, but thought I'd show you where I'm starting from. I've had a busy three weeks, including a weekend down near Bath at my brother's wedding.
I am stitching on Mellerstain Parrots by the Crewel Work Company. My kit is actually the fireguard, which I couldn't find on the website, but is the same design. I must have started this 4 years ago. I was stitching it as a sample for the Crewel Work Company as she was developing the kit. I got about half way through and was waiting for the rest of the stitching instructions. I emailed her several times but never got any response and have never heard from her since. I wasn't supposed to show it on my blog until it was finished, but as I've lost contact, I'm going to show it. It got put to one side as I don't have the stitching instructions for the rest of the design. I'm afraid I'm going to have to wing it!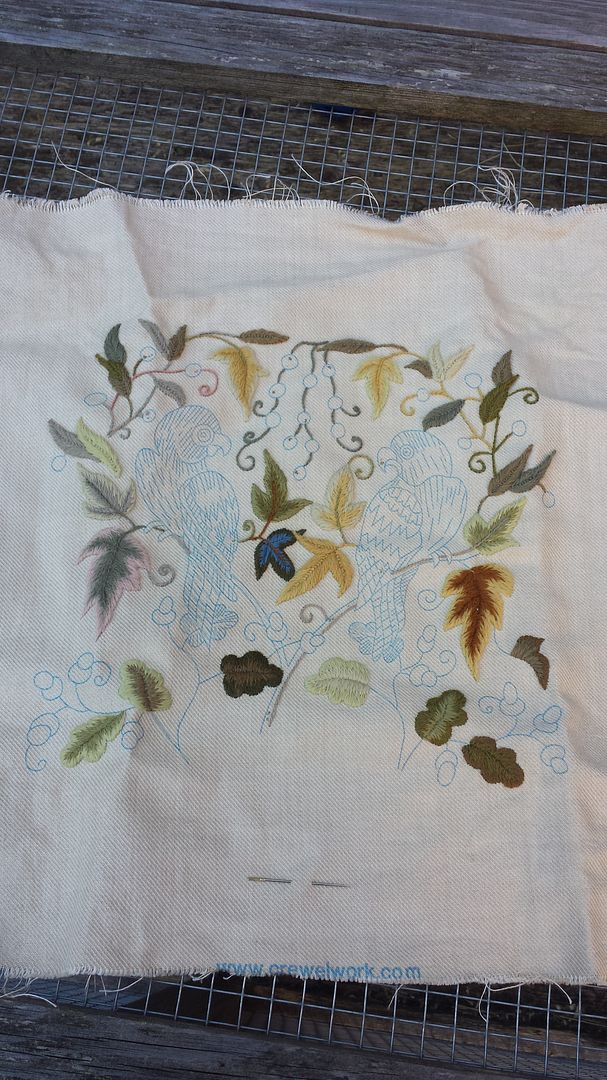 All the leaves are done, so all (!) that's left is the acorns and the parrots themselves.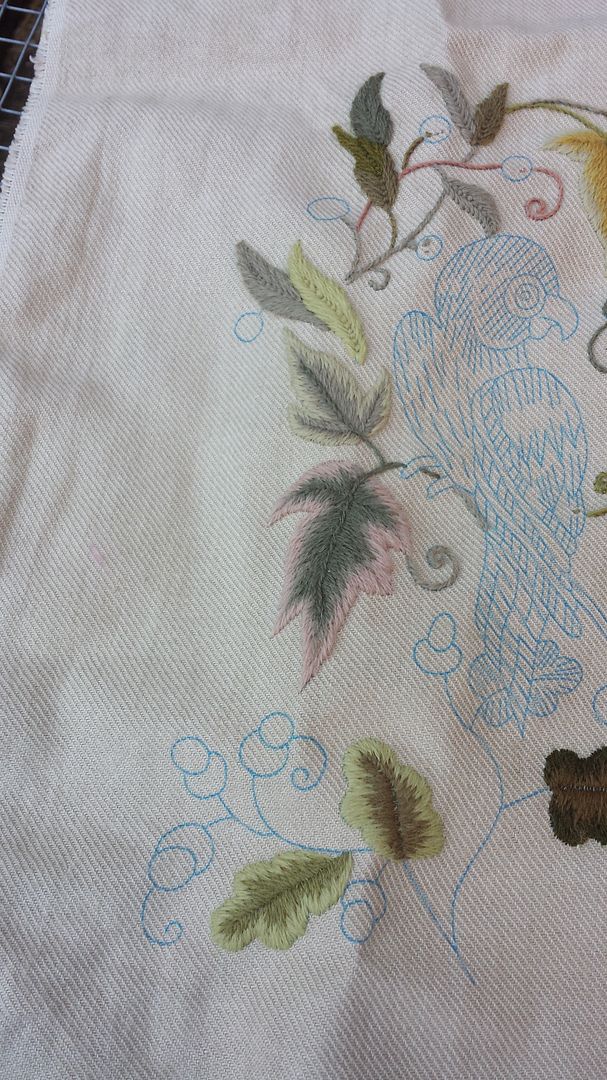 Also the little berries. I'm worried about those as I'm pretty sure they are in satin stitch and satin stitch circles have got to be hard!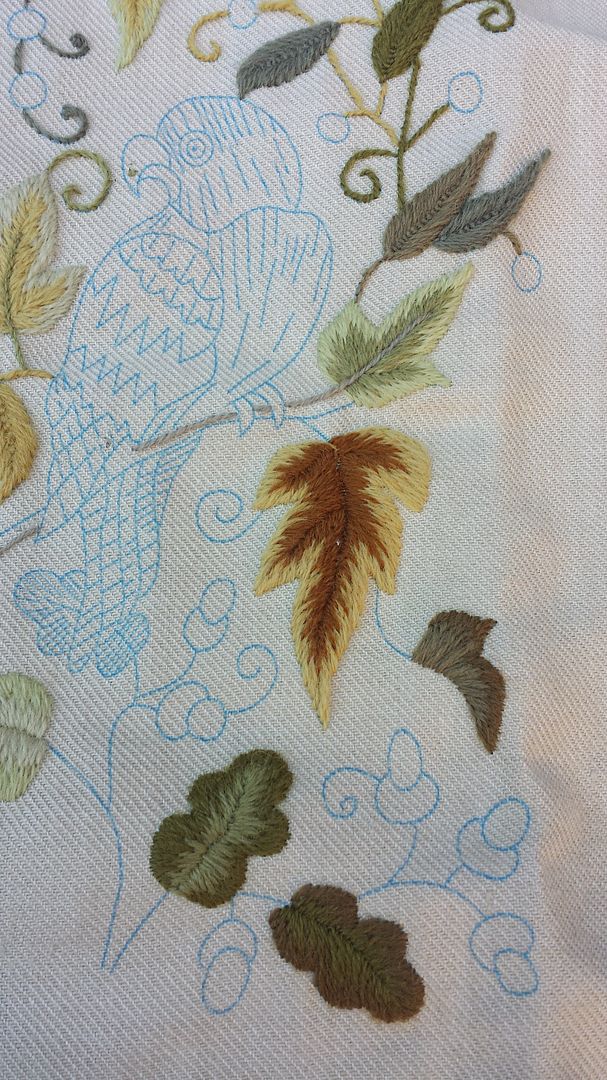 The linen was pre-printed, which is great. You can just get on and stitch instead of faffing around trying to transfer the pattern. This design also includes so stitch directions marked on the fabric, so that's useful.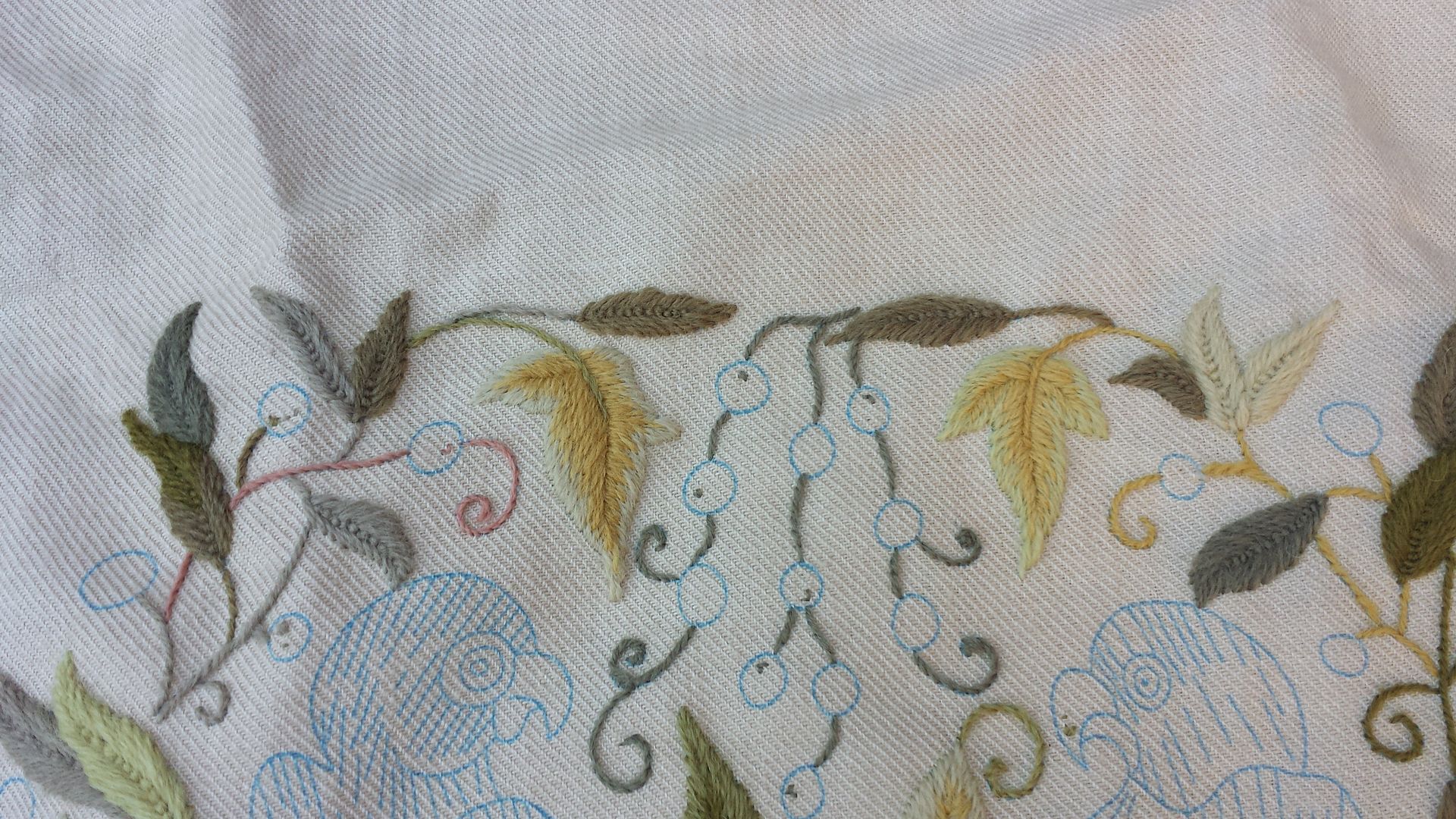 I'm quite looking forward to starting this, I hope I get a chance this evening. The problem I'm wrestling with at the moment isn't time, I have time, but motivation and energy. My new meds make me tired all the time, often too tired to even stitch.
I'll be back in 3 weeks to show you my progress.... if there is some!
I'm sewing along as part of a SAL, you can go and see what the other participants have been up to here:
Avis
,
Claire
,
Gun
,
Carole
,
LucyAnn
,
Kate
,
Jess
,
Sue
,
Constanze
,
Debbierose
,
Christina, Susan,
Kathy
Feel free to come and join us, just contact Avis.