It was time to make myself a new lunch bag and September's meeting of the EMMQG was just the time to do it.
Above is the new lunch bag. Below is the old lunch bag. I made it back in April 2013 and, reading back through that post, I hated the Lamfix lining from day 1.
Look how manky that is! It's been through the wash a couple of times, but it was gross and I was embarrassed about it. Check out the inside:
Putting it through the was caused the adhesive-oilcloth-type-stuff that I'd ironing onto the cotton to peel away. In some places, like where I'd attached the handles, it had ripped. Over time more and more bits had ripped off.
And then the zip pull broke. It was time. It had to be done.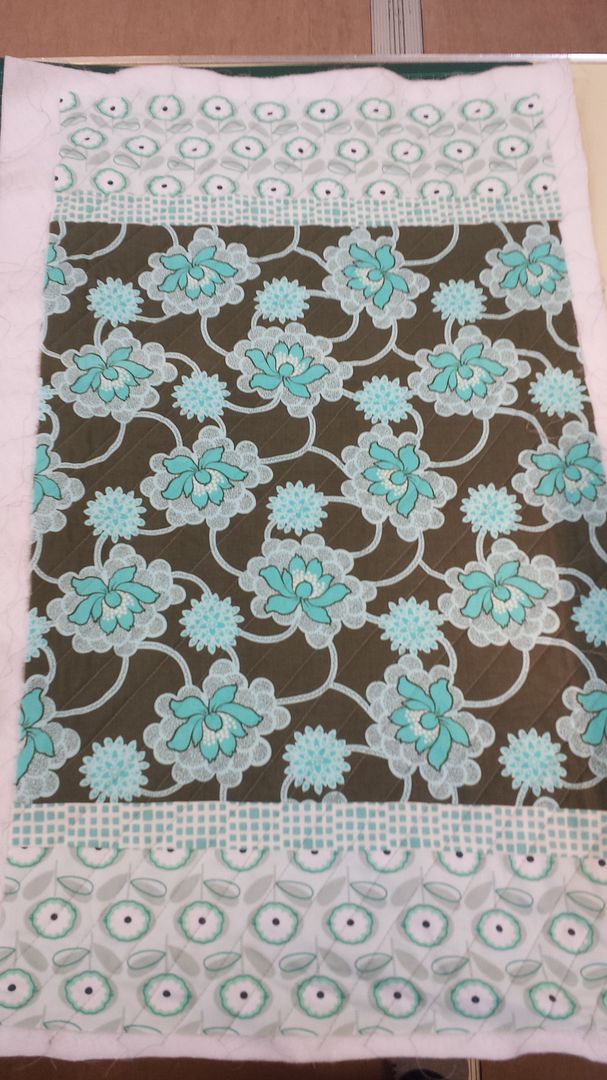 I didn't need a pattern this time, it's a basic pouch with handles. I also decided there was no need to have a wipe-clean lining as I'd never needed to wipe it clean, it was more important that I could put it through the wash. The main fabric is a gorgeous Rowan fabric, possibly Amy Butler? It was given to me by Kerry-who-abandoned-me. I used some Littlest on the ends and some Art Gallery elements. The colours all matched perfectly, though I can't decide if they are blue or green!
I did a diagonal cross hatch quilting to attach the fabric to the InsulBrite.
This time I attached the handles to the outside only, before I added the lining, and I put a strip of wadding in them to give them more body.
I don't know what the lining fabric is, I've had it in my stash since my first sewing days. I made this one a couple of inches bigger in each direction than the previous one as some of my plastic sandwich boxes were a tight fit.
Hmmm, what was I trying to show with this photo? I must have thought you'd want another look at the lining.
One this that was not an improvement over the original - the ends of the zips. What a mess! I was really careful to make sure that the ends of the zip had a fabric piece on them big enough to be included in the seam allowance, with enough left over to sit neatly. Didn't happen.
I don't know what the ends of the zip are so bulgy!
As I seem to be going for some kind of world record of number of photos of one lunch bag in one post, here's another!