I've got another craft class to tell you about today. I've been so busy with life that I've done very little crafting outside of my classes, so you'll get a few craft class posts for the next few weeks I'm afraid! I'm missing sewing and crocheting and embroidering so much that I need to carve out some time for it.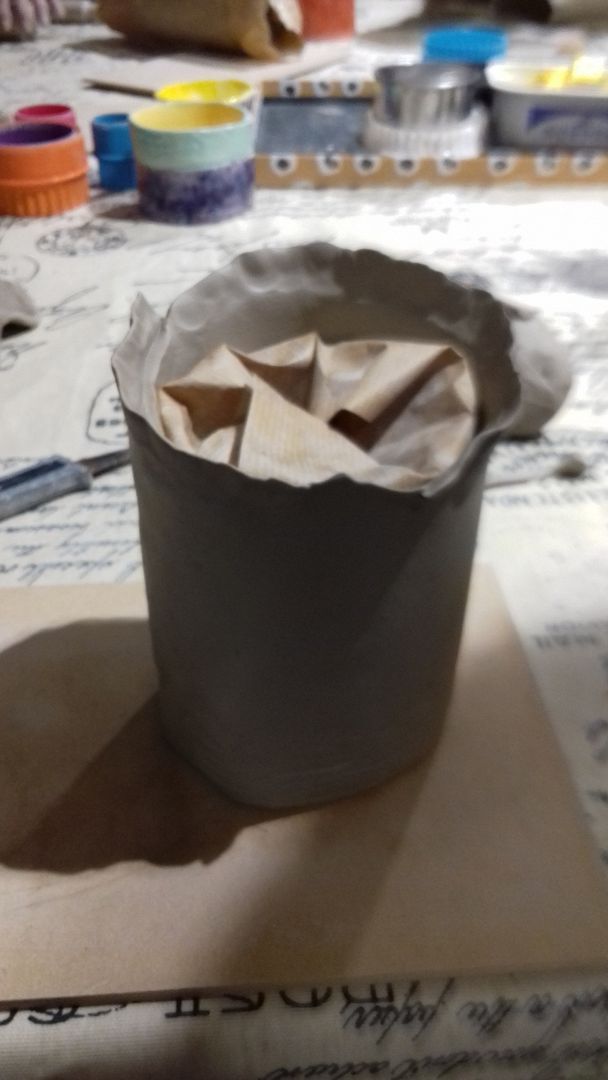 The class was to make a couple of plant pots from scratch. Form them from clay, embellish and decorate and glaze. Nat was a great teacher, she showed us the basics and then let us run wild. You didn't hear any "you can't do that" from her, which I love in a teacher. Above is a first attempt that I wedged and started again. I formed it round a cardboard tube covered in brown paper, but didn't like the frilly edge I made.
I liked this attempt better. A simple rolled pot with some cut out bunnies on it. They were made with punches, they're not hand cut!
I made two and both featured a deliberate join. Some of Nat's examples had this feature and I really liked it.
I used letter punches and cut out the letters to make a cheesy pun on this one. My parents always thought Aloe Vera was funny and pronounced it "'Ello Vera", so I thought I'd run with it! I intend to get an Aloe Vera plant (which is turning out to be a lot harder than I imagined) and put this in my bathroom.
For some reason I've included a random photo of a piece of clay rolled out and cut to shape!
This shows the back join on the bunny pot. I love that thick edge. When I took this photo I was cleaning up the pot using a paint brush and a small amount of water.
Then we glazed. There were loads of gorgeous colours, but I stuck to bluey-greens to match my bathroom.
I left the words blank. I didn't really have time to do the detailed work that painting them would have required, but I'm not keen on the finished look so I may end up filling them in with ceramic paints (I think I have some blue) or with a sharpie... not sure if that'll work.
Seems like I went mad taking photos!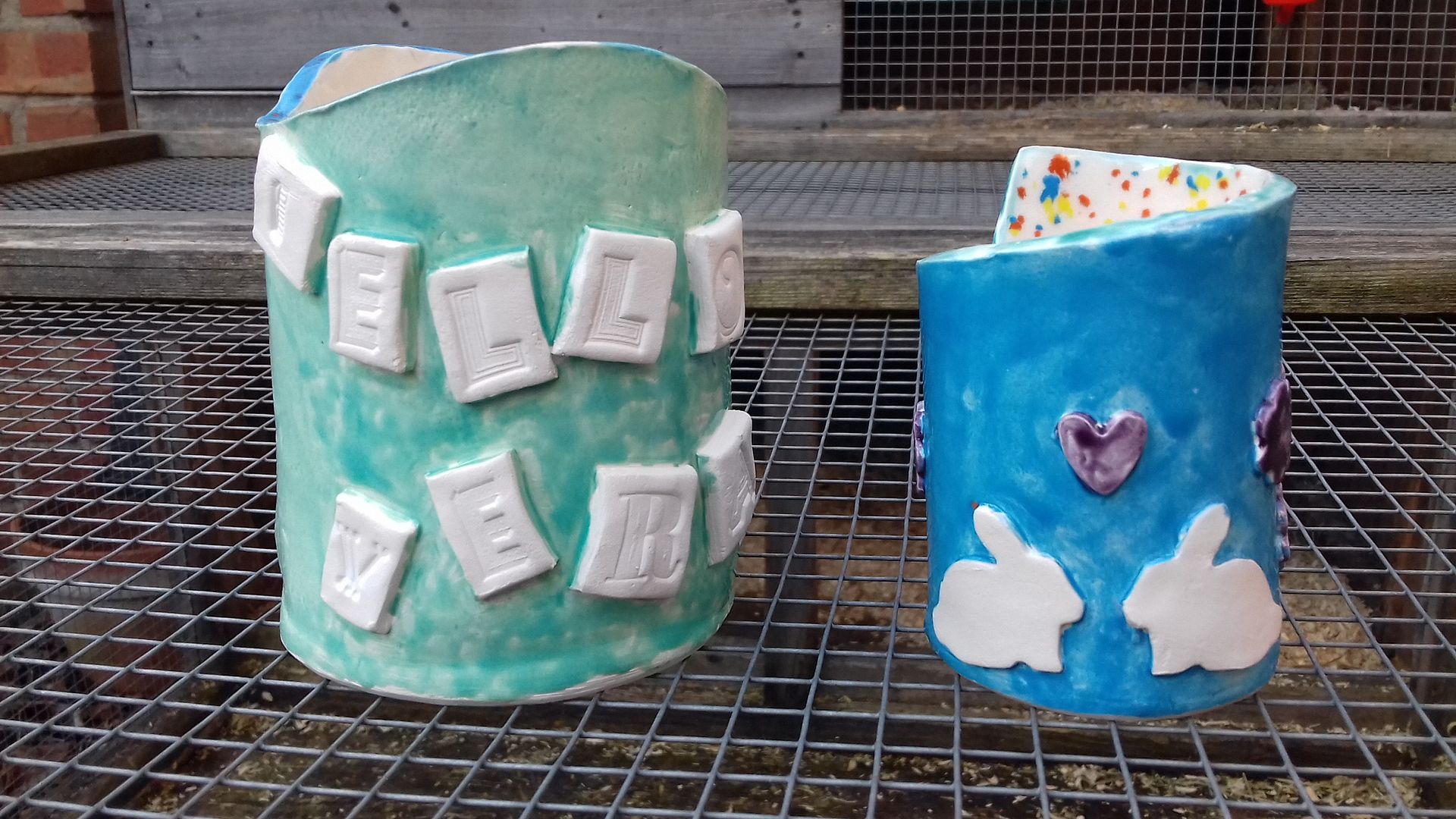 And here are my finished, fired pots! The 'Ello Vera one is very patchy. Despite it being a full-day class, there was so much to do that I didn't get a chance to do a second coat of glaze on it.
My painting skills are definitely very lacking!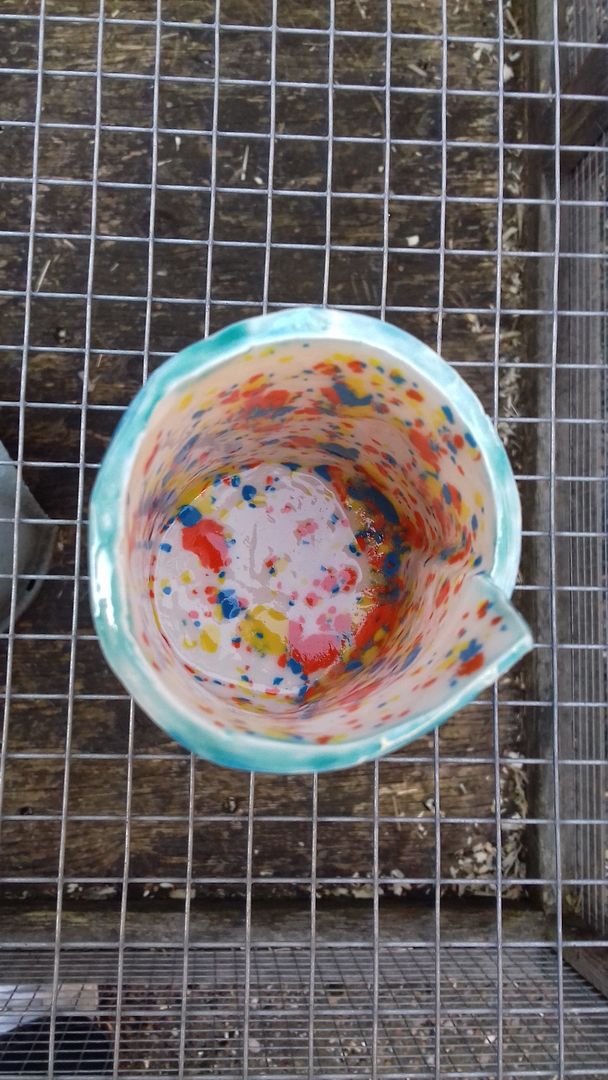 The inside of this one was painted with a confetti glaze. A clear glaze with little pieces of glass in it, just like the frit I used in the lampwork class!
I have no idea what colour I painted this one! It looks like white but I really don't remember doing that. The clay dries white, but unglazed it is porous, so I'm sure I glazed it (I thought in blue!), maybe not!
Stay tuned for more craft class reports!