Not last weekend, but the weekend before, was the bag retreat with the inimitable Mrs H, bag designer extraordinaire. I drove down to South Wales on the Friday morning, arriving just after lunch at the lovely hotel. Bag making was already in full swing in the bag-making room! I have absolutely no photos at all of the retreat I'm afraid, I was far too busy sewing, chatting, eating and nursing my hamster bites. I was bitten by my goddaughter's hamster whilst dropping off Colin for them to babysit. She got me in 3 places, on 2 fingers and I was still dripping with blood the next day!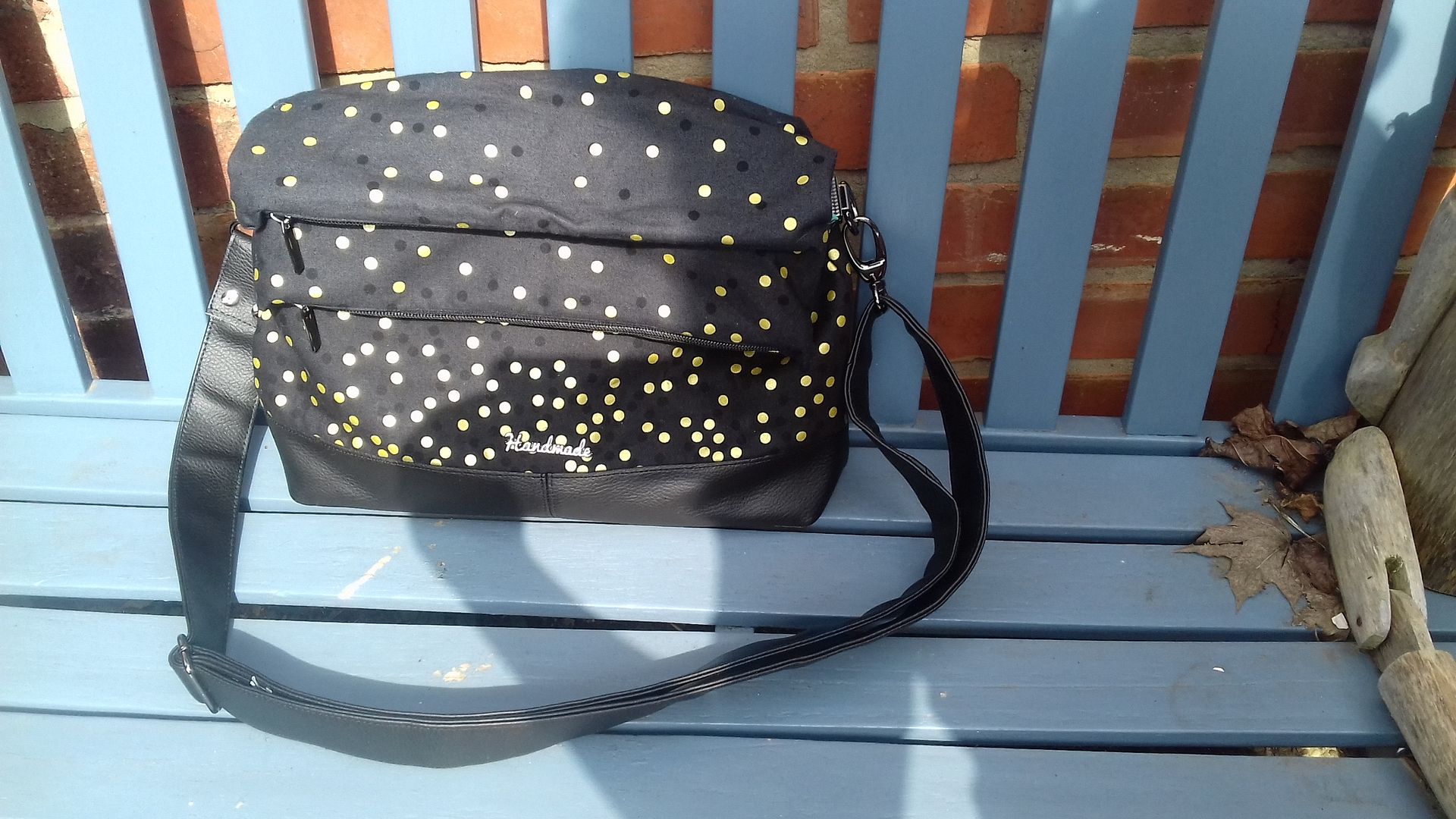 This is the Double Flip bag, pattern by Emmaline Bags. The lovely Janelle was at the retreat, sitting at my table. I met her at the retreat last year and it was fab to see her again. Not only is she a top notch bag designer and supplier of the best hardware, she's a fab person too and I thoroughly enjoyed hanging out with her. She supplied one of our free retreat patterns and that's what I chose to make.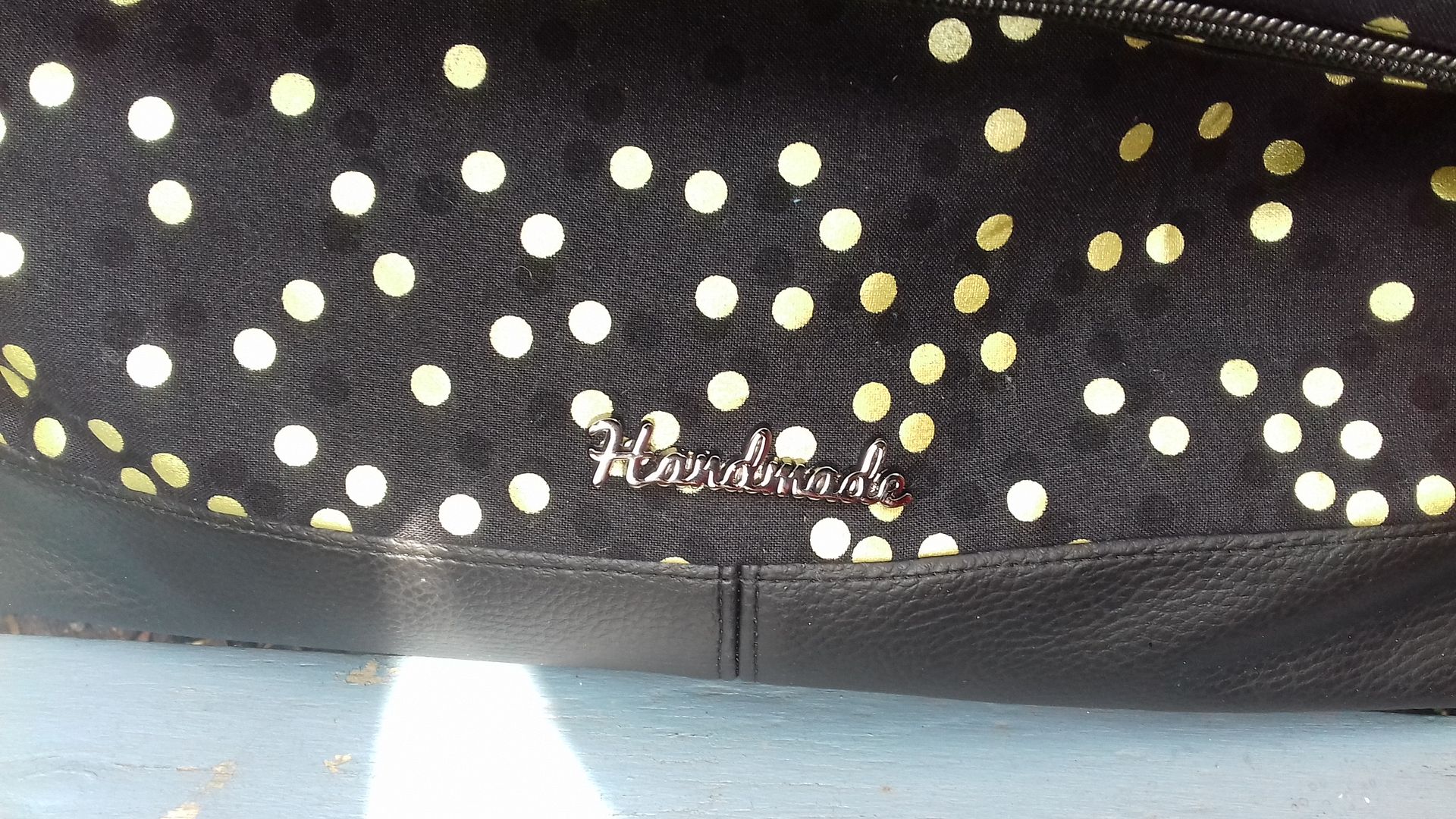 The hardware on this bag, including this "handmade" label, is all from Sew Hot who had a pop-up shop at the retreat. I also bought the faux leather used for the base and handle, and the rest of the bag fabrics from Sew Hot. The outer is an Ombre Metallic Dot. No idea who designed it or manufactured it... sorry, I'm rubbish at knowing about my fabric!
Due to the hamster bite, I hadn't been able to cut my fabric and fuse my interfacing prior to the retreat, as had been my plan. This meant that the entire Friday was spent cutting out and interfacing. Oh, and eating. The food was amazing, and very plentiful!
I usually add extra inner pockets to bags, but I didn't need to. Me and Janelle are on the same page about pockets and it has an inner zip pocket, and 2 slip pockets (to which I added a couple of lines of stitching to also create a pen holder). There are also the two big pockets that form the double flip, and a secret slip pocket at the front.
I used that gorgeous teal fabric for all the lining, except the zip pocket, for which I used a scrap of red fabric with white dots. I used metal zips for the first time. It came on a continuous roll with several of the zip pulls included. It was nowhere near as scary as I'd thought!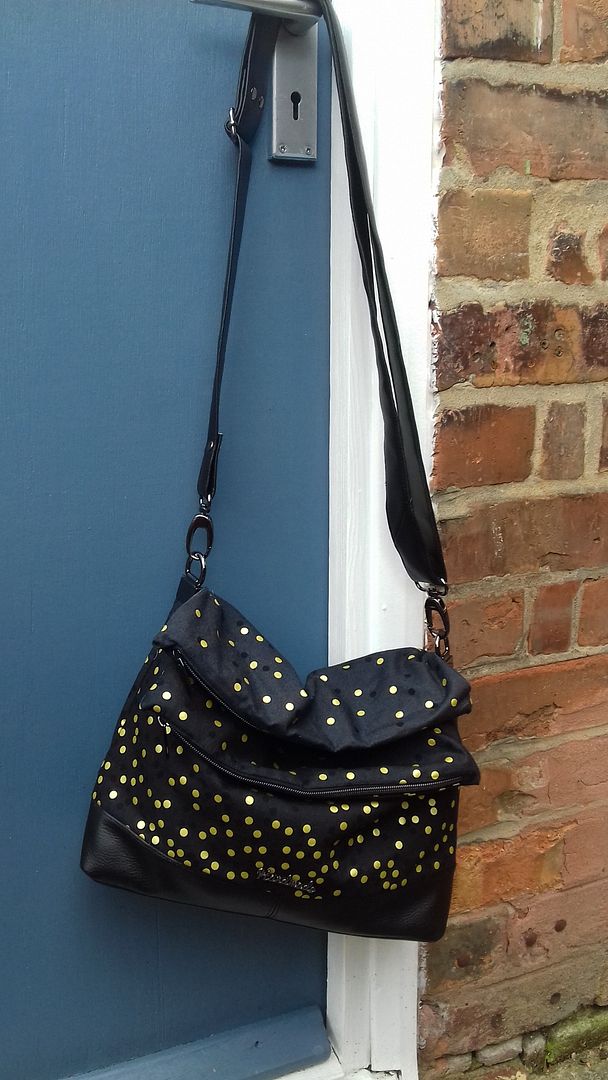 It hangs really nicely when carried. The main inner is between the two pocket flaps.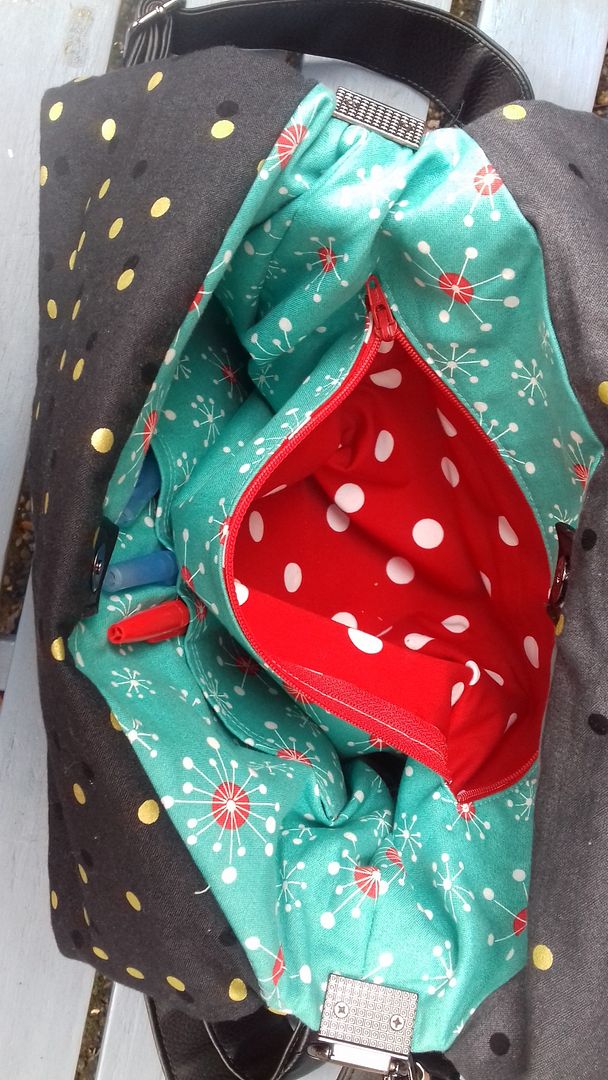 Below you can see the secret pocket at the front. It has a rivet either side of the opening to reinforce the stitching. I didn't use rivets though as I've had no success at home with them so haven't bought a rivet press. Instead I used Chicago Screws which were a revelation for me! I LOVE them and will be investing in different sizes and colours to use on all my bags. There are screws on the handle too. This particular hardware is all gunmetal, which, along with nickel, is my favourite.
I finished the bag on Saturday night and spent Sunday cutting out and starting to sew a messenger bag for Z's birthday which is coming up in June. I got pretty far with it, but haven't finished it since I got home as I'm still decorating and rearranging and decluttering and sorting out my house! News of that coming to a blog post near you soon....
Yes, it was a lovely sunny day for photos!