A very photo-light post today as it's about the pottery throwing class I went on, and being covered in clay is not conducive to handling your phone!
I threw a pot at the Manor House Hotel back in 2014 when I had a fab week there with my mum. Since then, I've wanted to try it again, but could never find a class. There is a regular class near to where I live, but it's at the same time as silversmithing so I'd never made it. Then I noticed you could book a one-off class on a Sunday. So I did.
10 of us gathered round a table and learnt how to wedge clay. At this point, I was already a bit mistrustful of the teacher as she seemed rather rude. As it turns out, it did not bode well. Clay wedged, we went through to the throwing room where the teacher gave us a 10 minute demonstration covering everything from centering the clay to bringing it up, taking it back down, making the hole and drawing it up, then cleaning it up and cutting it off. Then we were let loose. Great, my favourite way to learn.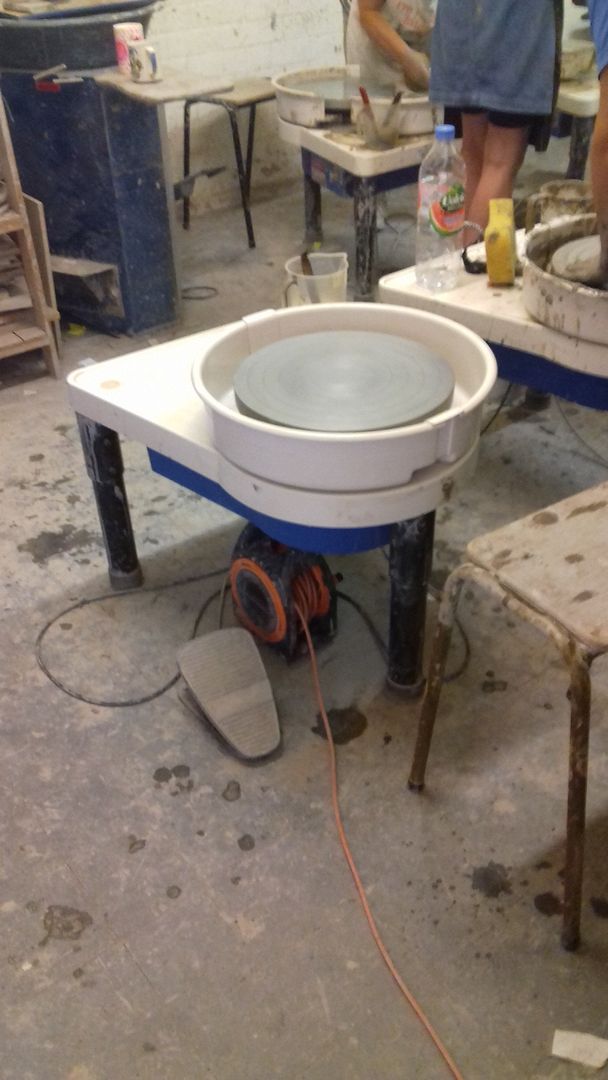 This was my workstation. An electric wheel and a stool. My first fight was to switch the machine to left handed. The teacher had asked if anyone was left handed, just me, then told me I would try to throw right handed. Having watched the demonstration, I knew I couldn't. I just don't have any control with my non-dominant hand. She was very pissed off with me. Turned out that throwing left handed involves nothing more than pressing a switch on the side to change the direction of the wheel and moving the foot pedal to the left (which I did myself) which she also fought against me doing! Years of sewing on a sewing machine meant that I KNOW I can't control speed with my right foot. But what do I know?
So we began. At first there was much laughter, but then things started to go wrong. No problem. We were a room full of beginners, of course things would go wrong. When they did, the teacher said, very aggressively I might add, "that's not how you do it! Do it how I showed you!". Hmmmm.... After being yelled at a few times, people stopped asking...
I was having trouble making my hole. I could centre the clay and draw it up, but as soon as I put that hole in the top (to make a pot), it went off centre. She refused to believe me. Said the problem was it wasn't centred at the start. So I showed her it was... then she'd walk off and not watch the bit I was having trouble with!
I threw 10 pots. 9 of which collapsed. The survivor (which is crap!) is in the middle of the photo above. At that point, I went home! She said I could throw some more, but what's the point? I was unable to solve my de-centering problem myself and she just gave me abuse if I asked for help...
(Mine is the one at the bottom). NOT a good class. I will NOT be going back. I don't think pottery is my "thing", but I do think I could do better than this. Maybe I'll try again with another teacher, if I can find one.
I have chosen not to name the teacher or the place I went to learn as I realise this is a very scathing post.
If my pot survives the kiln (which I doubt!) I will come back and show you the pot. Oh, another thing! She said they'd be ready in about 3 weeks. I asked if she'd email us and she said she doesn't have time to email us and we have to email her to ask if it's ready. So she doesn't have time to send one group email, but does have time to answer 10 people asking if the pots are ready (and if they're not, these 10 people will email again)... customer service??