Despite my sewing machine chucking a wobbly, I decided to join in with the
Friday Night Sew In
anyway.
First up I finished up, wait for it... oh yes, ANOTHER crochet washcloth!
This one was made up, by me, using the Handbook of Crochet Stitches. So I'm also sneaking in my first entry for March's Craft Book Challenge.
I used a lovely ripple stitch and am really pleased with the way it turned out. I finished it with a round of dc. Once again, it's the Sidar Calico range.


Anyway, back to the FNSI. I then started to applique some bikinis which will be made into lavender hearts. These will be the first items in my Folksy shop. Am I crazy to open a shop so soon into my crafting life? Probably. But nothing ventured, nothing gained. I'm aiming to open it at the end of April.




I got as far as bondawebbing both pieces to the linen, then doing a double-whipped back stitch on the bra. I decided that this time, instead of cutting the hearts, appliqueing and then handsewing, this time I will applique, machine sew the hearts and then cut.
So how am I going to machine sew considering my machine is broken? Well I'm taking it to the shop to be mended (fingers crossed) today. I have no idea when I'll get it back, so I might also be nipping round to my parents' house to steal my mum's machine!
Also last night, I laid out a load of projects on the dining room table as I plan to get a whole load of cutting done ready for when I'm able to sew again.
Here we have (top row, left to right) Amy Butler fabric for mum's bag , to be sewn loosly following the Hobo Bag in the Bag Making Bible but with a lot of changes. Another Buttercup bag, but altered to my own specifications from this gorgeous printed linen and probably the spotty cotton. The Amy Butler home dec. fabric used for the knitting bags I made for me and mum so I can make her a crochet hook holder, and probably one for me. Random pattern pieces, fusible fleece and interfacing. Also on that pile is Crafty Ady's glasses case pattern pieces as I plan to cut some more of them, though I'm not sure which fabric yet.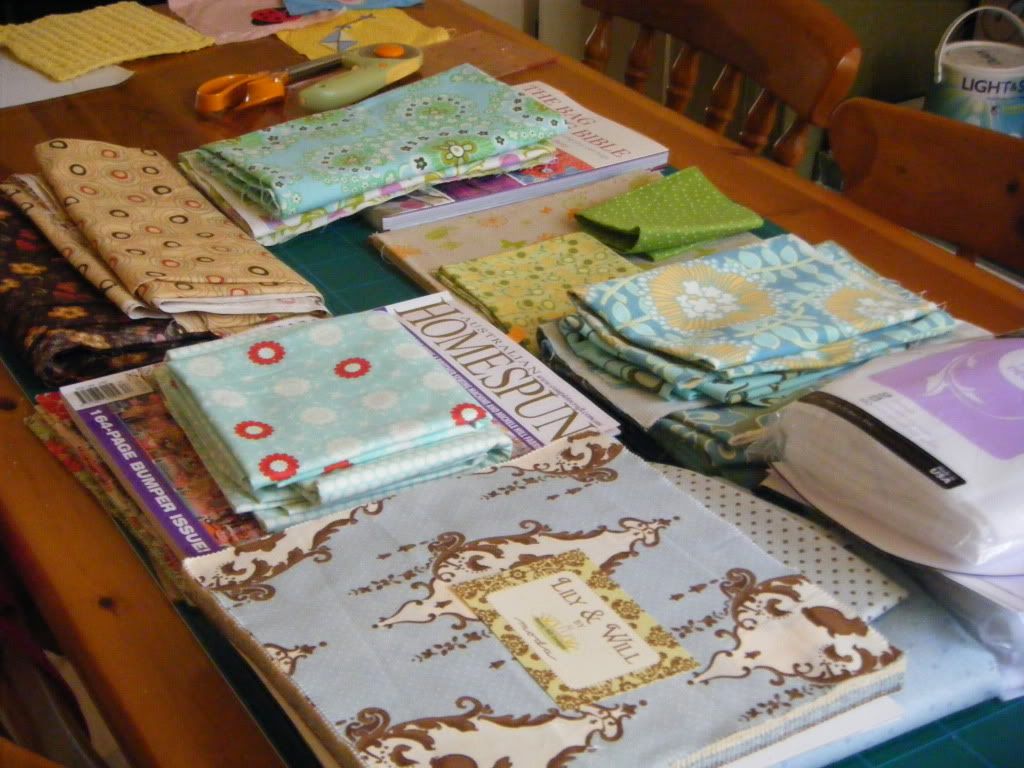 Bottom row is some gorgeous Moda Essence fabric chosen by my mum for more placemats. The lining pieces for the sewing machine cover from Homespun Vol 11 No 11 now my Bliss yardage has arrived. And finally a Lily and Will layer cake and lots of yardage to make placemats and other table linen. I've just realised I'm a project missing as I also intend to get a playmat made for my cousin's children.