I went to the Hobbycraft and Sewing for pleasure shows at the NEC on Friday. If you were wondering why I hadn't mentioned it, it's only because I've been scheduling posts recently and this is the first one I've written since then.
I'm not going to bore you with loads of photos of stash, and believe me, I got STASH! I got some fabric bargains and lots and lots of beads. Oh yes, I've moved into a whole new realm, more about that in posts to come.
I will show you this photo though. I got a big bag of random spools of thread, Portuguese I believe:
How much do you think I paid?? A FIVER!! That's $8ish US/AUS. I don't know what it is in Canadian dollars. I only know that the US and Oz have a similar rate at the moment as we trade with them at work. You didn't want to know that did you? You come here to see which craft I've messed up now and here I am blathering on about exchange rates.
Anyway, this time you'd be wrong, I haven't messed up! Oh no, I made a Buttercup bag and it came out perfectly! Not a mistake on it.
Does it look a funny shape? Well that's just the camera angle and then I turned the picture round. What do you think to that delicious linen? I don't even know where I got it. It was bought in my first fabric-buying-frenzy when I first learnt to sew. The buttons match the lining: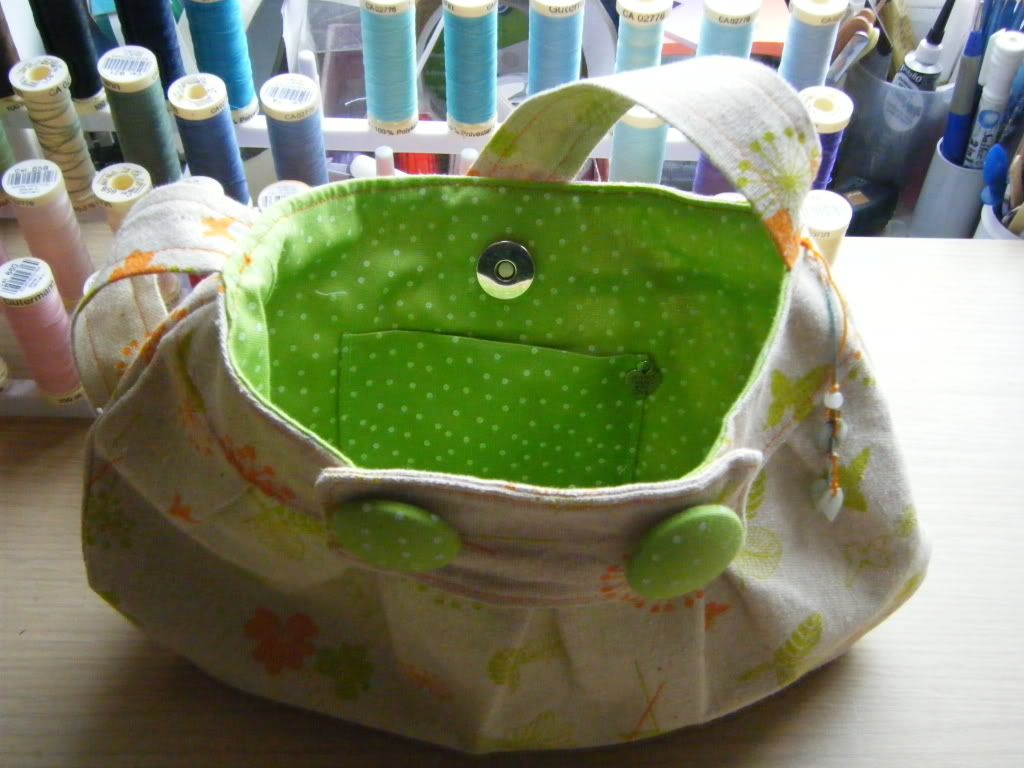 I changed a few things this time. I sewed the handles between the lining and the outer and think it looks better. I also didn't bother playing with the pleats on the pattern and instead added my own - 3 double pleats in the middle and a single pleat on each end. I pinned it up on one piece, then matched it to the other piece and I'm really pleased with it. The pattern comes from the brilliant Made by Rae blog. It's free for personal use but you have to pay for it if you want to sell them.
That's a picture of the pleat pinning process in case you didn't get it!