I don't seem to be getting through as many finishes recently, but then I realised that doesn't mean I can't blog as I can show you what I'm working on. It might be interesting to look back on how a project progressed.
I thought that the FNSI was last Friday night, so decided to do some piecing. This is for a sewing machine cover, the pattern was in a copy of Australia Homespun, but the pattern is also available to buy from the lovely Bloom. My machine came with a hard cover, but it doesn't fit properly and is just downright annoying, ugly and has a hole in the top which renders it useless as a dust cover! When I bought my layer cake of Bliss, I knew the project I used it for had to be something I'd look at often... enter the sewing machine cover.
Piecing began on the Friday night. Then my machine threw a fit. I thought it might be lint in the bobbin case, so took of the needle plate and cleaned it out, but then the bobbin case wouldn't fit back in properly and the top thread kept getting jammed. Cue 2 hours of swearing and shouting (me, not the machine).
I got them done in the end. Crafter's Apprentice 1, sewing machine 0. I have been thinking that I should name my machine, the most relevant name at the minute would be b***h, but I don't think that will lead to a productive and loving relationship!
A little handsewing for the front of the machine cover. The pattern called for a beigy colour thread, but then Bloom had used natural linen for her cover and I chose white, so I looked in my thread boxes for an embroidery thread to match the Bliss. The best match was this aqua. It's DMC light effects thread and sparkles beautifully. It was a pain to sew with though. This cover is turning into a labour of love!
No, I haven't ironed the fabric.
Another work is progress is an alteration for my best friend. She has lost some weight recently and is looking fabulous, but none of her clothes fit. I tentatively offered to take some in for her. We decided I'd start with a simple shift dress she'd picked up at a charity shop as she wasn't really bothered if I messed it up.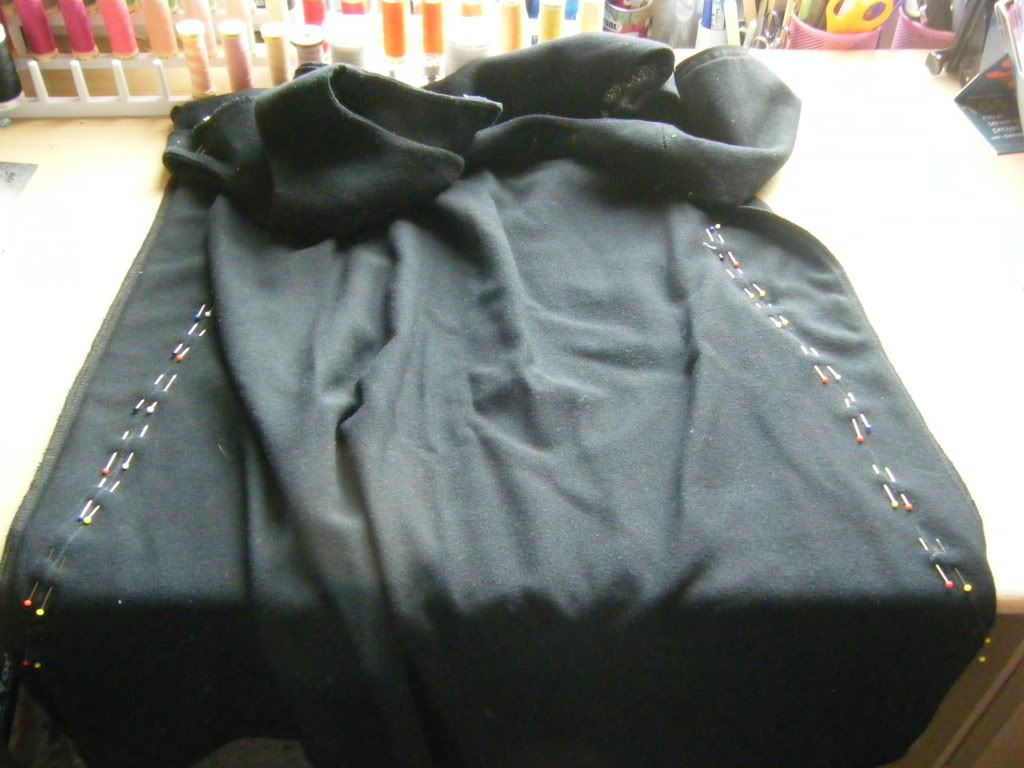 I realised I didn't have a clue how to alter clothes, so I got her to put it on inside out and I safety pinned it where I thought the new seam should be. I then replaced the safety pins with a lot of pins and a tailor's chalk mark. Then I left it to sit on a table as I'm too scared to sew it!
The next project isn't actually started yet, but I will be starting very soon. We're in the process of decorating our dining room and I wanted some table mats / chair covers / table runner etc for our first ever dining room table. I discovered this fabric - Lily and Will. The blue and brown colours match the wallpaper in the room exactly (it's a feature wall paper, just on the chimney breast), and it's accompanied by cream which will fit in with our white walls. AND, it's got bunnies on it!!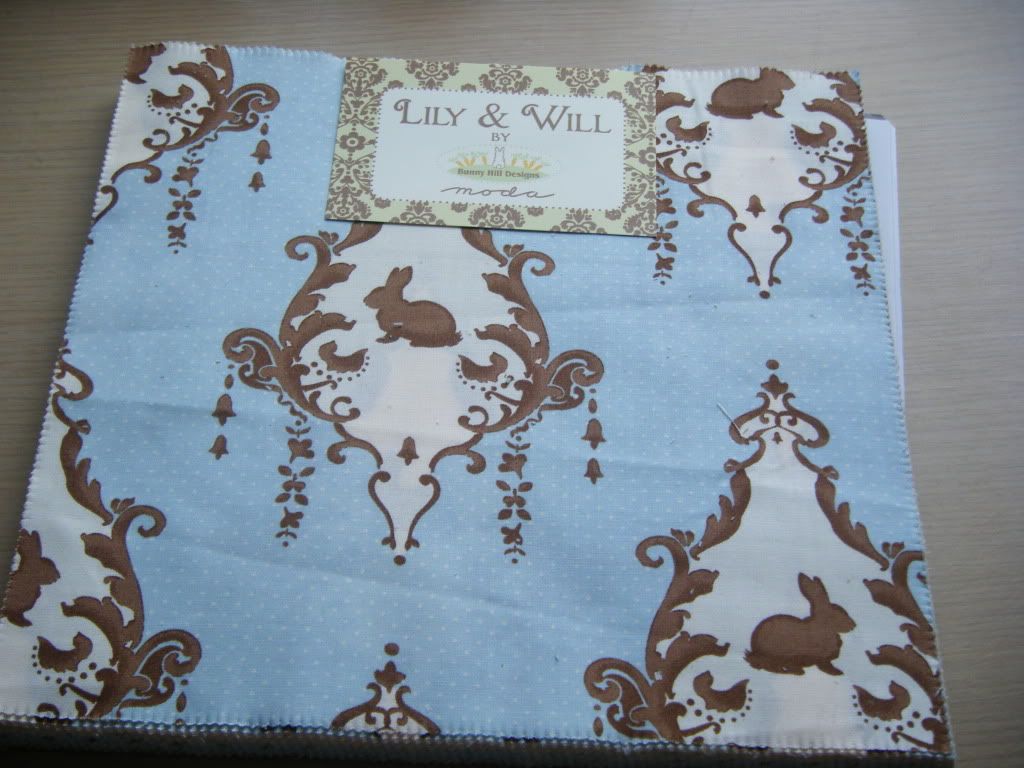 These are not my only works in progress, if you count the things I've been working on slowly and those that I want to do, I'm trying not to get anxious over the amount of projects floating around in my head. I haven't decided whether I'll be doing a Craft Book Challenge this month. I want to, but I also don't want to get even more stressed over it so I'll see how it goes. Considering I did 3 in January and 4 in February, I think I'm covered anyway!