Afternoon everyone, I'm back. Not that I've been anywhere but I didn't feel like blogging over the long weekend. I've just spent a lovely afternoon in the garden with my husband and the bunnies, disturbed only by a neighbour a few doors down beating up his wife in their garden! Yes, I did call the police, I was very shocked by the incident but he was so big and burly there was no way I dared to step in, after all, he could see where I live. Is that cowardly? The police turned up pretty quickly but I don't know what happened as the man, women and child (yes, there was a child there) legged it inside when the saw the police.
Anyway, that's not what I was going to post about, nor was I going to post about the small boy that threw a rugby ball straight at my head on Saturday - what is going on in this country? If I'd have done that as a child, and I wouldn't have dared, or wanted to, I would have got a clought from my dad after the person I threw the ball at dragged me home.
Anyway, that's not what I was going to post about either! I was going to, and am going to, post about these little bear baby hats.
How cute is that? I feel I can say that as it's not my pattern, it belongs to Alli, click here for the link. She's generously provided the pattern in two sizes - newborn and 0-3 months. Her whole blog is fab, so go and check it out here. I decided to get adventurous and adapted to pattern to make a larger hat. It worked! I see a whole family of these...
And then some in white with black ears! This was such a quick pattern. People often say that, then the pattern takes me days and I think I'm very slow, but seriously, less than an hour each to make these. And it's really addictive.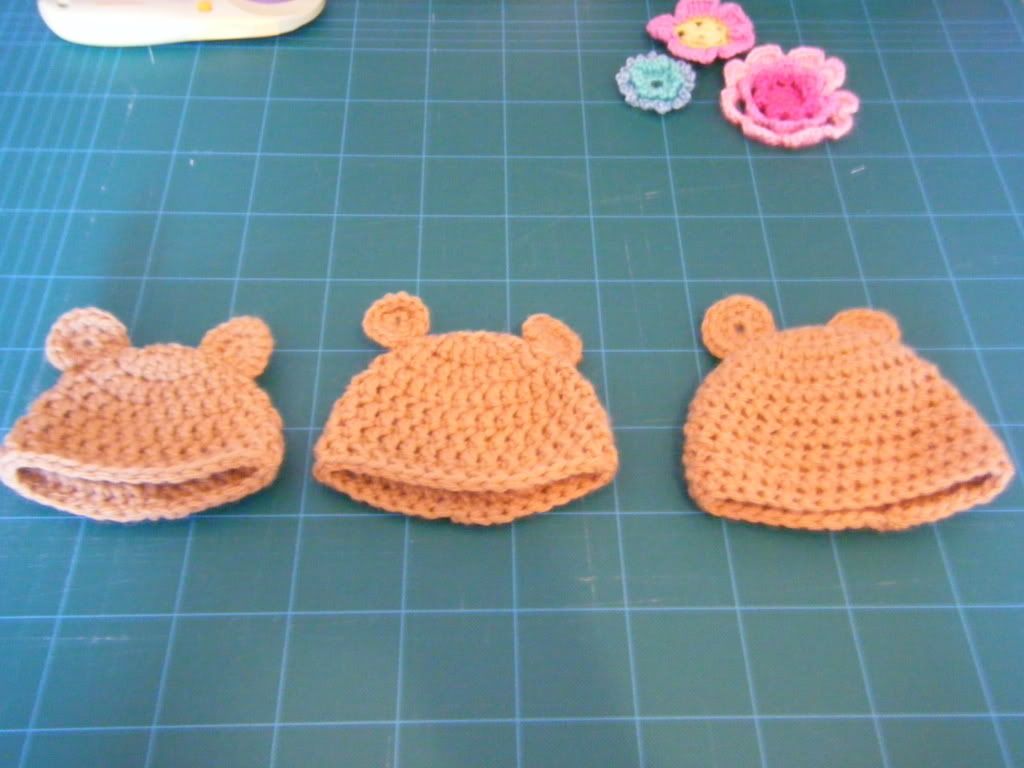 I've been doing some more crochet, and some sewing, so plenty more to show you this week. I hope you all had a lovely bank holiday weekend in the sun. Oh, that probably didn't happen for you lot in Canada and the north of the US did it? Sorry about that ;0)