Can you guess what it is yet?
Oh, I told you in the title. Well that spoilt that then. I was asked by a friend to make her a sewing machine cover like the one I made for myself - see this post if you are at all interested.
I made some changes this time. Instead of using the DMC light effects thread, I used Perle Cotton number 5. Well ladies, call me a heathen, call me anything you like, but I do not understand the hype about this thread. It's pretty much like any other embroidery thread, just not stranded. What am I missing? Other bloggers rave about Perle Cotton.
I used all pink buttons this time. On my own cover I used a mixture of pink and red from my stash, but I didn't have 6 of one and 7 of the other this time and had to buy a pack. They had no nice ones in red at all in Hobbycraft so I made do with all pink. The tape measure ribbon is different too. On my machine I used some ribbon I'd bought from East of India but I didn't have enough left so I had to make do with this cheaper version from the craft show.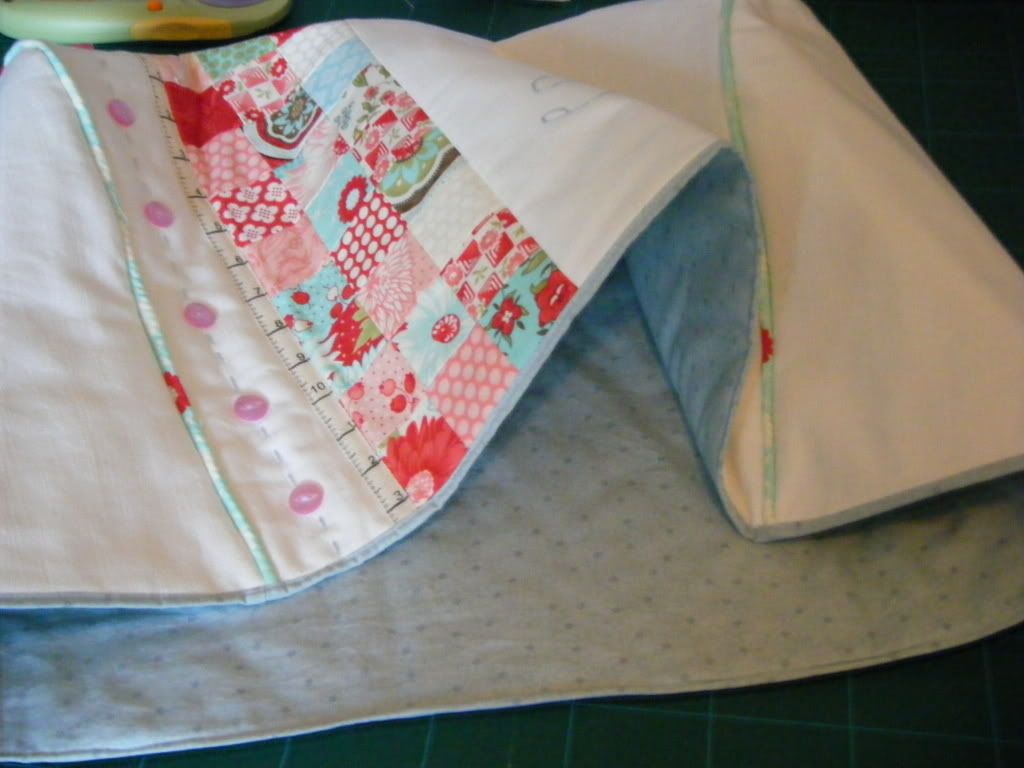 I'd also ran out of the blue spot Bliss fabric I used for my lining. The only think I had to hand in sufficient quantities was Lily and Will yardage which I'd bought for dining room stuff. It goes well enough. This time my lining is MUCH better. Confession? I made a lining, remembered how big it was on the last version so made it smaller. It was way too small! I had to rip it out and start again. This second version worked perfectly. In fact, on this second go around the whole thing went like a dream, other than the lining issue and the 4 or 5 times I was merrily sewing when I realised my bobbin had run out about 10 minutes before! I'm really happy with it.
I decided to pop in a little pincushion as an extra. What follows is not a tutorial, but I did take some pictures along the way, just because!
I made a 9-patch square from 2 inch Bliss squares. Almost all the points match! Wahoo! I cut 4 strips of linen 5.5 x 2 inches and one square 5.5 inches. I sewed the strips together to form the sides of the cushion.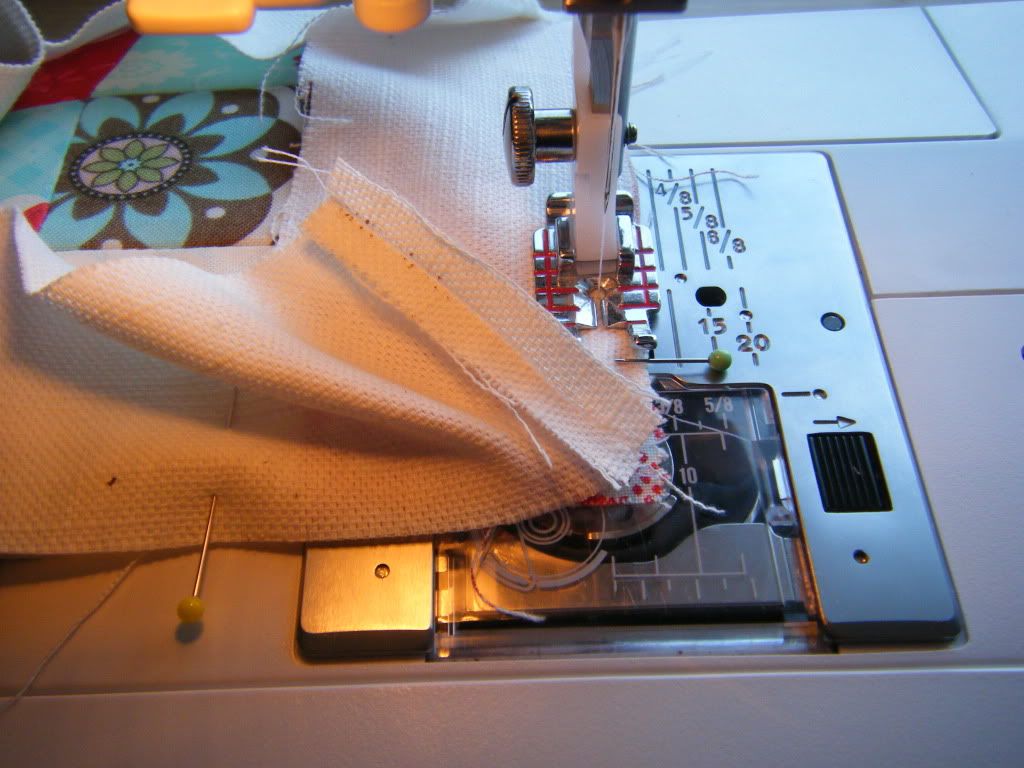 I then sewed the sides to the top and this was tricky. I hadn't thought about those corners. I had to kind of lay them flat diagonally. By the way - notice I press my seams away from each other. I always do that. Everyone else says not to but I read one blog where it said it was better and I find this way the seams of darker fabrics don't show through the lighter parts.
I turned it right side out with bated breath.... OK, so the corners are lacking in skill, but never mind!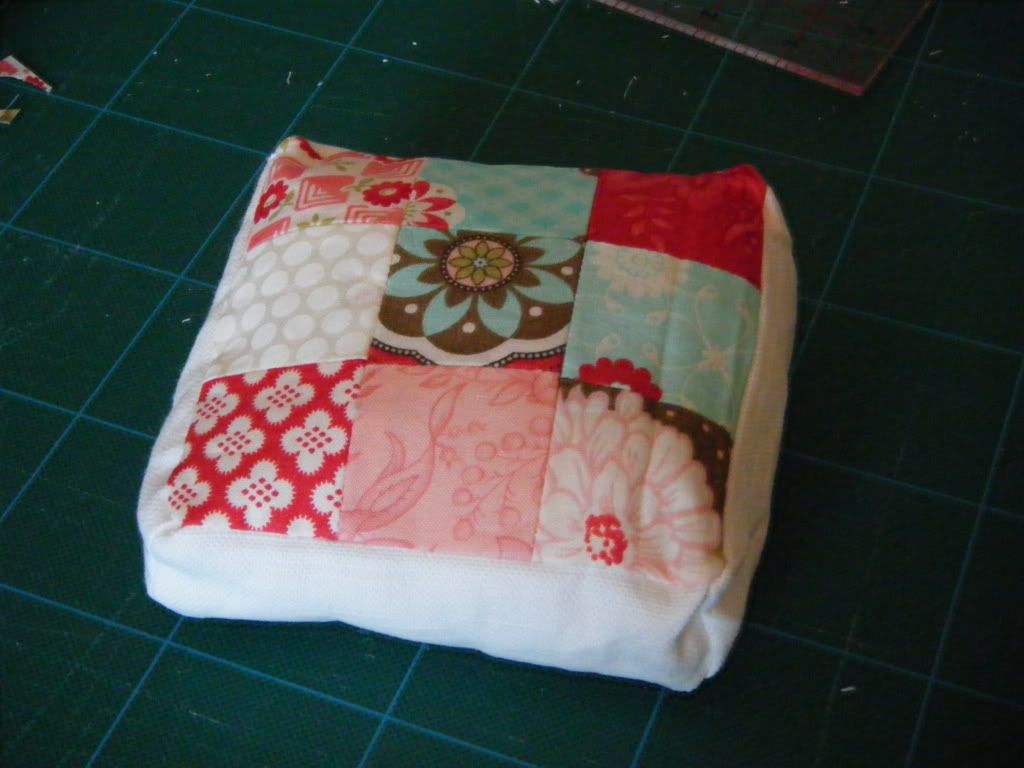 And ta-da! One wrinkly, badly-sewed, badly-ironed pin cushion! How do you iron things like this? The turning inside out made the linen very wrinkly but I just couldn't iron it without making it worse!
Side view. Hm. I think I've made better! Maybe I should have put piping in the edges...
You also get a glimpse of my WIP shelf there. "A WIP shelf?" I hear you cry! Oh yes, of course, who DOESN'T have a WIP shelf? More about that next time...