I had the urge to knit, but I couldn't face knitting with yarn. I really don't know what the problem is there, I really enjoyed knitting until I learnt to crochet, now I see knitting as a bit of a chore. I do still enjoy knitting with wire.
I made another wire and bead bracelet with purple beads on lilac wire. Yes, the photo looks like blue beads on silver wire, but it's not.
And for an even worse photo, see below! I knitted this little flower from wire and really enjoyed making it. It's quite large, about 10cm / 4 inches across. I'm not sure what to do with it. I'd really like to make it into a necklace but I'm not sure if it's too big for that. I could of course make it into a brooch, but I prefer the necklace idea. I've been making a lot of necklaces recently, I'll show them to you soon.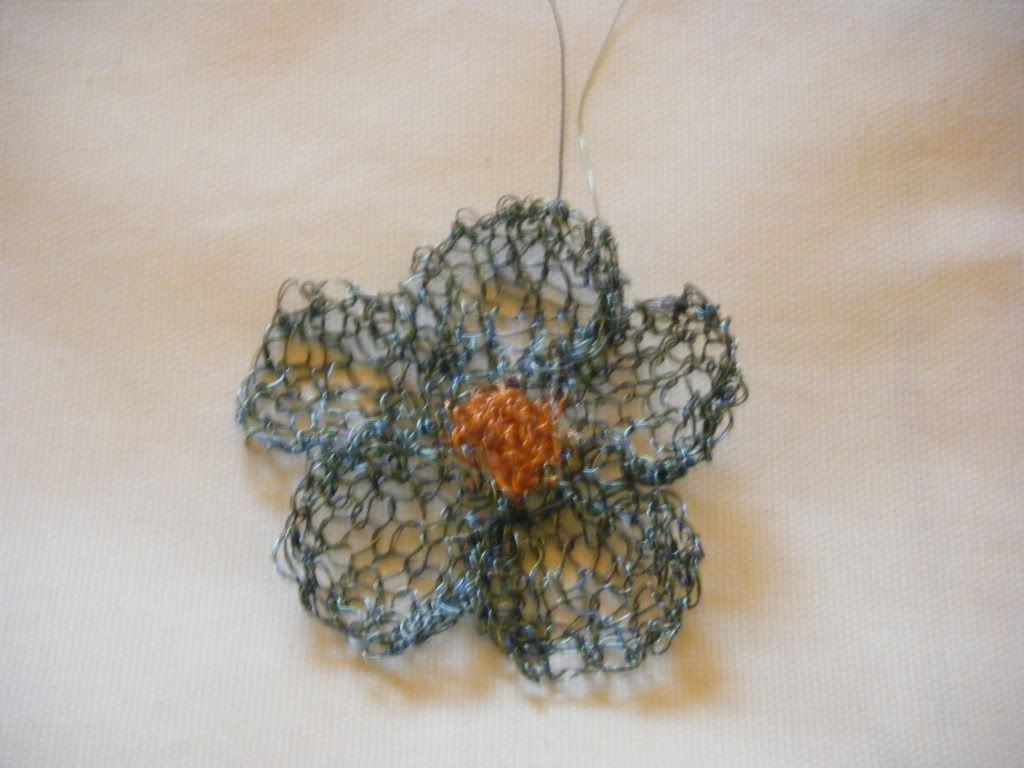 Wow, that photo really is crap, and it's the best one I could get. I used two strands of wire, one blue, one turquoise so it's not as dark as it looks. The wire in the middle is copper coloured. I spent some time after I'd finished it bending the petals up to a pleasing shape. I haven't forgotten to weave in those ends, I left them to make it easier to attach it to whatever I attach it to.
I wanted to show you my attempts at crocheting with wire, but once again I've forgotten to take a photo. I was after some advice from any wire-crocheters out there. It's a dc (US sc) stitch with a bead on each one and after my first round, the stitches have started breaking. As they are the on the other side from where I'm working, there's not enough wire to repair them. I'm going to have to start again and wondered if anyone had any tips?