Morning ladies. I decided not to post yesterday and instead reposted my post from last week due to all the Blogger confusion. Wow how bored was I with a whole day I couldn't get on Blogger?
My posting has become a bit erratic, I was trying to stick to a post every two days, but I am so busy both in and out of work that although I have a few posts worth of completed projects, I just haven't had time to write them up! I will definitely be posting my giveaway on Monday though, so don't forget that. Hopefully next week I can get back in my routine.
So, without further ado, pretty, sparkly things need introducing. My mum asked me to make her a necklace / bracelet for her sister's birthday and I jumped at the challenge. I wanted to make a few so she could choose one. You will have to excuse the photos, the ones on top of books were taken on a cold, dark, windy day as I had to get the jewellery to my mum. The better ones were taken the following day which was sunny.
So, we're starting with a crap photo! I found this butterfly on a horribe old tarnished gold chain in a charity shop. I immediately scooped it up and started making plans. I added some green and pink lampwork beads, some large acrylic crystals and handfuls of gold seed beads. This was the necklace my mum ended up selecting and my aunty loves it.
This didn't really fit the brief of green/blue, but I was really in the swing of jewellery making and it just kind of happened. I picked up the fabric and yarn covered beads at the craft fair and added crystals, seed beads and tiny pearls as before.
I really love these beads and have some more of the fabric ones but I stupidly only bought 2 of the yarn covered ones.
Blue was next on my agenda. Flat oval beads, lampwork beads (I love lampwork so much) and pink pearls, joined on curled wire with jump rings and an extension chain.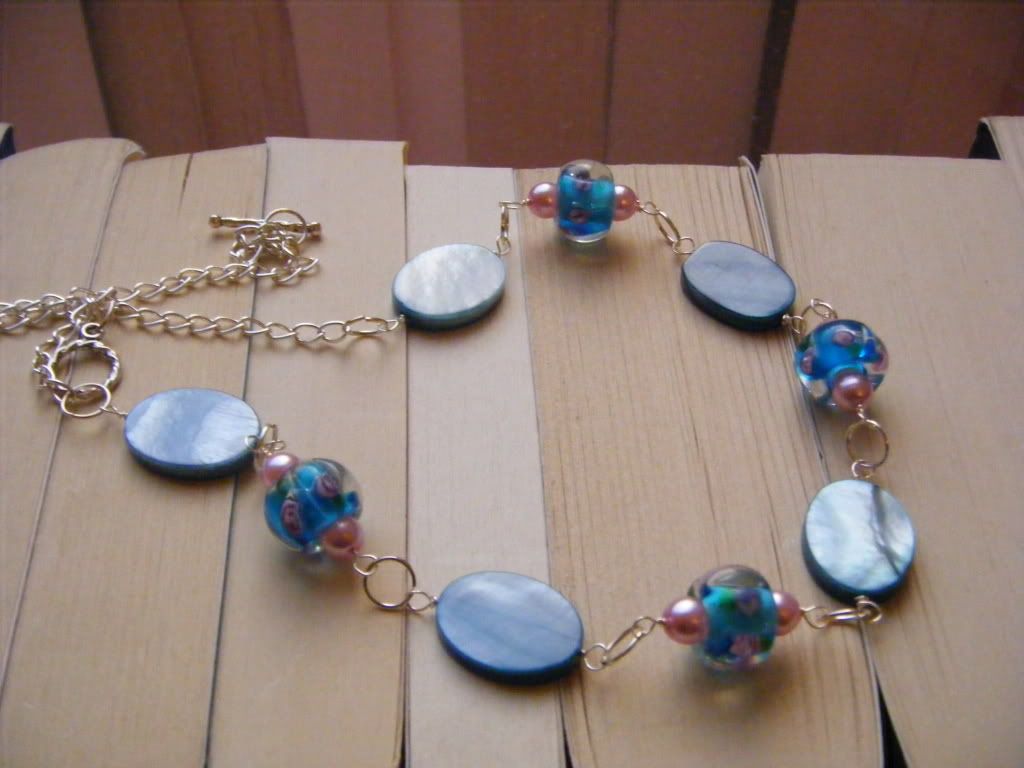 And then a matching bracelet. I think I'm going to try to sell these...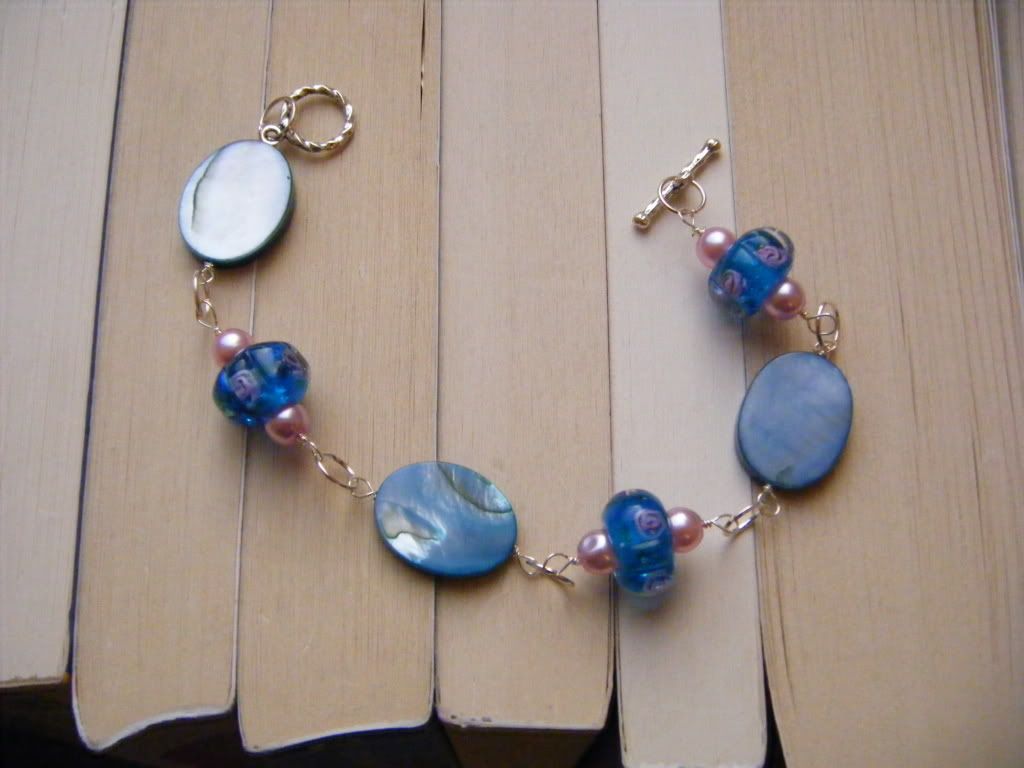 I do have some more jewellery to show you, and some sewing, some crochet and some cards, but I think I'll leave this post here. I'm feeling pretty stressed recently, just general anxiety over nothing much in particular and if I have some posts lined up, I think I might be able to relax a little more... well, that's the plan!
On an unrelated note, does anyone have any idea what LinkedIn is? I've had a couple of invitations but haven't had time to check it out. If it's another social networking site then I'm just going to delete.