I'm afraid this is likely to be a bit of a boring post as it's basically about 5 sets of coasters and a set of placemats. Feel free to doze a bit as you scroll through at high speed.
I recently tried to make some coasters from Quick and Easy Patchwork Gifts. I blogged about how I'd had trouble with the pattern and didn't think it was done in the best way. Lots of you agreed. I decided to make more coasters, but to do them my own way.
I cut 40 5inch squares of fabric from some layer cakes I had, then I cut 20 4.75 inch squares of wadding. I put the fabrics right sides together, put the wadding on the back and sewed them up leaving a turning gap on one side. after clipping the corners, they turned beautiful, no messy seam like before.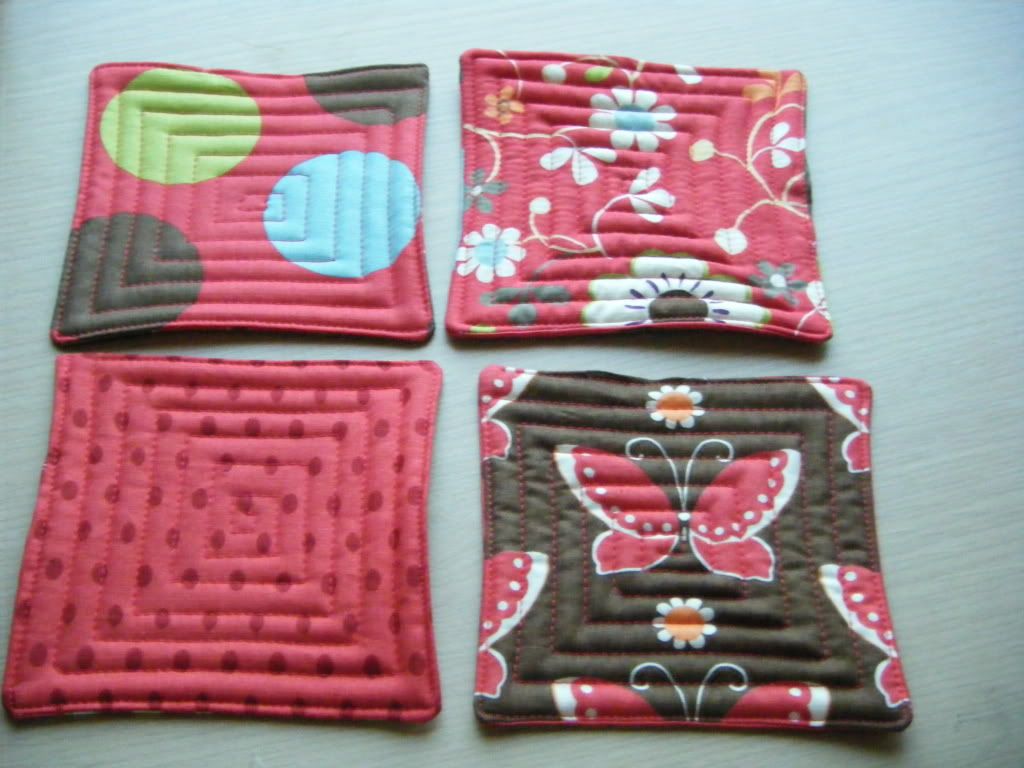 I then quilted them using my wonderful walking foot. I really do enjoy this process, despite having to unpick 3 of them as I hadn't noticed it was messy on the back from skipped stitches - time for a new needle apparently!
I didn't do matching fabrics, all four the same on each side, I mixed and matched for a more interesting effect.
I love these blue ones, I love those birds. I think it's Moda Freebird?
And these pink ones are Moda Boutique.
One thing I noticed was that the coasters were very wrinkled after I'd turned them right side out. I think I might have left too small of a gap. On some of them, you couldn't tell they were wrinkled after I'd quilted them, but on others I think you can see the wrinkles but I can't iron them, can I? Will it flatted the wadding?
Picture of a wrinkly coaster under my walking foot above, and the whole stack below.
Check me out being all artistic!!
Mum had requested more placemats. She likes them large (12 x 18 inches) and plain, just one fabric on the front, one on the back and a double row of top stitching.
I had made a note of the fabrics she chose, but can't find it. I think the brown one is Moda whimsy. Can't remember what the other one is at all!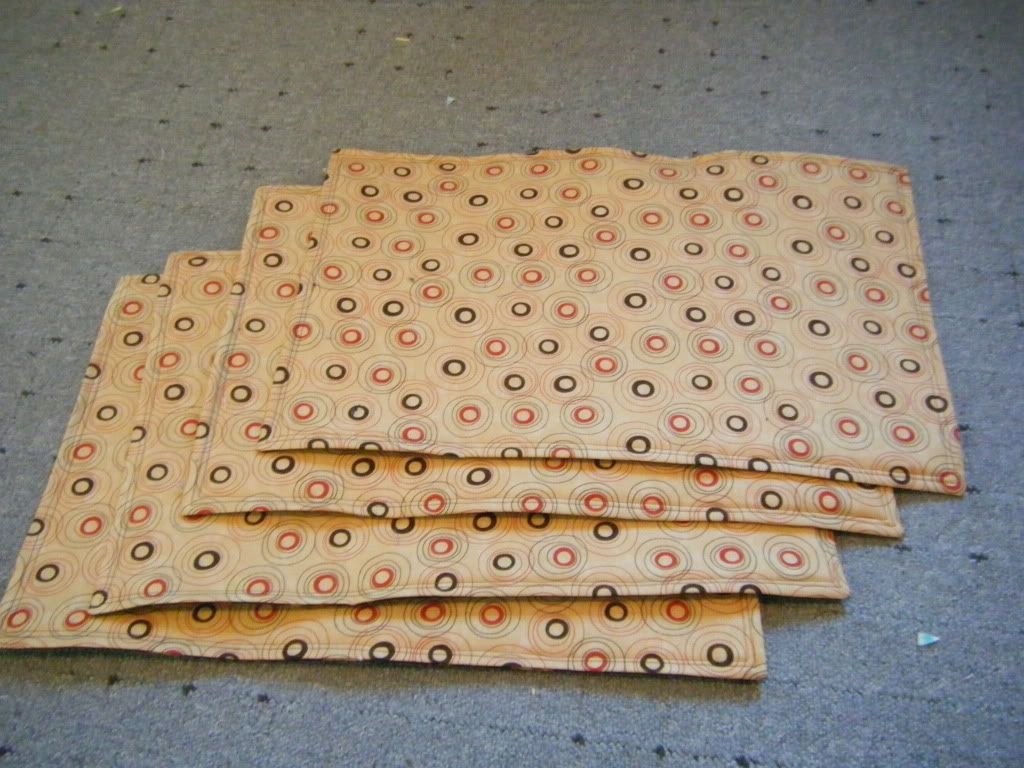 This time I did contrasting top stitching instead of matching. I really should get some top stitching thread for this, but I didn't know it existed until Nancy told me about it!
I think I'm going to take a break from placemats and coasters for a while, though I do need to do some placemats for a friend who's requested them - they'll be pieced though and I might even experiment with FMQ. Does anyone know if I should use my darning/free motion foot or my walking foot for FMQ?