My name is Wendy and I'm a crochet addict. There, I've said it. Since I learnt to crochet last November, I just can't stop. I spend hours looking for free patterns and tutorials and then trying them out - with mixed results!

Do you want to see what I've been crocheting?
I found this great
tutorial, here
, for a crochet bowl. It's made using two strands of yarn. Now please ignore the colours as I wanted to use up so yarn I had in case it didn't work. I love the shape!
Then I used this
pattern
to crochet this cute little baby hat. I used a Sirdar snuggly yarn with sparkly bits in it that you can't see on the picture. Love the little flower!
My final experiment wasn't so successful. I found this
pattern
for crocheted slippers and had to give it a go. I have so many pairs of slippers, I have to have them scattered around the house so there's always a pair convenient, but some off them fall off all the time and have caused me to fall downstairs! I thought that if I was making them, I'd be able to make sure they fit. The pattern gives different sizes. I started with a 5-6 as I'm a 5 and I think that's a 6 in the US so I thought I'd covered all bases. The resulting base was so tiny a three year old would have struggled to fit it - OK, so I'm exaggerating, but it was tiny. So I tried the size 9 pattern. This is it. I can't get my foot in it. It's tiny. I must be crocheting far to tight as I'm using the right yarn and hook. I'll try again with a larger hook.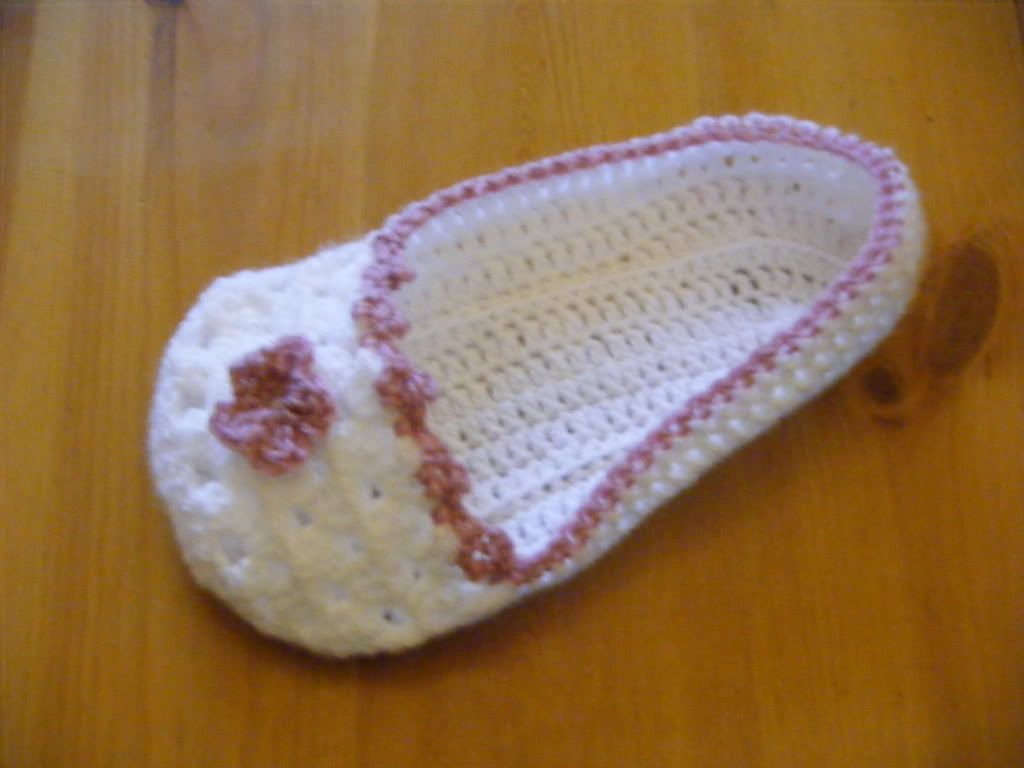 I've gone wrong on the toe bit. I realised I had after I'd done the final row, that's why it's so misshapen. Ah well. It's only made using budget DK yarn (£1.50 for 100g) and the pair I make for myself will be from some Sublime Merino wool I have in a lovely blue. I've just got to get the size right first so I'll try again with this yarn and a giant hook!
I've got my eye on a lovely hat pattern and I'm waiting for some yarn to arrive so I can crochet a fab bag I've found. More crochet coming this way very soon!