I believe I started my last post by telling you I'm addicted to crochet, well, I'm starting this one in a similar way. I'm addicted to craft magazines!
I subscribe to the following:
I also buy Homestyle Sewing whenever it's available. I started with the subscription to Crafts Beautiful. I'd been buying it for a while so decided to subscribe. The very next issue they started their "card promise" and now it's essentially a card making magazine with a couple of patterns for other crafts shoved in the back. I'm going to cancel my subscription as soon as my year is up. I subscribed to Homespun as everyone seems to talk about it. I do enjoy reading it and made the wonderful sewing machine cover a couple of times. There are other projects in there I'd like to make.
By far my favourite is Handmade, what a fab, fab magazine. All my copies of the magazines seem to arrive over the last week in the month, I flick through each and put them aside to read through later. I'd been a bit disappointed with the month's haul at the end of April, nothing really struck me in any of them. Then Handmade arrived. Wow, so many projects I want to do. I flicked through, then set to work straight away on one of the projects, I'm now midway through the second from the same issue!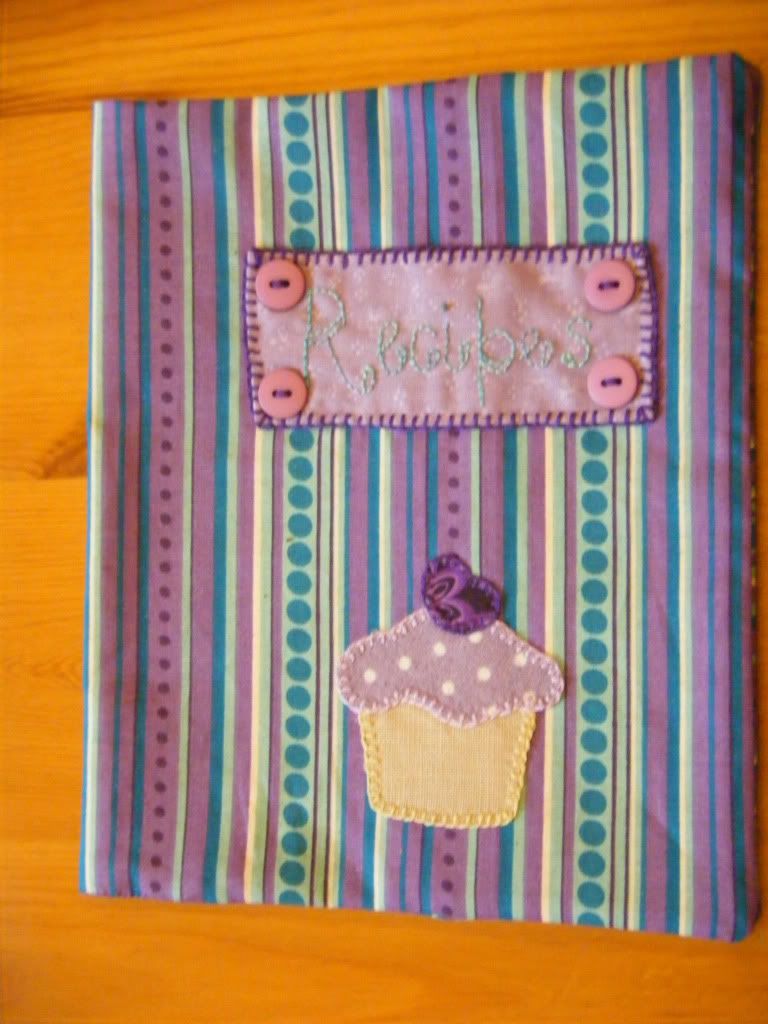 This recipe book cover. My friend loves purple and love cooking healthy meals as well as baking cakes, so I thought this was perfect. I really enjoyed making this and it came together so quickly.
There was just one problem. It would appear that A5 is a different size in Australia as it is in the UK. I didn't think to check against the A5 notebook I had when I'd cut the pieces and it was only when it was all finished that I discovered it's about 3 inches too short for the book!
I headed off to Staples with the cover, but nope, they're all pretty much the same size. Luckily I have a Bind-It-All and so made a notebook to put inside, that took me as long as it took to make the cover! I want to make more of these but I'll have to amend the size!

The recipe book needed something to go with it so I whipped up a quick tea towel. I pieced some 3inch squares from scraps of the fabric then drew a larger cupcake onto Bondaweb, ironed it to the fabrics, cut them out and attached to the fabric, finishing off with a zig zag stitch round the edges and for the cherry stalk.
I added a hanging loop to the top.
And here they are together (minus the notebook which hadn't been made at that point), I think they make a nice little set.
So, any magazine recommendations for me?