I have been given another Blog Award! This time from the lovely Sandy at Cherished Handmade Treasures. Go
here
to vist her.
So, the deal is that I list 7 things about myself and pass the award on to 5 other blogs.
I hope I don't repeat anything I've already told you about myself, I know I talk a lot and it can be hard to remember...
1) I used to have 5 earrings in my left ear, 4 in the right, 2 in my left nostril and one in my belly button. Now I have none.
2) I have a stack of magazines in the bathroom, one under the bed and another by my chair in the living room. They're all craft magazines.
3) My favourite meal is chips (of the English variety - I don't mean crisps), cheese and gravy (again, English gravy). Don't knock it til you've tried it.
4) I didn't pass my driving test until I was 30. I had my first lesson when I was 17 and two days old (17 was the legal limit all those years ago) and I passed on my 5th attempt... No, I didn't have lessons for 13 years solid!
5) I sleep with a bunny. Not a real one, Mr CA doesn't allow that. He's called Bunny.
6) I can't bear to touch cotton wool, it makes me feel seriously sick.
7) I have a little notebook where I've written down every book I've read over the past 6 years. I have no idea why I do this.
So, enough of that nonsense. I'd like to pass the award to the following lovely ladies for being just plain fab:
Super Cute Tilly does the most amazing papercuts you've ever seen, ever. She's also a whizz with needle and friend
KandiPandi
is a girl after my own heart who does so many different crafts, all of them amazingly well.
Meme Rose
is hopefully going to ask me to come and live with her soon as I'd love to live in such a gorgeous house - have a look at her amazing crochet.
And last, but certainly not least, Nancy at Heaven is Handmaid, published sewist extrordinaire and Sandra of Sandra Sews, a wonderful, kind, friendly lady with a massive talent on the sewing machine, two lovely ladies that I'm proud to call my friends.
And now for the crochet. I've wanted to make a jar cosy for ages and when I set up my computer desk in the living room (although the computer now wont turn on...) I decided to crochet a cover for a jar to hold my pens.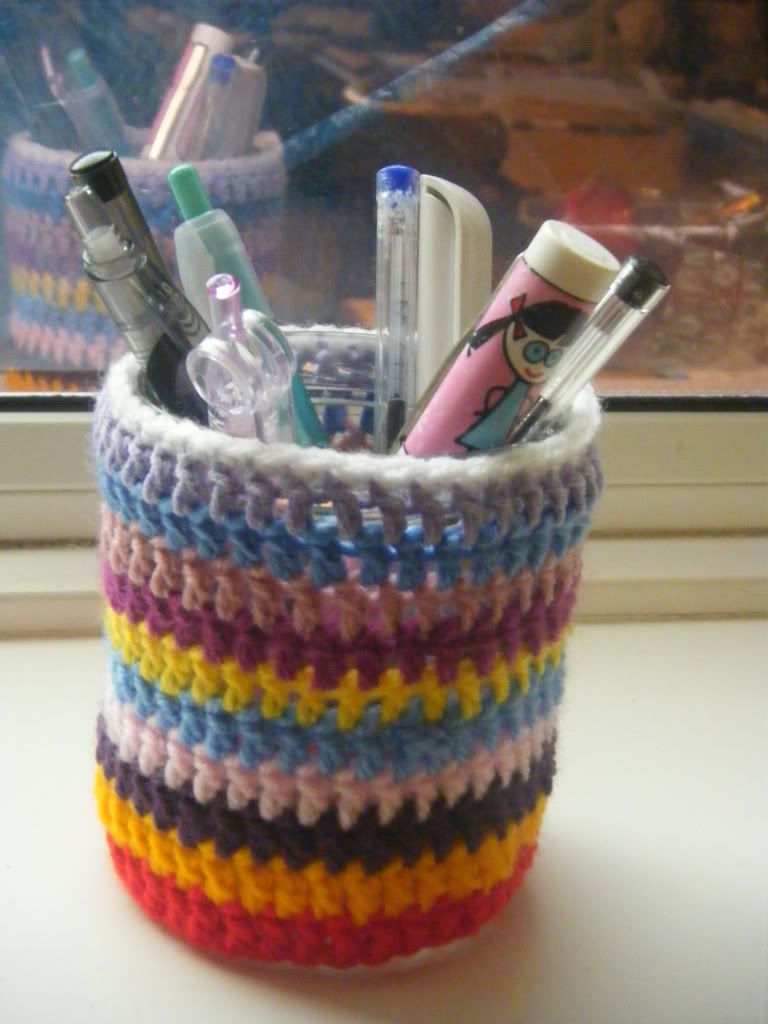 I used Lucy's tutorial over at the Attic 24 blog - you can find it
here
. I also used a Bonne Maman jar so didn't even have to do any complicated crochet-maths. Mr CA gave me a bit of a funny look when I set it down with a big, proud smile, but when I got home from work the next day, I saw it sitting there and I just had to smile!
p.s. no, that's not my computer desk in the picture. Observant readers will note that it is in fact a window sill. This is because my desk is in the darkest corner known to man.