I was lucky enough to win a giveaway recently. It was an unusual giveaway in that
Caroline
was looking for a pattern tester for her Solar System felting kit. Caroline creates the most wonderful wet felted and needle felted kits and sells them in her
Etsy shop
. The deal was that I had to give the kit a go and provide her with some feedback on her instructions. I've wanted to give wet felting a go for a while so I jumped at the chance and was thrilled when I won.

I was excited when the kit arrived. The roving was in paper bags divided up by planet and everything came in this hessian bag. I loved the way it was packed - no plastic to throw away (the bubble wrap is part of the kit) and I got this fab bag which I plan on decorating - perhaps needle felting?
Some action shots! This is planet Earth pre-felting. Look at my carefully crafted continents and poles!
And here she is! The poles slipped a bit whilst felting (Caroline does remind us that felting is an art, not a science) but I've decided that it represents the Earth in 100 years when the north pole has melted. Is it the north pole that's melting or the south pole? I wouldn't know, I spent ages debating with a friend whether the Milky Way is a galaxy, a universe or a solar system and what the difference was!
This is what the roving looks like. It's the top bit of the sheep's fleece and it's very soft and luxurious. The fleece has tiny little barbs that stick together when agitated, this is the basic premise of felting.
Here we have Venus, Earth, Mercury, Pluto and Mars. They are tiny! The model is actually to scale, you'll see how small our planet actually is in my final shot.
Here I was getting ready to felt Neptune. Caroline provided me with paper balls to wrap the roving around.
See how small the other planets are in comparison? And Neptune isn't even the biggest. Actually, I don't think that one is Neptune. I can't find the sheet with the names on, it's not Venus, Earth, Mars, Pluto, Mercury, Jupiter or Saturn. It's the other one...
Here's the roving for Jupiter all fanned out.
And here's Jupiter with her tights on!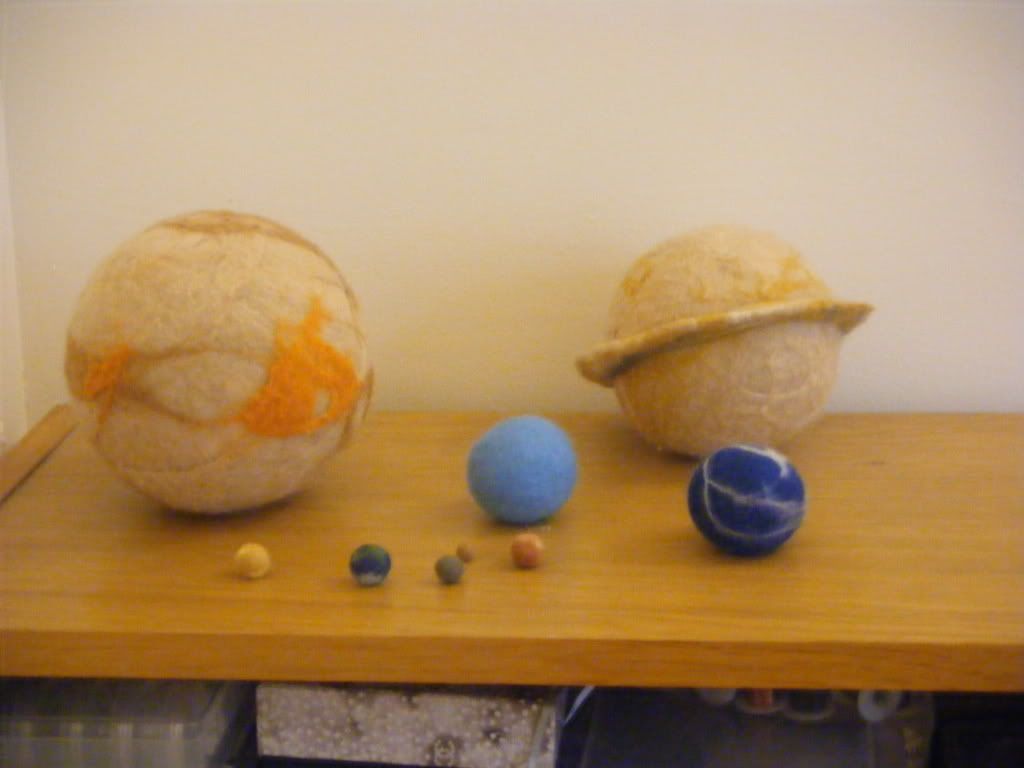 Ta da! My completed solar system! I really enjoyed making this and would love to do some more welt felting. I have some roving left over from the kit and I think I'll try making felt beads with it. The only downside? It's not so good for a girl with chronic eczema on her hands to spend 4 hours with her hands in soapy water!
The kit was fantastic, the instructions were really well written and I even enjoyed reading the information about each planet - clearly it hasn't all stuck as I've forgotten the name of one of them! If you want to give felting a go, I'd really recommend one of Caroline's kits - Go to Snag Breac's shop
.
Oh, are you wondering what the Solar System is sitting on? It's the newest addition to the dining room. Dad brought an old bookshelf over and it quickly became my place for crafting goodies: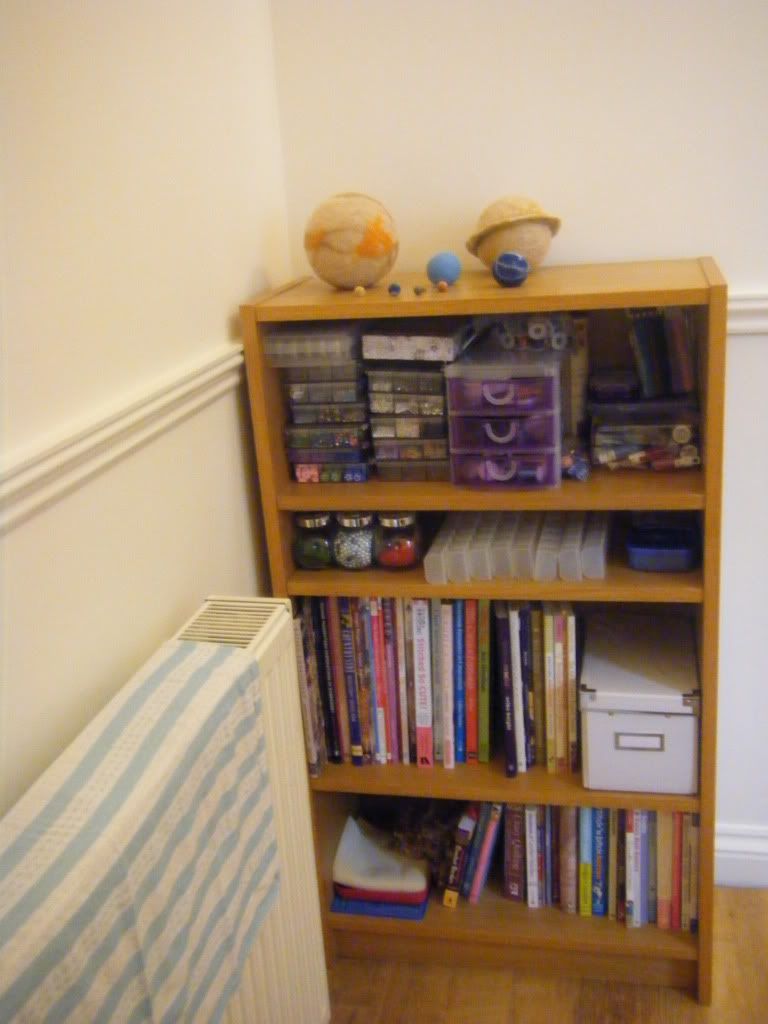 In here are my crochet, knitting, embroidery and beading books, along with my beading and jewellery making supplies, now at home in the dining room. Think that's all my craft storage? No, no, no! This lives in the living room next to my place on the sofa:
One of the drawers holds felt sheets, another holds random bits and pieces, the other three are full of yarn (not all of my yarn!), on top is a basket with embroidery threads, random patterns, my light box and embroidery hoops and frames and various bits and pieces. To the left is my sewing box and my knitting/crochet bag.
Think that's all? I've actually got a very large craft room upstairs too! Crafting is taking over my life and my house...