OK, so do you want to hear about my new books, see what I've been making or hear about the new challenge I'm involved in? Tell you what, you get all three. Sort of a BOGOF with an extra OF.
I mentioned a couple of posts ago that I'd broken my pact to not buy any new craft books, and bought 2 more. Well I lied. I've bought 4, but two of them were from the Hobbycraft sale and only cost a couple of quid so they don't really count!
Celtic Knots for Beaded Jewellery by Suzen Millodet. This is a whole new jewellery technique for me using cord.
Beautiful Beading by Sarah Withers which has a section showing you how to make your own beads using various techniques - something I've been planning on doing for a while.
Then I joined in the Sewn! Skill Builder QAL (week 3's block coming soon) and became addicted to quilting. Although I'm pushed for time at the moment, making blocks is definitely in my future so I invested in two books.
200 Quilt Blocks to Mix and Match by Davina Thomas
501 Quilt blocks from Better Homes and Gardens.
I have only had time for the quickest flick through them and think I'd benefit from sitting down and reading them carefully.
So, on to the makes. I was asked by a friend to make her a Union Jack cushion like mine but using duck egg blue. Luckily I had a layer cake of Lilly and Will II which I'll be using for my table mats / chair cushions, but I thought I could spare a couple of squares. So I had another go at a pinwheel:
Want to see the points?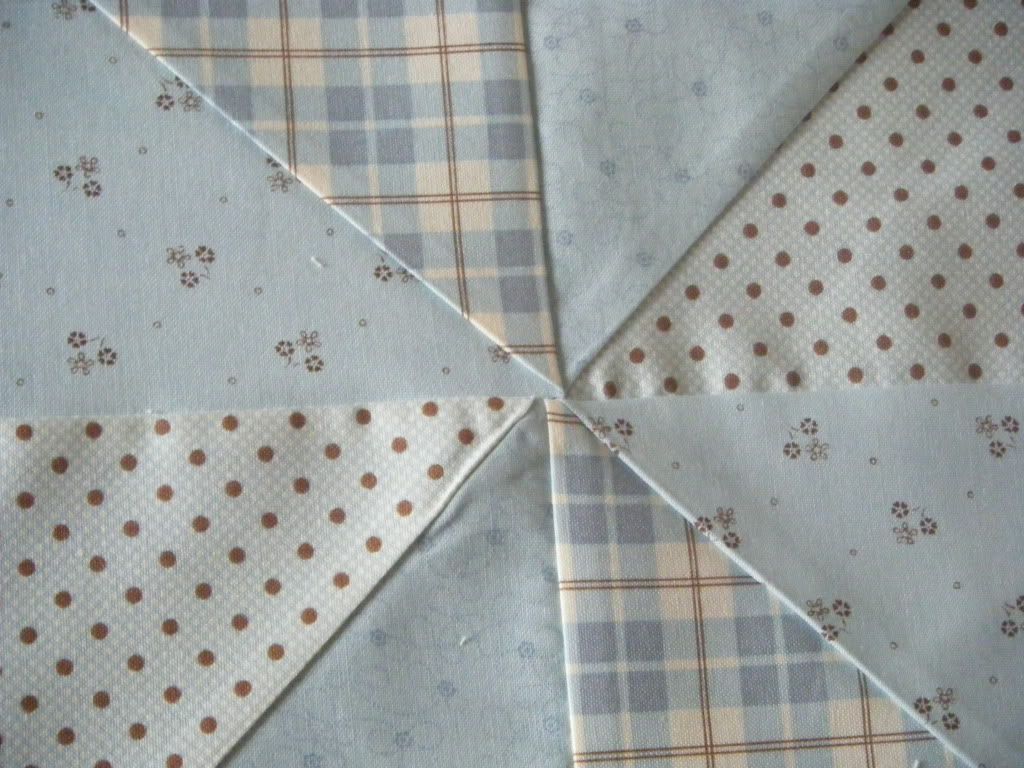 Damn! Still not quite there. Not that it matters as it will be covered. I decided to do the cross a bit differently as mine is quite bulky, so I attempted to piece the two halves, including the lace. Well that was a 3 hour nightmare! I got it finished eventually.
Look how sunny it was two Sundays ago!
I was enjoying sewing that day so decided it was about time I made some new oven gloves. Ours are ripped, burnt, stained and falling apart at the seams.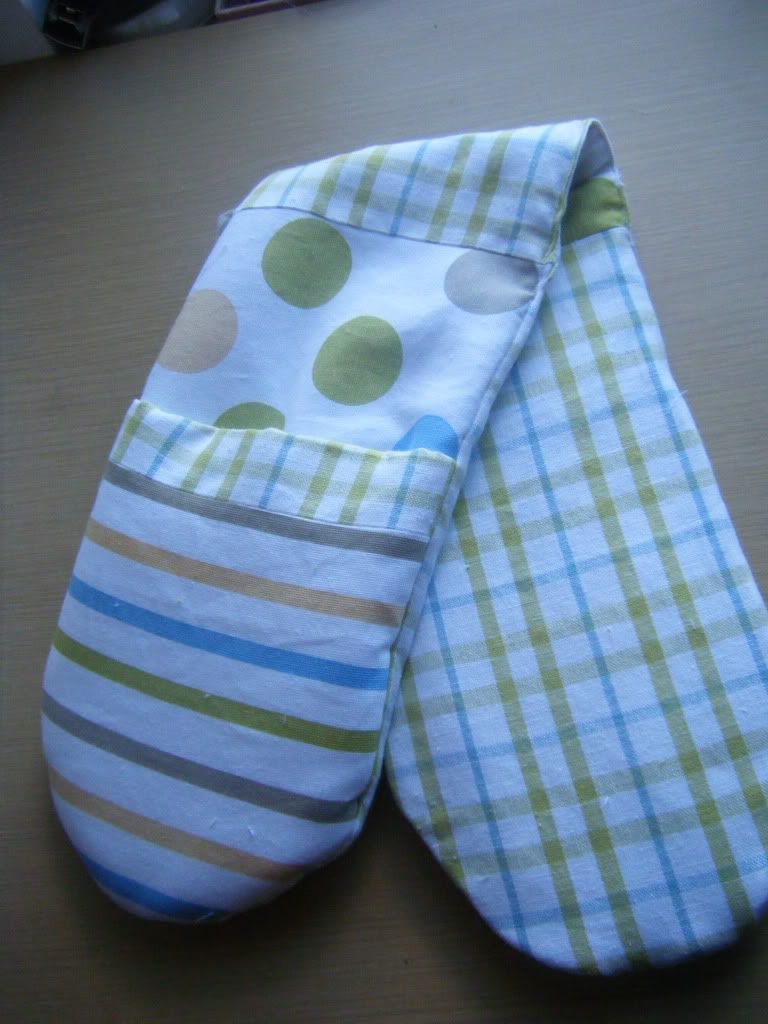 I made these using 3 tea towels from a pack I got on sale at Asda. I used a double layer of Insul Bright and as you can see, I didn't quilt them!
I deliberately alternated the direction of the stripes on the front as I couldn't decide which way to have them. The tea towels weren't long enough to cut this out in one piece, so I used a strip of the contrast fabric in the middle.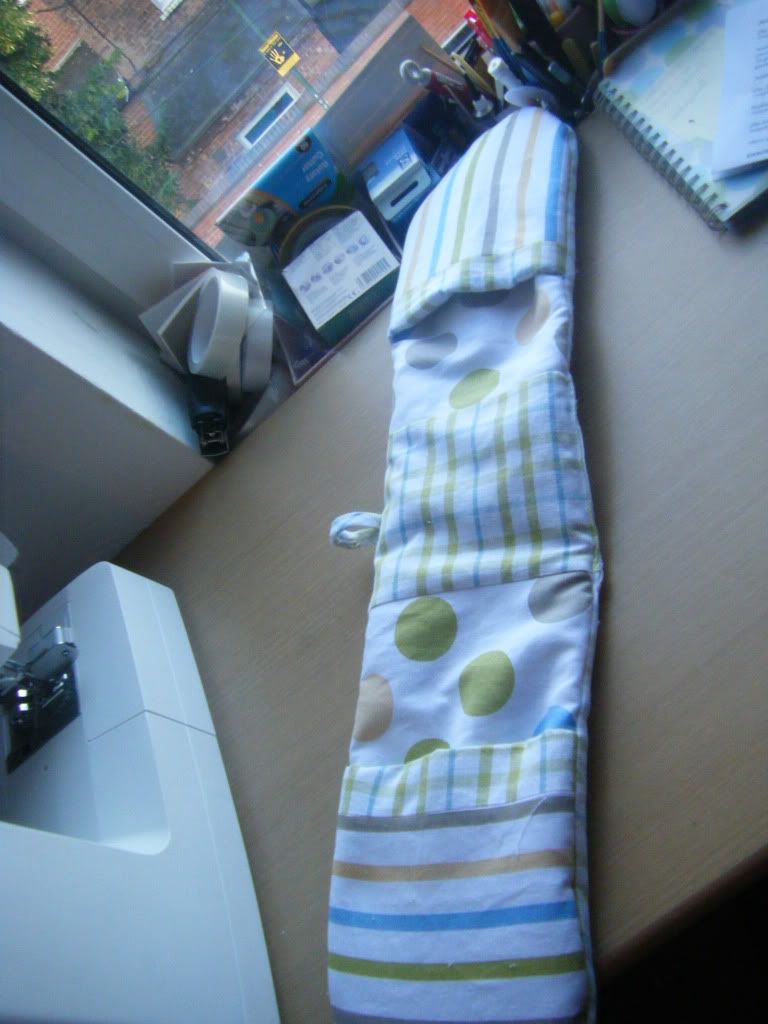 I've been having a conversation with a fellow blogger about oven gloves. This kind are the most common in England, I've never used or owned or even seen on sale a potholder of the kind I see blogged about everywhere!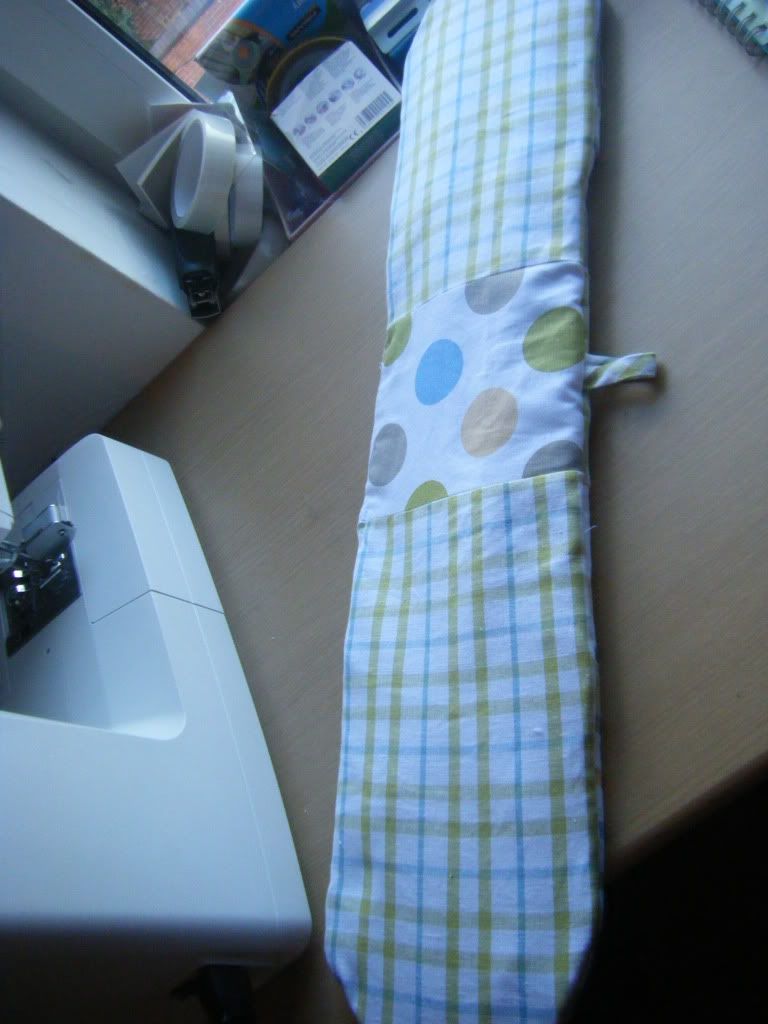 And finally, I've just joined in with a new challenge over at Le Monde de Sucrette's Blog. There are now about 40 of us making a giant granny square. Why? I have no idea! I saw it posted on Bunny Mummy's blog and that was it, I had to join in. Quite where I'm going to find the time I have no idea.
The rainbow placemats are quilted and trimmed and probably, as you're reading this, the binding should be machined on one side (fingers crossed), that gives me a couple of days to slip stitch the back of the binding to be ready in time. I'm also working on:
a seatbelt cosy to protect my neck in the car,
a rainbow crochet cushion,
an amigurumi rabbit,
and the Petite Ecole table runner
But what's the betting I'll be blogging about something else before I blog those projects?? I've also got to do my Skill Builder blocks this weekend, week 1 of 52 Crafts in 52 weeks (button on my sidebar) and get this giant granny going! Oh, and I'm going to a wedding party on Sunday til Monday evening... I'd better get cracking!