Serenity Quilts
is having an appeal for quilt blocks. She wants to make a charity quilt and auction it in aid of Cancer Research. The request was for 8 inch blocks on cream on cream or white on white fabric with some form of heart.
I made scrappy hearts by sewing scraps of fabric together, then cutting out the heart shape on my Sizzix with a big die. I forgot to put the Bondaweb on before I cut the hearts, so I pinned them in place before using a satin stitch to machine them on. Unfortunately, I had once again misplaced my brain (have I misplaced it permanently?) and I've sewn them on the wrong side of the fabric! I'm hoping this will be OK as the right side is quite orangy...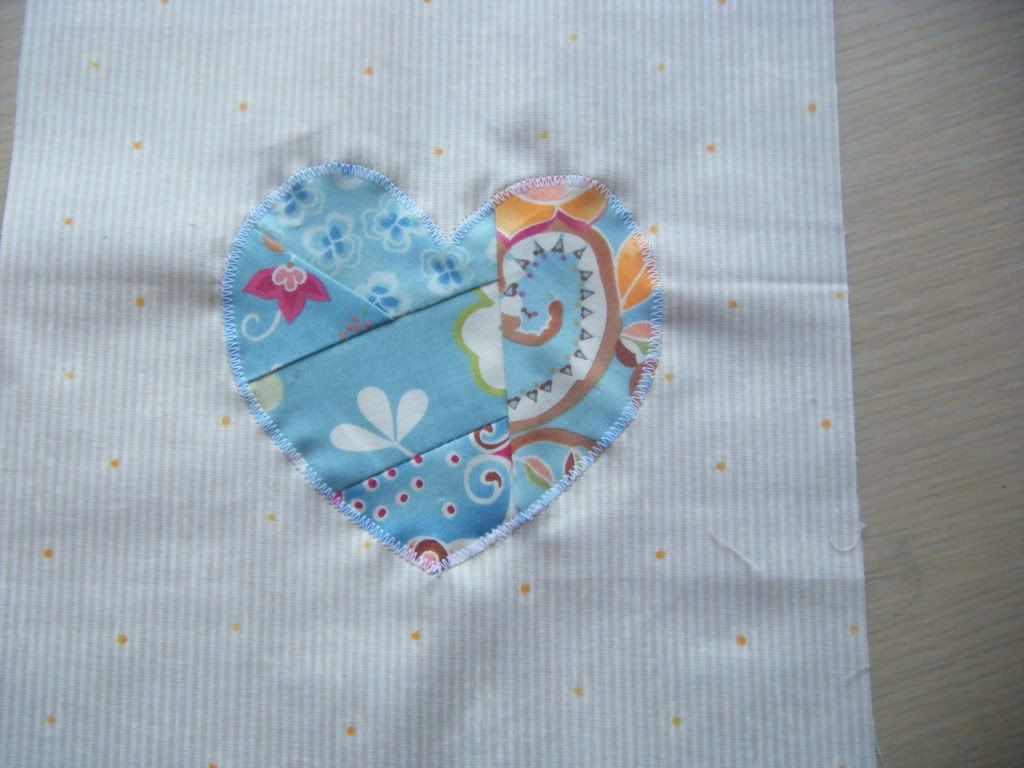 I'm hoping my blocks have been recieved by now as I kept forgetting to put them in the post box! Is anyone interesting in seeing how my rainbow placemats are coming along? And how I've messed up every step of the way?
Here they are all basted.
Cock up number one - the pins I bought weren't curved as I thought when I ordered them.
Cock up number two - I didn't iron my seams properly, even though I ironed them to one side, I didn't pull them enough and there are little folds on the front.
Cock up number three - I cut my backing fabric to the exact size of the finished placemats.
I'm quilting squares inside this placemat. I've done the five middle rows so far, but only one on this photo.
Cock up number four - I've done the blue ones wrong, I used the wrong side of my presser foot to measure the distance to sew at.
Cock up number five - I sewed all around and over my first few stitches to secure them. When I cut off the threads, quite a few of these have come undone and will need unpicking and re quilting.
Here's the quilting from the back.
Cock up number 6 - I've caught some folds of fabric on the back because I didn't baste properly.
Cock up number 7 - It just doesn't look like I expected!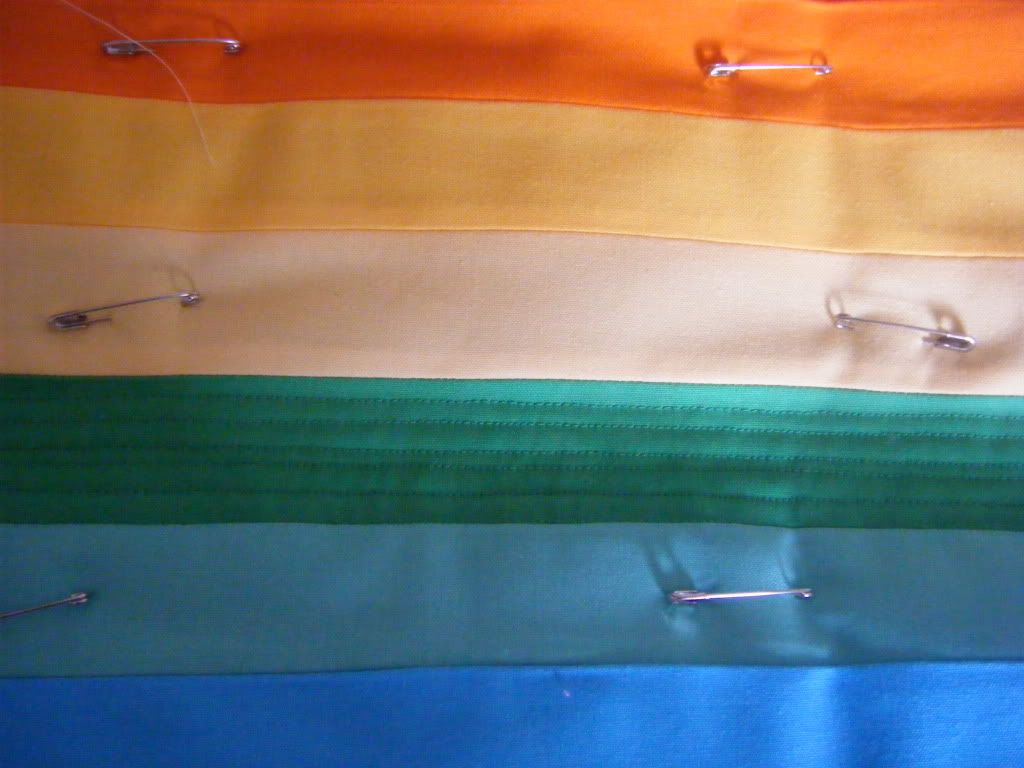 The two stripy placemats are being quilted with lines. Irregular lines. Not by design, though it is now!
Cock up number 8 - I've stitched in the ditch on the wrong side of some of the stripes.
Cock up number 9 - I've stitched in the ditch. As in my stitching in the ditch is rubbish.
And a rear view with only the green quilting done.
Cock up number 10 - see cock up number 6.
Well, I've still got 8 more colours to quilt, then the binding to do, so I reckon I can get this list to at least 20 cock ups!