Hardly an evening goes by when I'm not sitting on the sofa with Mr CA, hooking away, me, not him. I've generally got several crochet WIPs on the go and I like it like that as I can swap and change as I feel like it. One of my ongoing projects this year will be 4" granny squares. I also intend to knit some 4" squares.
Cath at Stitchin' Chicken
has posted an appeal to help Stitch for Pleasure , Stitch for Charity to collect 4" squares that they can then sew up into clothing or blankets... oh, it doesn't say who for, I assume the homeless. But anyway, it's a worthy cause, if someone needs to keep warm, who am I to turn down the chance to crochet up a load of grannies and even practice my knitting.
The deadline isn't until the 27th December, so please, if you can knit or crochet, pop over to
Cath's post
and get the full details. A 4" square takes no time to whip up and it's a great way of practicing new stitches and using up yarn scraps, and doing your bit of course. Above are my first two squares, taken from 200 Crochet Blocks.
I'm also joining in the Giant Granny Challenge with Angie from Le Monde de Sucrette. Basically, you crochet a granny. A giant one. For no reason! Here's my granny so far: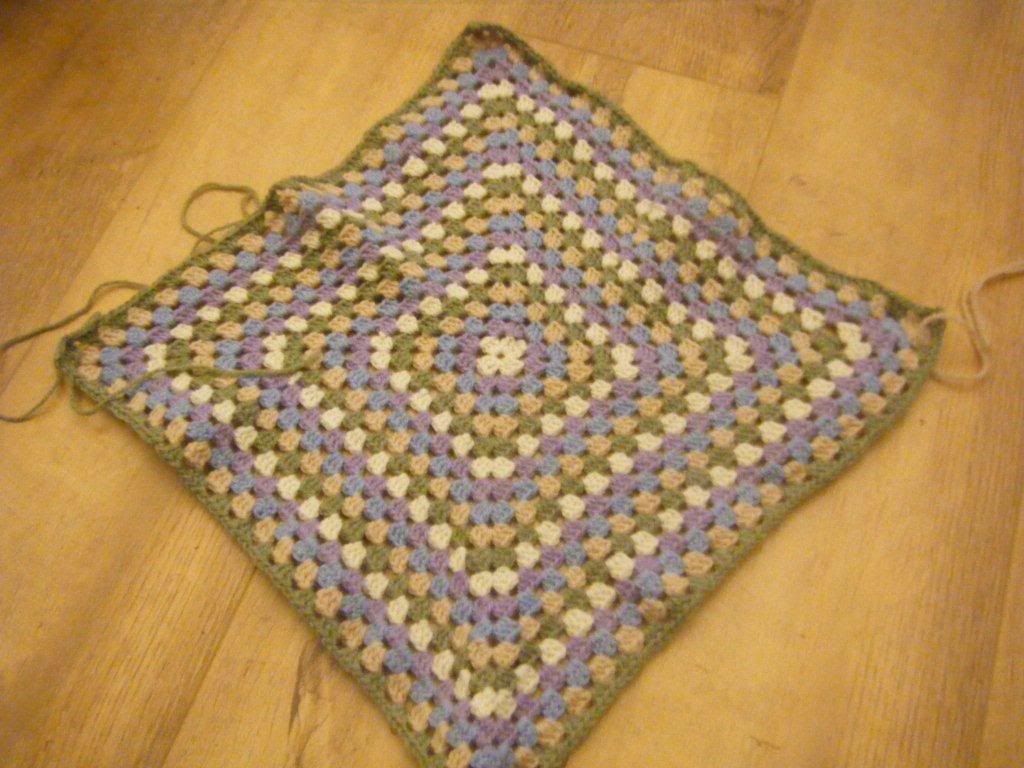 There's 20 rounds there so far, all in 5 different colours of a wool/silk/alpaca mix yarn that was on sale at £1.50 a ball. Who could say no. I did these rounds quite quickly, but have stalled this week as I've been so busy.
So, does she ever finish anything? I can hear you asking yourselves/the dog/the computer. Oh yes! I finished this little baby!
So now you're saying "what the bloody hell is it?!", well maybe if you're English. I'm not sure that Welsh/Scottish/Irish/Canadian/American/Australian/New Zealandish (what is the adjective for New Zealand??)/German/Polish etc, etc, etc, people say bloody hell. Do you? And what about other English people? Is it just me and my dad? Am I tarring you all with the same brush? I did think goobies was a real word until I hit about 26 and discovered my dad and Aunty Gwen had made it up years ago. I think I've digressed a little...
It's a seat belt cosy! No, I'm not nuts. I'm very short. I'm only 5 foot 1 and drive an old car so it doesn't have fancy adjustable seat belts. I've endured the last 3 years of being able to drive, and more as a passenger, with the seatbelt digging into my neck. A collar helps, I can tuck it under there, but I don't always have a collar. When I found this tutorial
on Martha Winger's blog
I knew I had to make it.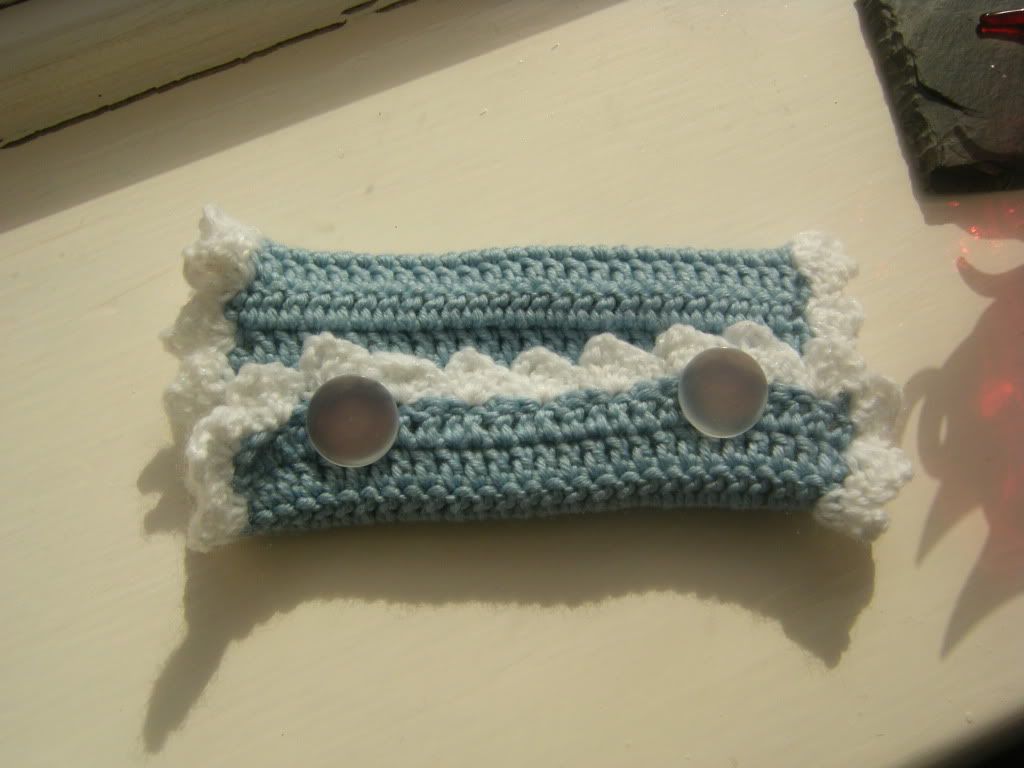 Here it is all buttoned up, but not around the seat belt, I'm not crazy enough to take pictures of my seat belt cosy in-situ! I used some supersoft Sublime Merino yarn in my favourite colour and finshed it off with a border in white sparkly yarn from my Round the Corner crochet borders book. This is, quite frankly, one of the best things to have happened to me this year! Mr CA of course is mortified about it and I often find it shoved in the back of the glove box when he's been driving, but he's 6 foot 2 so what does he know about seatbelt-digging-in-the-neck pain??