Now, I'm not much of a technology girl and phones don't really interest me. I'd had the same Nokia phone for about 8 years when it suddenly gave up the ghost last year. I went to the Dad Phone Warehouse and got one of his old phones to use. But I didn't really like it. It was hard to text and I do like to text as I don't actually like talking on the phone. Then, one day a few weeks ago, my lovely husband came home with a present for me. A Blackberry. I still haven't really worked out how to use it - I was really excited about getting my emails on it but still haven't figured out how! I generally just text, occassionally check my blog for comments and play Sudoku!
Having a flash new phone, I didn't want it to get scratched, or smashed, or covered in bag dirt so a phone cosy was in order. I followed a tutorial from
Chez Vies
.
My first attempt didn't work out so well. I'd followed the instructions for measuring the phone and added the inch as told. It was too small!
I used bunny fabric and a bunny button that was a gift from a friend. (See Sandra? Told you I'd use those buttons for myself!!)
It's lined with a blue and white striped fabric. But still, it doesn't fit my phone!
See?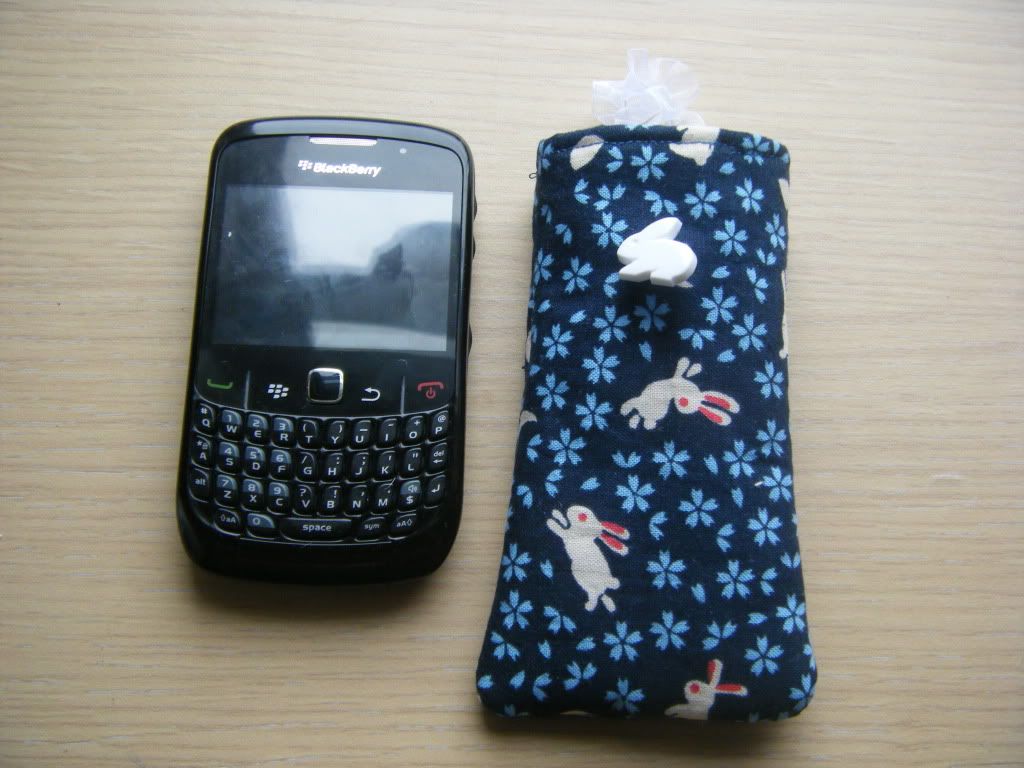 This little pouch now houses my tampons in my bag and this new cosy below (made by adding 2 inches instead of 1) houses my Blackberry.
I'm quite pleased with it, but I'm not sure I should have used the knicker-elastic-like trim as a closure?