Before I forget, I gave the doll's bed to my god-daughter last Saturday. Her birthday is actually today, but we went for a day out to Belton House which is a National Trust property. We didn't go in the house, we went to the adventure playground with a big group of kids of various ages. After we'd finished playing (yes, I went on the tunnel slide), I took my god-daughter to the boot of my car where I'd put the bed, covered with my car blanket. I couldn't find a box big enough to fit it so decided that would have to do. I didn't think she'd care about the wrapping, and I was right! She was delighted with her bed, but she thinks it's for the doll's house that her parents are giving to her today! I wonder if she'll get the bed to fit in the doll's house if she takes all the furniture out? Speaking of which, the furniture for the doll's house didn't come with any bed linen, so I'm going to have to sew some up. And she could probably do with a tablecloth. And cushions for the sofa. And a rug...
So, the title of the post. I had loads of great post last week. Firstly there was the 2kg of flavoured coffee for my machine, but I didn't take a photo, I just drank it! Not all of it of course. Not yet.
Two Sunkissed charm packs and a metre of the grey print fabric, along with a Java charm pack as it was part of a 3 for 2 deal, all from
Puddleducks.
I actually got this parcel twice. The first one hadn't turned up so two weeks after I ordered, I complained. A replacement arrived the next day. Then Royal Mail, in their wisdom, decided to let me have the original parcel. It's all bundled up ready to be posted back to them tomorrow. Great service at this web-shop by the way.
Q-Snap frames from
Quilt Direct.
Fab service, they arrived the next day. I've been using a traditional wooden frame for my Rennie Mackintosh cross stitch - one with a top and bottom rod which are sewn to the fabric, then slotted into the frame and turned to tighten. Well, it was driving me mad, it just wouldn't hold the tension. I have the same problem with embroidery hoops for smaller projects. Then I read on a blog about these babies and had to have them. I bought a 6" frame and an 11" frame which should probably meet most of my needs. I've used the 6" already and it's brilliant, I'd thoroughly recommend them to any stitcher. Not only does it hold the tension, it doesn't mark the fabric, it's lightweight and I don't bash my arm on the frame every 3 minutes.
This one was a surprise, and that is a really bad photo. I subscribed to
Cross Stitcher
magazine, I think I raved about it in a previous post. This was the free gift for subscribing, but I'd forgotten. I got an emboridery hoop, 2 reels of wool thread (anyone know what I use them for??) in purple and green (that one didn't make it into the photo as I'd kicked it under the table. By accident, I don't have anything against green wool thread despite having no idea what it's used for.), loads of stranded floss, metallic floss, silk floss, blending filaments and cord. Gorgeous! It is all made by Madeira, a brand I've never tried, but it looks beautiful and I'll enjoy road testing it.
Last, but most definitely not least, was another surprise. I mean another package I'd forgotten I was getting! I won a giveaway at
Pings and Needles!
The lovely Sarah sent me 16 fat quarters of this beautiful Christmas fabric, which I've completely forgotten the name of!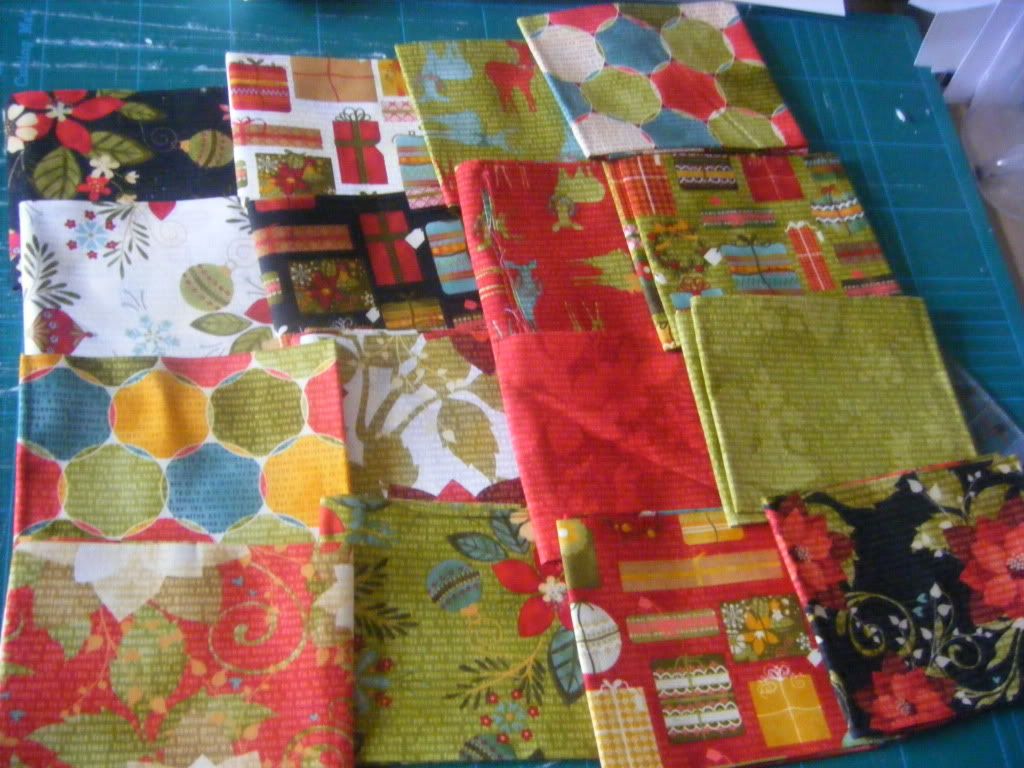 Isn't it funky? I'm seeing a Christmas tree skirt as we don't have one for our artificial tree, and possibly a special Christmas table cloth... Thanks Sarah, this was a lovely surprise!!
Oh, and there is one more thing I've ordered and am waiting for... well OK, 4 things. 4 books to be precise. Yes, I know, I'm not supposed to be buying craft books and I haven't done the Craft Book Challenge in two months!! BUT... I have got a CBC post for you coming up, so I have done one for September AND only 3 of the books are craft books, the other is a novel!
I've been saving things up to post about, so I'd have some posts for when I was in China - I don't want you all forgetting about me! I'm now not going until October, and for just 2 weeks instead of 3, but I think I'll keep to the blogging "schedule" I'd decided on. My posts might be all over the post with a bit of this and a bit of that for a few weeks, hope you don't mind!