It was time for a new LANT (Learn a New Technique), and this one had to be needlework. In compiling my Crafts List, I came across so many needlework techniques and they're all fascinating, I want to try them all. If I'm going to try them all, I'd better get on with it as there are hundreds. One that particularly caught my eye was Hardanger.
A quick perusal of my crafting books showed me that I have 2 that I've bought, both second hand, which contain information and patterns for hardanger. I then had a good look round the internet and found
this free pattern
- beautiful and perfect for a beginner. I had to get my hands on some hardanger fabric, and some perle cotton in sizes 5 and 8, but as soon as they arrived I was ready. So I put it in my WIP bag and left it there for about a month!
I thought I'd take some photos of each stages, not as a tutorial, but just to show how the work progresses. First up you stitch the Kloster blocks. For this pattern it is 5 satin stitches in a row, covering 4 blocks. I outlined the heart. It's all counted thread work so there was no need to trace or copy a design which I'm pretty crap at.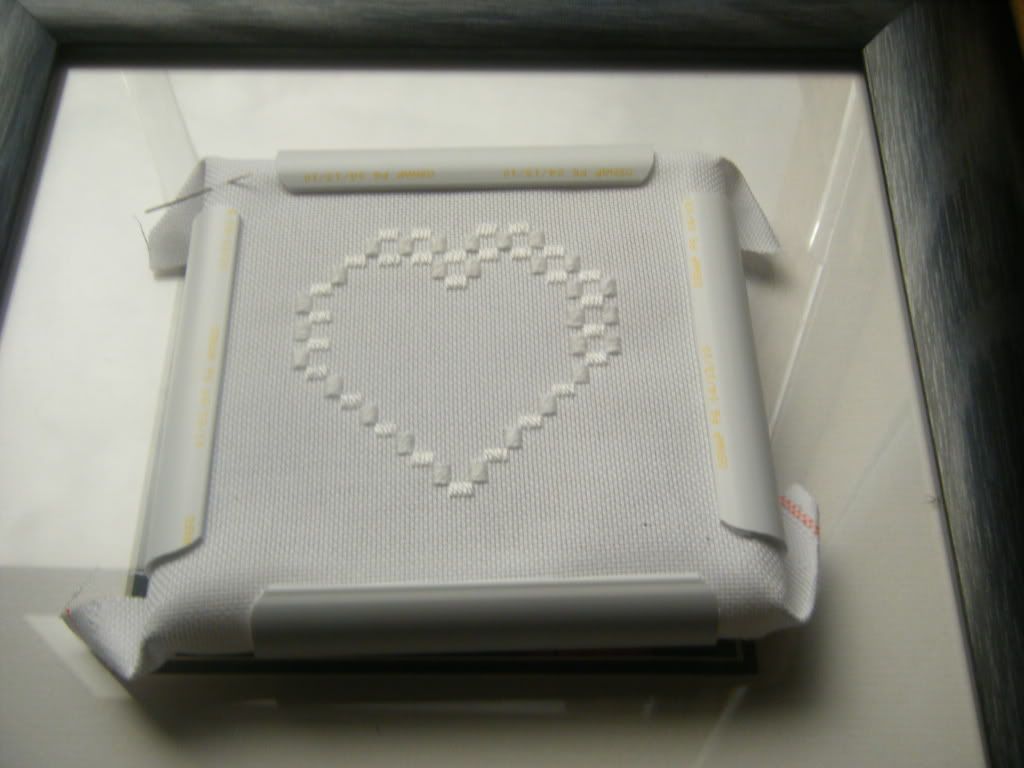 Here's a close up of those stitches. I did find photographing this quite tricky as it's white on white.
And here it is after I'd finished all the Kloster blocks of the design. The next stage was cutting and that made me nervous!
I followed the cutting diagram on the pattern and only cut through 1 stitch. I didn't notice til later, but I simply removed the stitches in that Kloster block and redid them, disaster averted!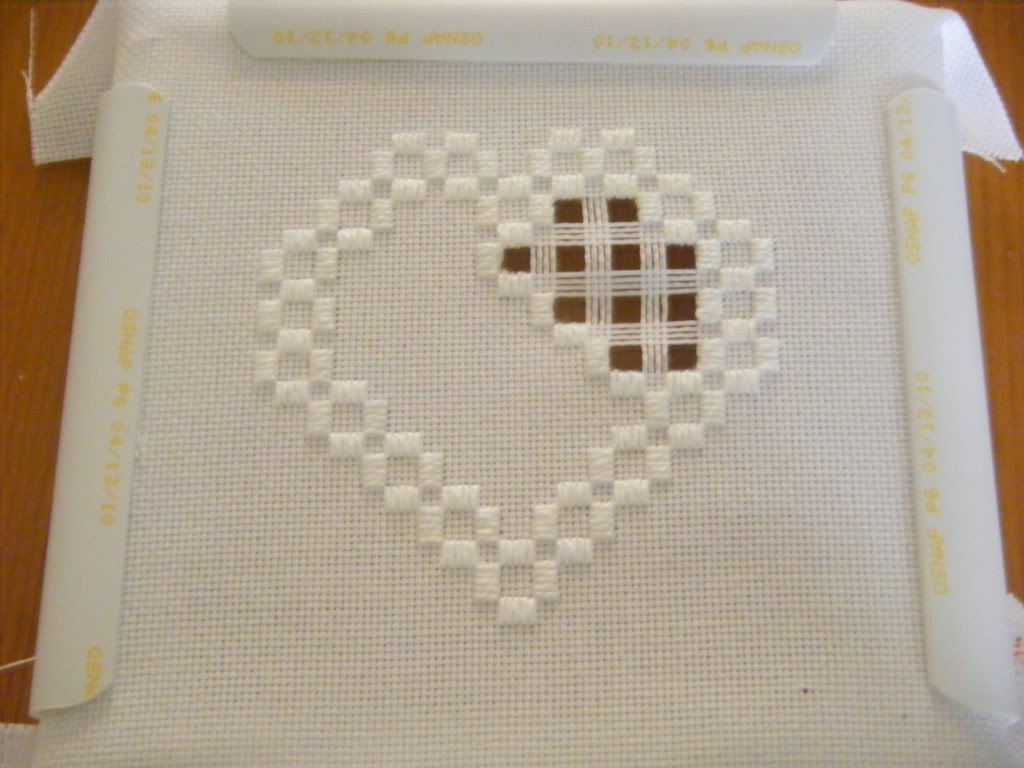 The next step was needleweaving the remaining bars. I was supposed to do a picot halfway along each bar, but when I followed the instructions, it didn't look any different to the normal needlewoven bars. After I'd completed this step, I thought to look in my book and found a step-by-step of picots on bars, so I'll try that next time!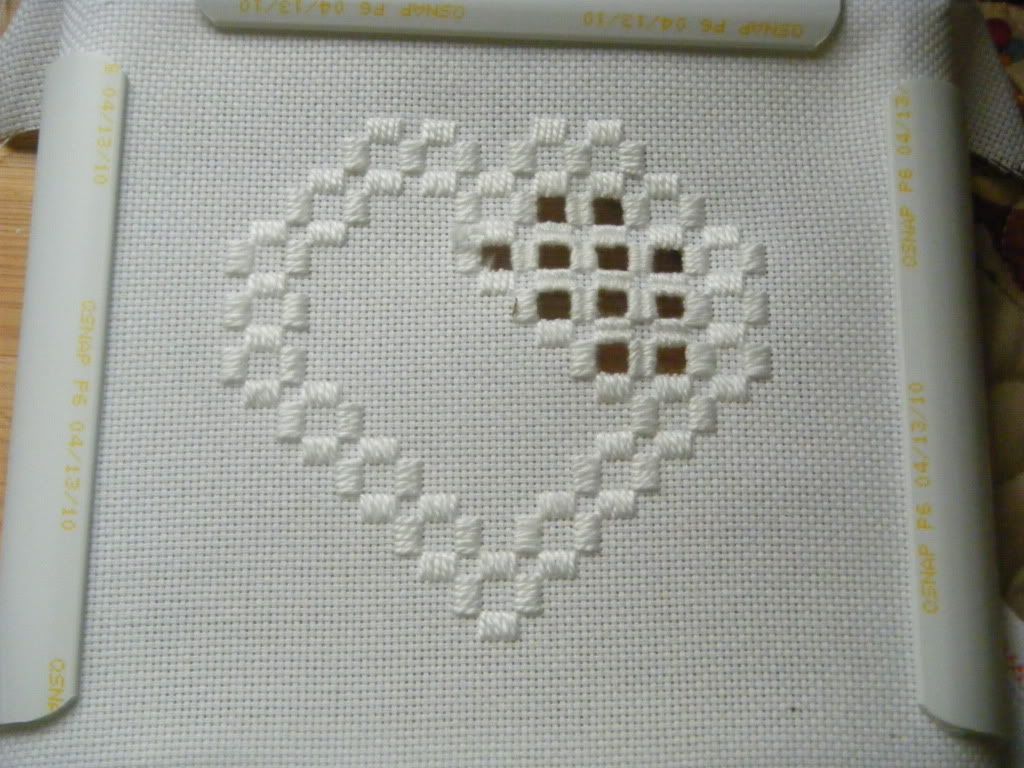 Then I had to embroider a flower. The pattern used beige silk and a taupey colour. I didn't want to use my stranded embroidery thread as I didn't know how it would look with the sleek perle cotton. I remembered the pack of Madeira threads I'd got as a free gift and had a look through them. I decided on a white silk for the flower and the same white silk with a strand of gold blending filament for the leaves and centre.
The flower is far from perfect, they're long legged french knots. The centre was supposed to be a variation of a cross stitch, but I discovered I hadn't left a circle in the centre, but a rectangle, so I just did my best!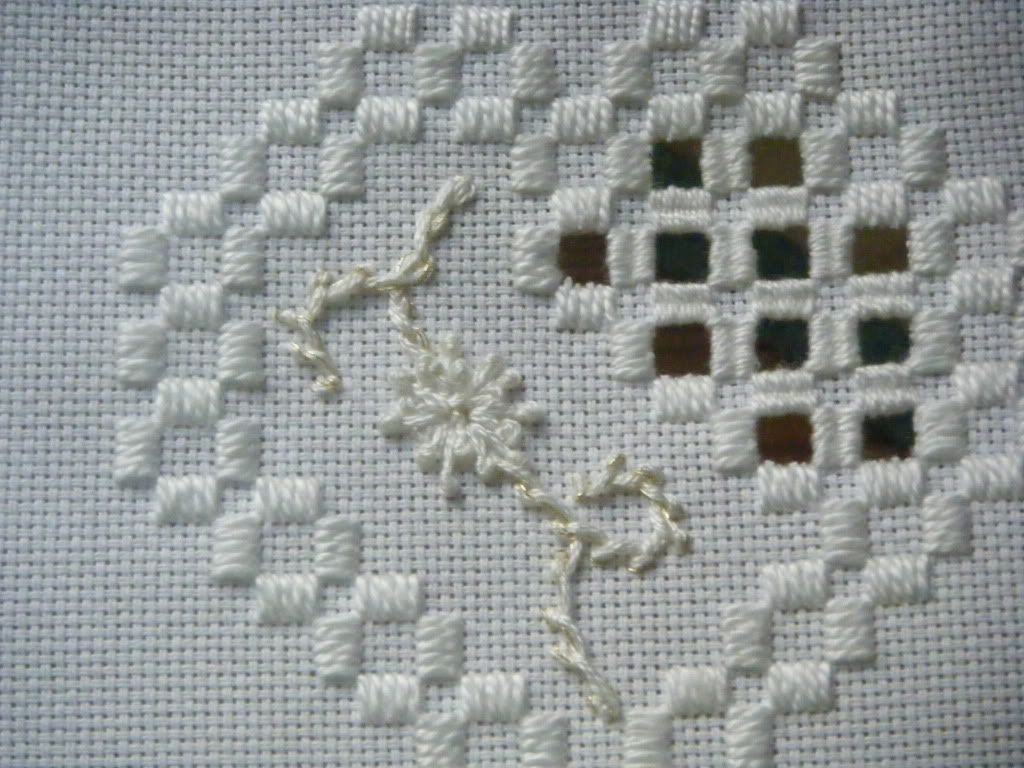 If you click on the pictures, they'll show up bigger if you want a closer look. The stem/leaf/thing either side of the flower is done in stem stitch and I quite like the effect.
Clearly I haven't finished this yet, it's going to be a lavendar sachet with a piece of cotton on the back and blue or pink satin peeking through the holes. I'll show it to you when I'm done. So ladies, any tips for a newly obsessed hardangerist?