Well if that wasn't an uninspired title for a blog post, I don't know what is. I've showed you the doll's quilt I made for my goddaughter, now I thought I'd show you the rest of the bed. Here's how it comes, a wooden bed (that Mr CA had to assemble) with a blue "matress" pad and a blue "pillow" (both flat!) and this blanket. Hmm. I can do better than that.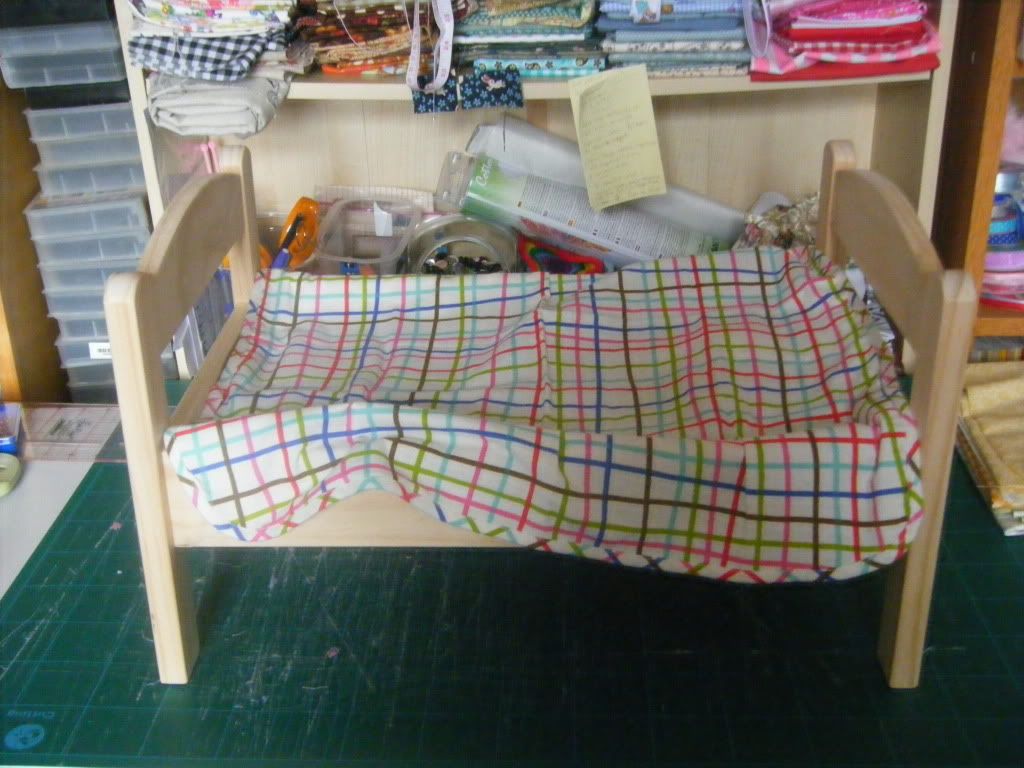 I think it looks fab and I'm really chuffed with it all. This is what the "matress" pad looked like, I'd already cut of the mile-long label:
Well how crap is that? So I set about making a matress. I cut 4 pieces of wadding to the same size as the blue pad.
It would then seem that I completely neglected to take any more photos of the process! I cut 2 rectangles of white fabric 1/2 inch bigger than the wadding and sewed them up, stuffed them and topstitched that one edge - after all, matresses aren't made to be seen. I made a sheet using the same fabric as the backing on the quilt, I just turned the edges under twice and stitched. The pillow was a rectangle folded in half and stitched and then stuffed with fibre fill. The pillowcase is a plain pink pillowcase based on my own pillow cases.
Here are my teds on the sheet and pillow. The one nearest the camera was a present from my friend years ago, he's got a very fat belly. The other bear was a present from a student when I left Warsaw. I should have taken a picture of some of my rather large collection of stuffed rabbits in bed, but they were on the next floor down and I am very lazy.
And then here they are all tucked up. What do you think?
I think she's going to love it. The only problem I have now is... how the hell do you wrap up a bed??