First of all, I want to thank you lovely ladies for helping me out with my quilting dilemma. I was chuffed that so many of you offered your help, and made some great suggestions. I didn't want to try to quilt either side of the seams as they were out by about an inch in places, so I went for random quilted lines. Well, kind of random, but anyway, I'm getting ahead of myself! Let's start at the beginning.
My little goddaughter will be 3 in a couple of weeks. She loves to tuck her teddies up in bed, anyone's bed, and if a bed isn't available, she'll use whatever is to hand, a blanket, a jumper, a tissue... I'd seen the Ikea doll bed on someone's blog (sorry, can't remember who) and so off I went to Ikea to buy one. I think it was £12.99, bargain. It came with a rubbish "matress", "pillow" and blanket, but I knew I'd replace them all. Here she is.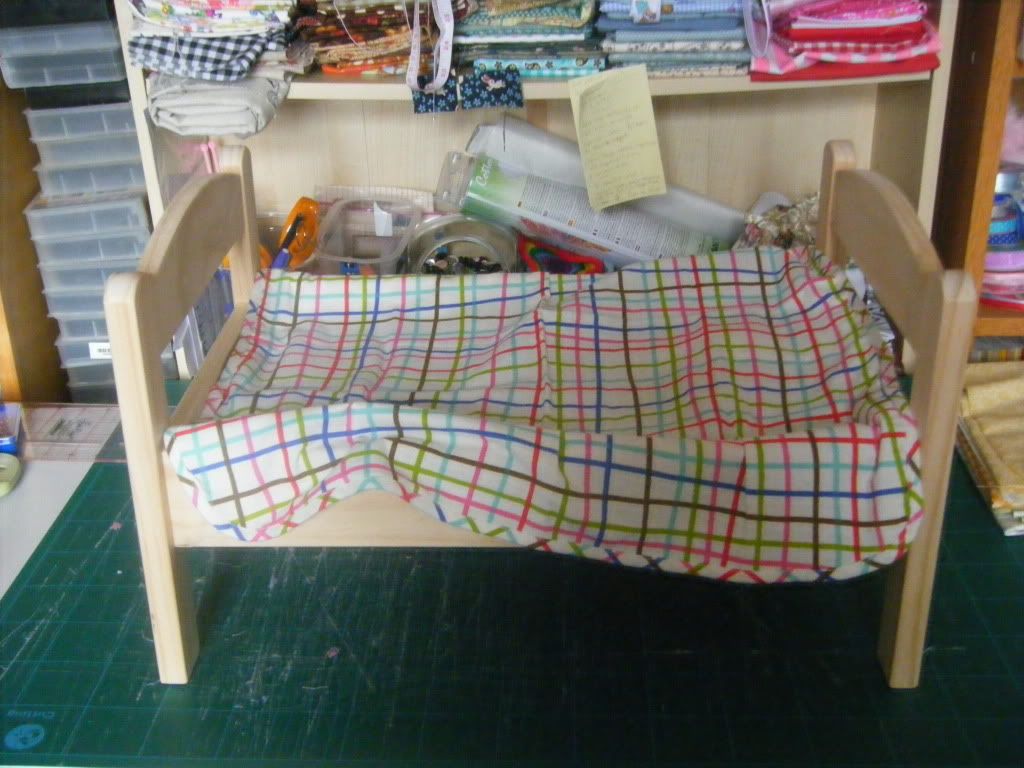 I did consider painting her white, but decided against it. Why am I calling it "her"? It's a bloody bed and they aren't male or female. Well they are in French, Spanish, Polish and probably some other languages but I'm speaking English here.
I took all my pink scraps out and cut out 81 squares measuring 2 and a half inches. I was quite lacsidasical about the process. I don't think that's how you spell that word. It's nearly 3pm, I've been awake for 4 hours, battled with the sewing machine and only had 3 cups of coffee. I'm clearly not in a normal state just yet. I'll drink more coffee - and on that subject...
My mum gave me her old coffee machine and I love it. I love flavoured coffee and I found a website that does flavoured grounds, I bought a load, mainly decaff as I have to restrict my caffeine intake due to my migraines, and the stuff is manna. If you want some, the website is
here
. Free delivery in the UK. I just ordered another 2
kilos!
So, squares of pink fabric. I chain pieced randomly, then ironed the seams, sewed the rows together, sandwiched and quilted. I had an exciting moment when I was quilting the first set of lines and I sewed right through one of the safety pins I'd used to baste it! (Yes Nancy, I know, I should sew a basting line first but I don't want to!!).
What do you do when you sew through a safety pin? Take a picture of course! And incidentally, I LOVE that fabric to the right of the walking foot. I don't know what it is and I only had a tiny bit so it was probably one of the mixed charm packs I bought. Unsurprisingly it broke the needle but also...
It made a hole right the way through the head of the safety pin, can you see it? I was surprised, I bet it would go through bone.
To quilt the other way, I decided to quilt through the middle of the centre column, then I did another line a presser foot away to echo the lines on the row seams. I then randomly picked a position for the next two lines, put my seam guide on and carried on so all the quilting lines are a measured distance from each other which looks good on the back, and random on the front.
I didn't take a picture at this point as the light bulb had popped in my craft room and I was pretty much sewing in the dark! I can't reach the ceiling (that's what you get for living in a Victorian house with 13 foot ceilings) so I just left it...
I pieced a scrappy border from my Kona jelly roll, picking 4 pinks and alternating them. I like the way it turned out. As I started to sew it on, I had a problem.
This is the piece of scrap fabric I was trying to sort it out on. I took the machine apart, cleaned it out, put in a new bobbin, a new thread spool, a new needle, fiddled with the tension. Nothing. I forced it to carry on sewing and it came right. No idea how or why.
I was worried about the binding but I didn't want to hand sew it, I remember I'd seen on a blog, might have been Stitched in Colour, that she machine sews binding with a zig zag stitch. What a revealation! It worked perfectly.
It looks neat on the front.
I missed one part of the binding on the back, but I really don't think it matters. So, do you want to see it?
Here's the front. And the back:
I'm very, very chuffed with it. I enjoyed the process, but I know I have a LOT to learn about quilting. I'm missing some of the basics, for example when piecing, do you back tack at the start and end of each line? But I've also picked up plenty of tips to try out, such as using starch to help my piecing (thanks SewHappyGeek). I will not surrender!
I haven't done much sewing so far on my two weeks off, so I thought today would be a day in the sewing room. Alas, it was not meant to be. I started making a matress for the bed and the machine started doing that crazy bird's nest thing again. I really don't know what's wrong with it or what to do. I'm considering taking it to the shop tomorrow to get it looked at, though I'm a bit wary as last time I did that it worked perfectly. Once I can handle, but if it does that again, I'm going to look a right pillock!