Unfortunately though, I'll have to say goodbye to these friends. One has left me already... What the hell are you talking about Wendy? Oh yes, you don't know which friends I mean, do you? It's not you lot! Here's a little clue.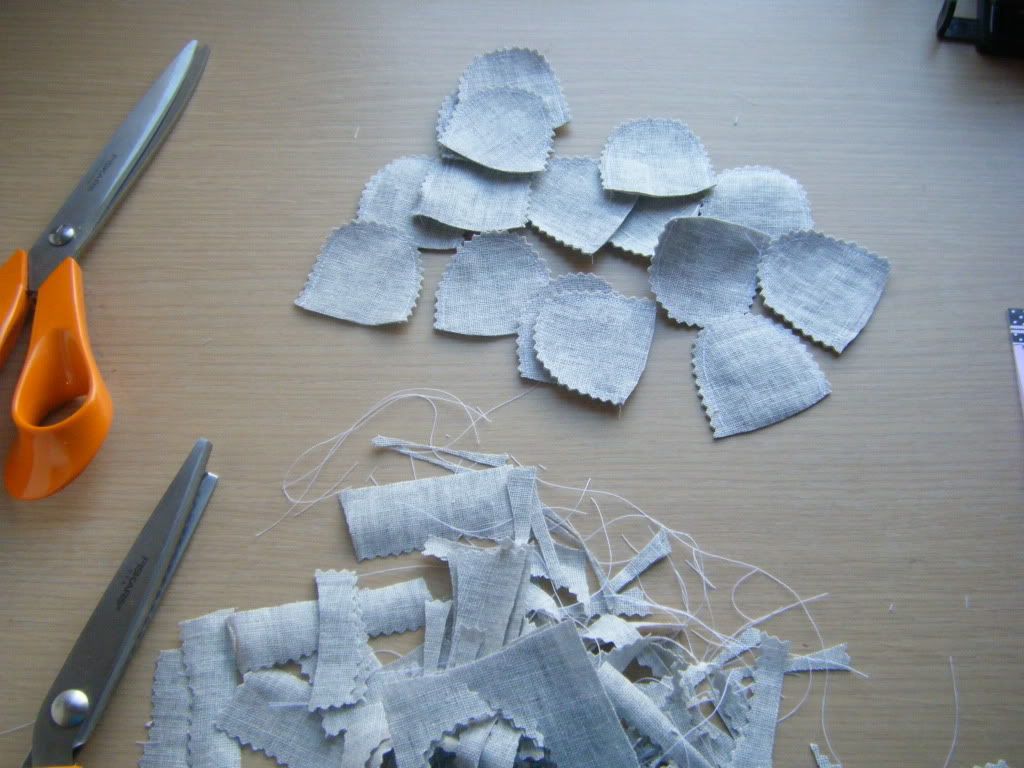 Helpful? No? That is 16 little paws and lots of scraps. 16 little paws for 4 little linen bunnies. I made one of these bunnies before, for myself, you can see Humphrey here if you want, there's also a link to the (not free) pattern.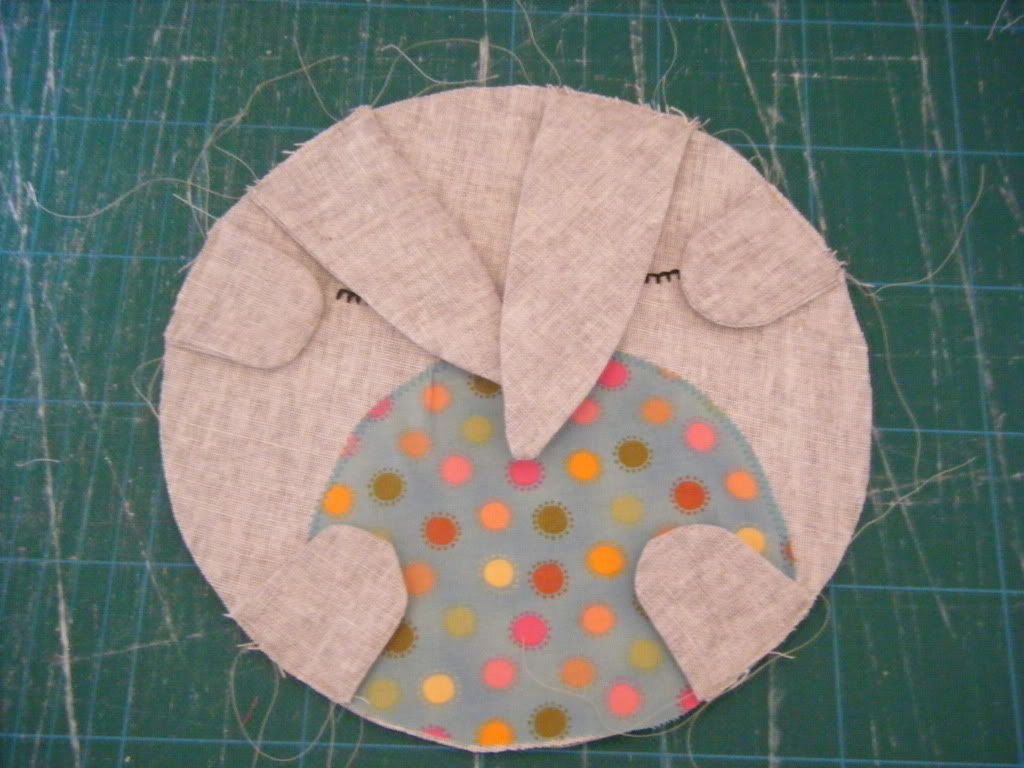 Here's a picture of Simon waiting to be born. They look so cute like this. Yes, I've named him Simon, but I know he'll get a new name at his new home.
This is a picture of Pedro and Mabel visiting Tiff. Tiff had no interest in Pedro and Mable, she was far more interested in the breakfast I'd just dished up! Harry was hiding downstairs.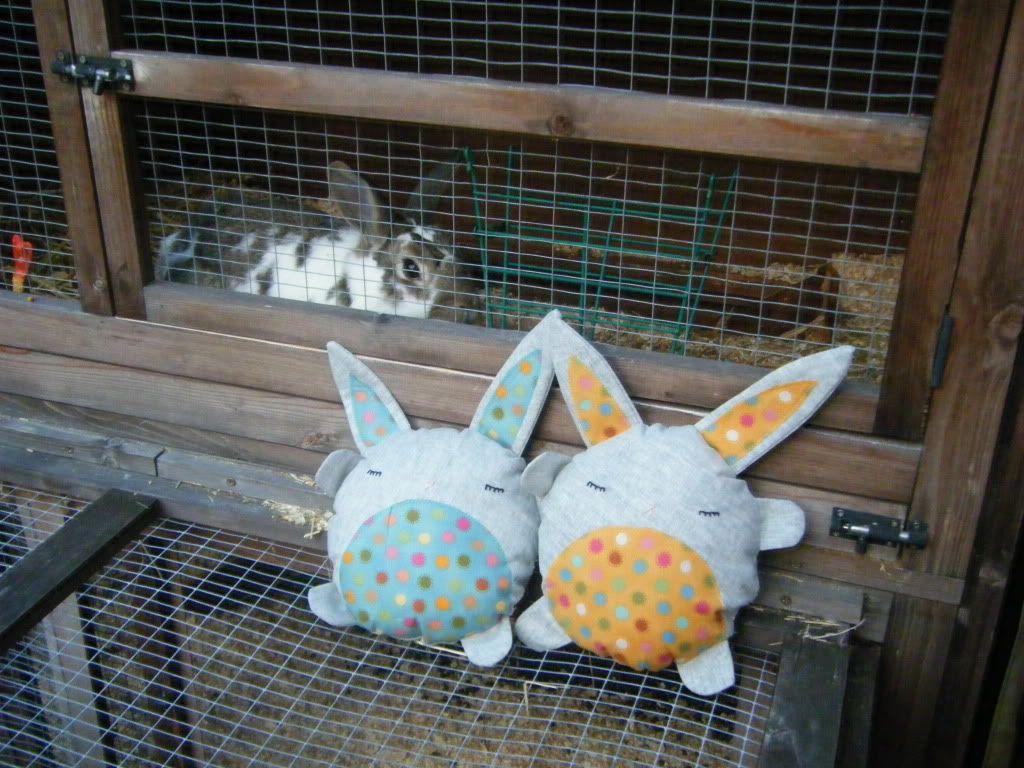 And here's Simon and Gunther visiting Colin. Colin looks a little alarmed! Ellis was far too busy trying to turn her blue thing over. She has two blue things now so it takes her longer to flip them.
I lined them up on the bench, but Simon didn't want his photo taken so turned his back. They've all got little flannel fluffy tales and floppy ears. I stuffed them all different amounts (by accident) so they're all different.
After I'd taken that last photo, Simon decided he DID want his photo taken. His belly and ears are made from part of a Moda layer cake, no idea which line. The rest of him is grey linen. Lovely to sew with but very very frayey. Simon will be a Christmas present for my friend's son.
Pedro loved having his photo taken and even raised his ears up. Well I think he loved it, my Spanish is a bit rusty... His belly is from a Michael Miller print that I picked up a while ago and couldn't cut into as I loved it! Pedro is a Christmas present for my not-born yet nephew, so I had to use something special.
Mabel and Gunther are both made from part of a Moda nameless layer cake. Mabel fell asleep when I was taking this photo. She will be a present for my friends' new baby when he or she is born next month.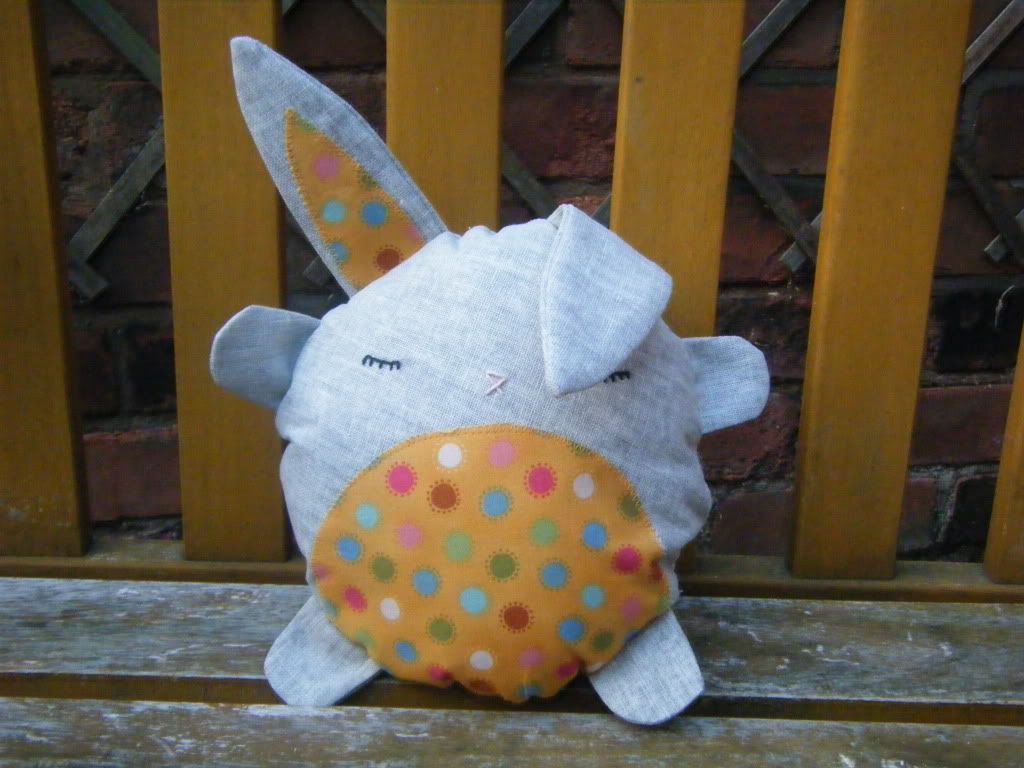 And finally we have Gunther. He's already on his way to his new home. I made him for my brother's friend's new baby, Sam. He's 2 weeks old and I've only just sent his present! I paired Gunther with the panda hat I crocheted.
I learnt something new, and very useful, about my sewing machine whilst making these four. The pattern said to triple stitch the paws, ears and body. I assumed I didn't have a triple stitch and so sewed back and forth over the ears and paws 3 times. Before I sewed the bodies together, I did wonder about this triple stitch and checked my manual - yes, I do have one! I think it will be a good choice for sewing in future. Do you all use a triple stitch for soft toys and pouches and bags and stuff?