It's ten o'clock at night, but I was just watching House when I realised I hadn't posted today as intended. I've been really rubbish about posting this week, and terrible at reading blogs, commenting on them and answering emails. Please don't think I'm ignoring you all, work's been incredibly busy and I've been absolutely exhausted - to be expected as I go cold turkey with the yeast. Incidentally, yeast free bread is very doughy, stringy and sits in your belly like a rock - just in case you wondered!
I whipped up a few more tissue cosies from the DS fabric. I'd accidentally cut too many of the body outers and inners and these take minutes to make so I thought, why not.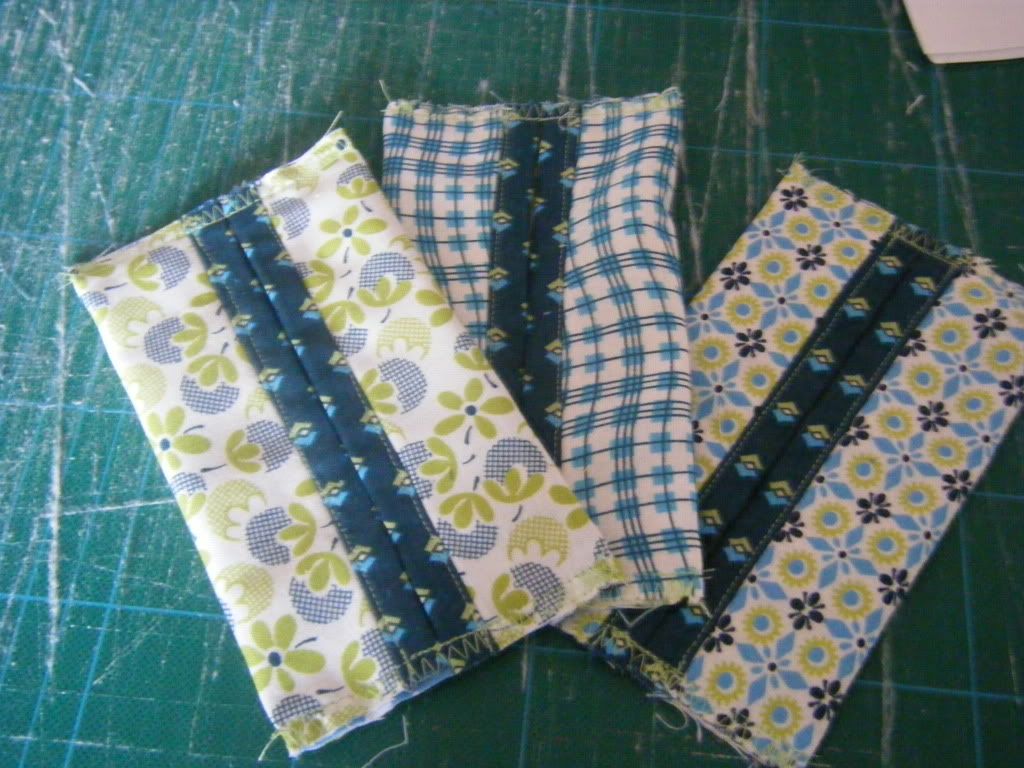 That is a shot of them inside out so you could see the linings as I remember how difficult it was to get a shot showing the insides last time. I definitely misunderstood the instructions last time as I did my binding by sewing the raw edge to the raw edge of the fabric, then folding it up and under. This time I did what the instructions said and folded the binding in half, stitched the double raw edge to the raw edge of the tissue holder, then folded it over and top stitched. Hang on... is that how you bind a quilt too?? I think I've got it all wrong!
I'm babysitting tomorrow night for my cousin's two little boys - aged 2 and 4. They're adorable but tiring, not sure how much embroidery I'll get done, but there's a few things I need to get done whilst they're sleeping - fingers crossed. My day will start with a trip to the Health Food shop to try and find yeast free gravy (the only yeast free gravy is vegetable and the only yeast free stock cubes are veg or chicken - do they think that if we're yeast free we don't eat red meat? It's one of the only things left that I'm allowed to eat!). Then I have some sewing planned before heading to my cousin's.
I could also do with some computer time as the posts are piling up in my reader and my inbox hit 100 today... ooops! Stay tuned as I've got a failure to show you this coming week - yay!
That's not going to happen right now though as I have to make the most of Mr CA's early night and go and watch Big Love. What did you think I was going to say? Don't be daft, we're married!