I'm entering this project into the Celebrate Color competition over on Rachael's blog - Stitched in Color
Recently I promised you a failure, so a failure is what you're getting today! It's not actually the same failure I promised you so you've got another one to look forward to.
A friend had a birthday yesterday, so at the weekend I got started on her present. I wanted to make her a couple of pouches with some patchwork and some embroidery. On Saturday I got the patchwork bits done and took the embroidery to my cousin's to work on whilst we babysat (when the kids were in bed obviously, embroidery and boisterous small children don't mix). She came home earlier than expected so I didn't get them finished until Sunday afternoon, watching the Eastender's omnibus from the week before, I'm very behind with Eastenders.
This little gnome is from Amy Ray's Doodle Stitching, the Motif Collection. He took me ages as I just couldn't get him right. He's still not quite right but it's too late now.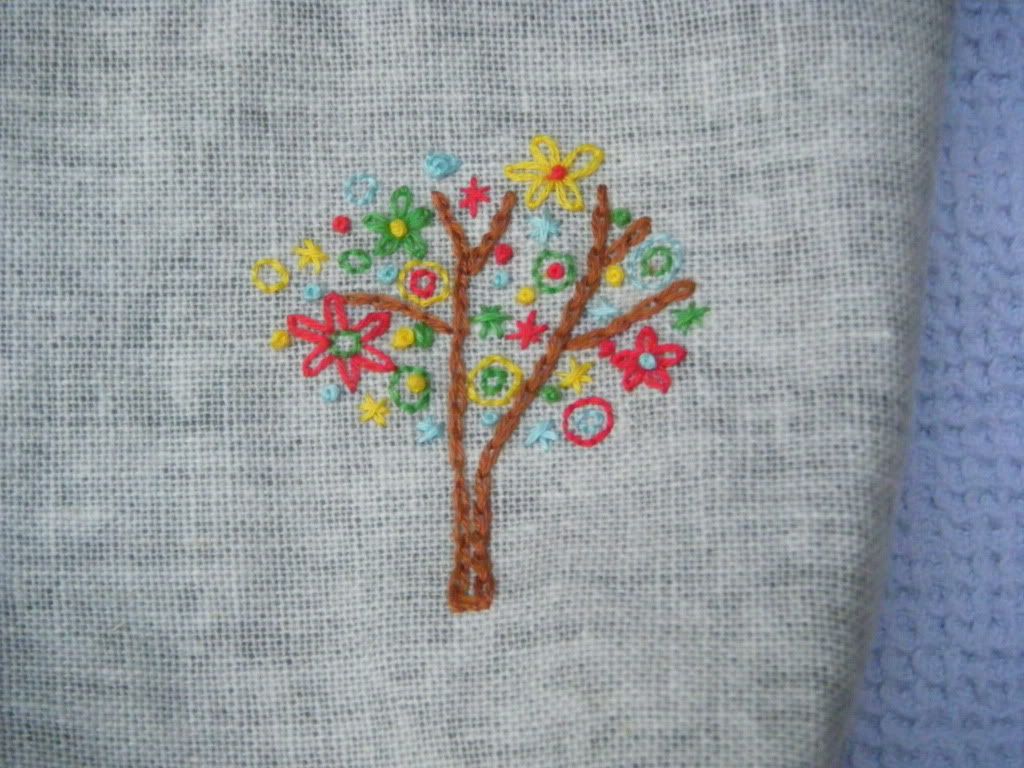 I'm much happier with this tree from the same book. I only traced the trunk, the flowers, stars and circles I added in free style. All the colours were chosen to coordinate with the patchwork.
After I'd finished the embroidery, I wanted to get them sewn up as I don't get much of a chance to sew on the machine after work as I get home quite late, but my Aunty came round so it didn't happen. Monday is shopping night so Tuesday after work I headed up to the sewing room. Bad idea.
I was tired and I've had a stomach ache since I came off the yeast. But I knew it had to be done. The tree was first. I'd already done the patchwork strip for the top.
I couldn't take process photos as it was very dark. The fabrics are from a charm pack of Hideaway. I didn't have any larger pieces of fabric that matches, so I decided to do a patchwork lining. I added a green zip and the whole thing was sewn up really quickly.
It looks a little odd in the photo as it has a boxed bottom, but I had to take it outside to photograph it, the bench was wet from all the rain, so I put down a tea towel and couldn't get the pouch to stand up. I assure you it is a normal shape!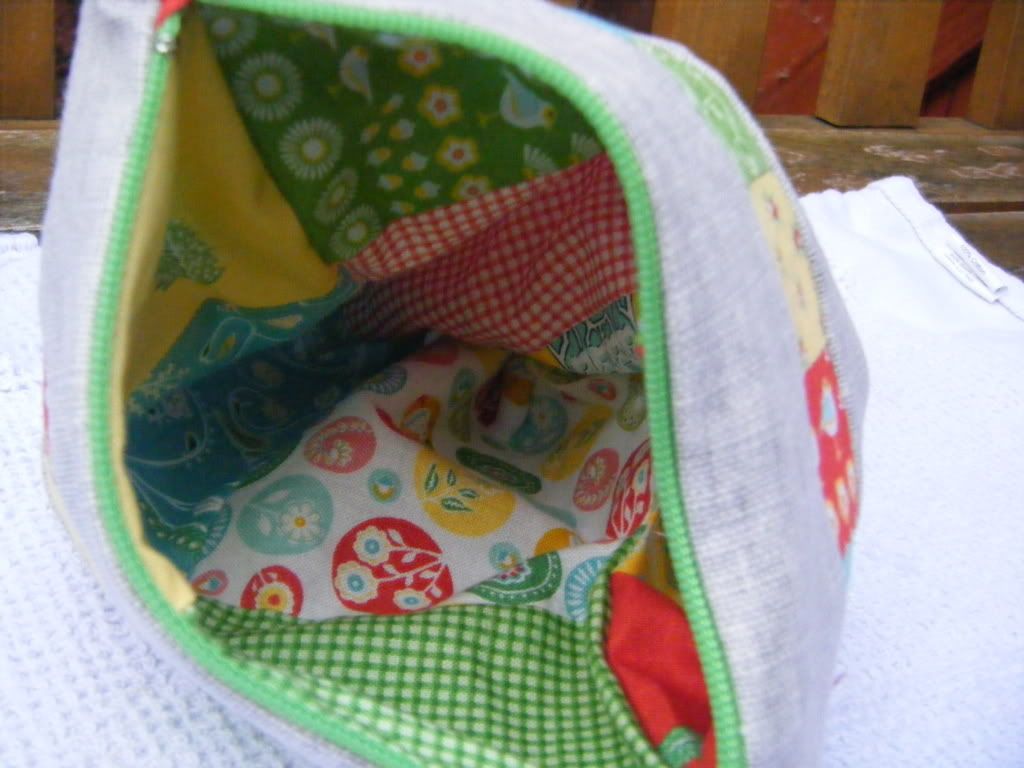 I'm really pleased with the lining, I think a patchwork lining works really well. They were just simple large squares, about 9 in total I think. Then it was on to gnomey and this is where it all went wrong.
OH NO!!! I've deleted the bloody photo!! I've been relishing that photo, waiting to blog it for you and now I've deleted it, not only from the computer, but from the camera too... hold on, let me check the recycle bin... Phew, it was in there!
See what I've done? Oh yes, I've sewn the whole thing up with the zip on inside out! I nearly cried. I took it downstairs (ready for its photo shoot the next morning - oh come on, as if I'd miss an opportunity to show you a monumental mess up like that!) and sat watching TV and crocheting my giant granny for the rest of the evening. I mean, you can't mess up a giant granny can you! Oh dear, what's that... yep, did the entire round on the wrong side. It's staying like that!
So, Wednesday night, back to the sewing room, quite a lot of unpicking, repairing of patchwork edges that had come undone, sewing with a slightly larger seam allowance...
And here they are together. Sitting there looking all innocent like they'd done nothing wrong, though in fairness Mr Treey pouch hasn't done anything wrong, it's all that damn gnome's fault.
And the backs look like this:
In other news, I came out of work today after having the shittiest week ever and found a pterydactyl had pooed on my car. Oh yes, definitely a pterydactyl, no normal bird could excrete that amount of poo. Here's to a better week to come.