I recently asked if any of you wanted a review on any of the craft books I got for my birthday, or on any of my other craft books and two books were put forward. One was One-Yard Wonders and I will review that soon - on first glance, there are loads of projects I want to make. But today, I wanted to tell you a bit about Kirstie's Craft.
First of all, you have to ignore the scary cover - not her best photo. It's divided up into the following sections:
Needlecrafts

(bunting, appliqué cushion, embroidered handkerchief, free-motion embroidered table runner, knitted coasters, stack and whack quilt and a cross stitch cushion)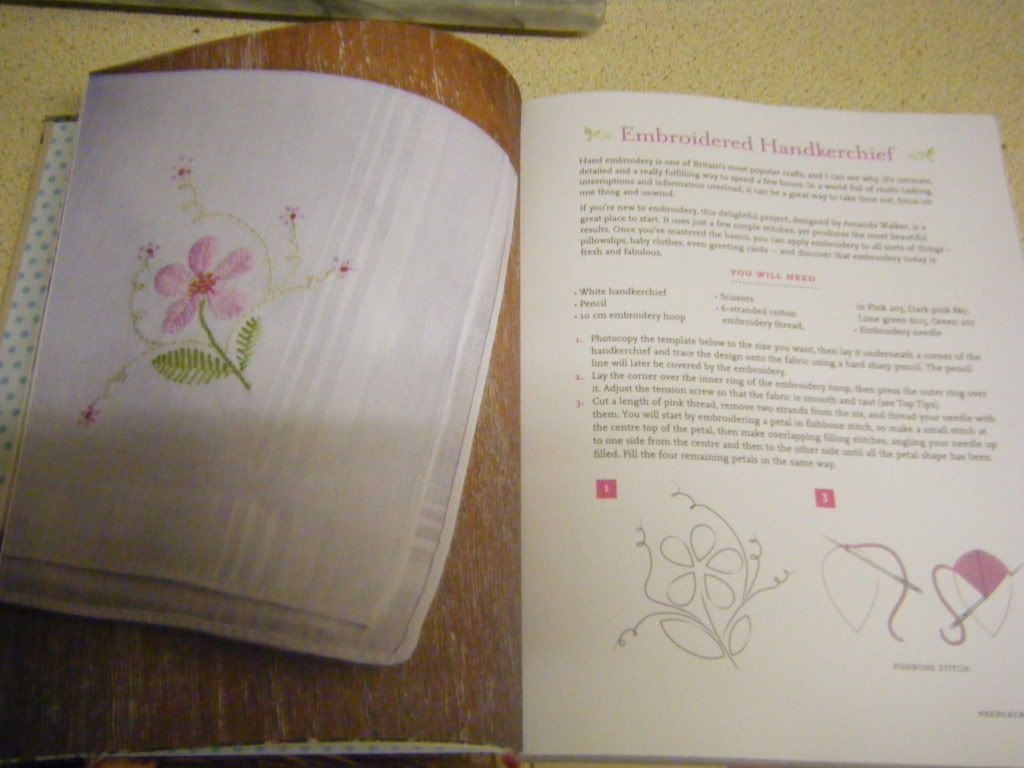 The embroidered hankie is quite sweet, but there are no instructions as to how to make the back neat.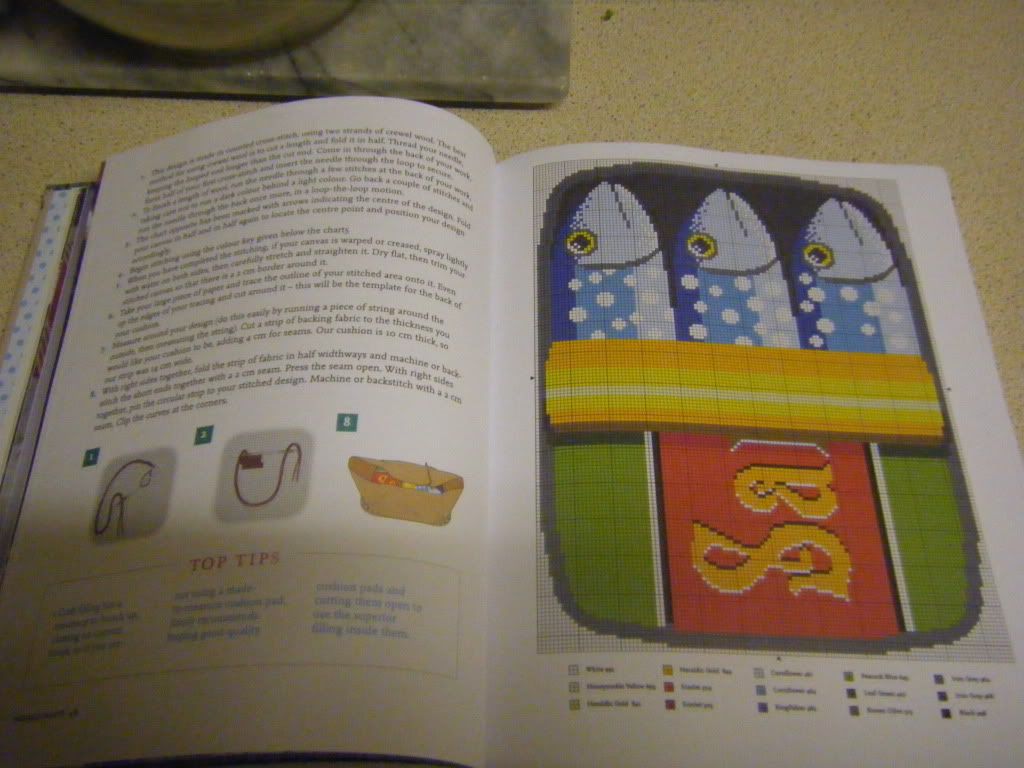 The cross stitch pattern is by Emily Peacock, but don't get excited, it's a tin of sardines?!?
Textile Crafts

(devoré silk scarf, needlefelted robin, sewn felt heart, how to die with natural dies)
This is a more interesting chapter, I don't know much about dying and I hadn't come across devoré before, but the felt heart is a let-down.
Paper Crafts

(paper sculpture bird, paper bead necklace, paper dolly chain, snowman pinata, papercut bauble, stamped and embossed greeting card, handmade paper, family scrap book.
Some of these are crafts for kids which I don't appreciate in a craft book - we don't all have kids and if we do we can buy them their own books! Only the first two projects, the bauble and the handmade paper were of any interest to me. Oh, and I quite like this little bird, but beware, Kirstie did NOT make this. She doesn't actually state that she does, but nor does she say she didn't. I don't know how many of the crafts in the book are made by other people.
I mean, come on, paper dolls!?!
Food Crafts

(fruit cake, ice-cream balls, party jelly, marzipan penguins, banana cake, sugar flowers, scones, damson jam, garden pickles)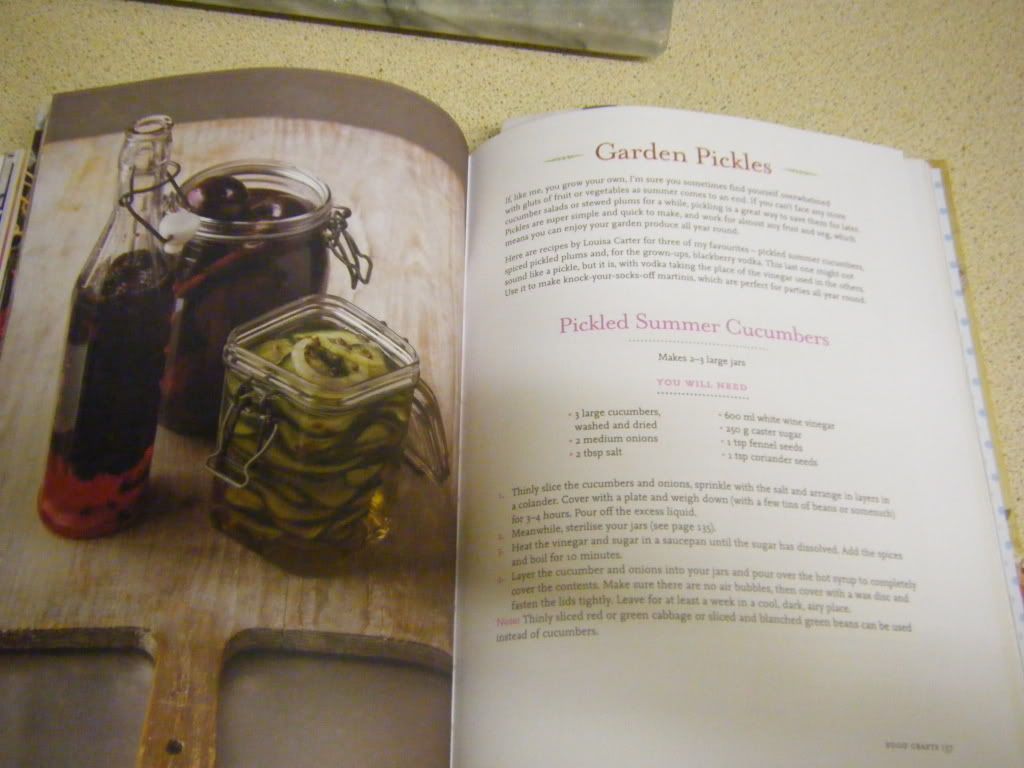 This chapter is of no interest to me in my limited diet! I felt the cakes and scones were shoehorned in there and didn't really have a place. Only the jam was interesting I feel.
Garden Crafts

(carved window box, elderflower cordial, mosaic chair, birdseed cakes (different to mine), scarecrow, willow nesting box
Some interesting projects in this one, with the exception of the scarecrow, I have no idea what that is all about.
Flower Crafts

(yeah, it's flower arranging, I can't even be bothered to read it for you).
Gift Crafts

(ribbon rose, making perfume, bath creamers, bath bombs, silver clay button pendant, silver leaf pendant, decorated candles)
This was an interesting enough chapter, some new ideas to peruse.
So, there we go. If you want a craft book on a particular form of crafting, don't get this one, but if you're interested in dabbling in a wide range of crafts, it could be a good start. At least it has some more unusual crafts in it such as the wood carving, devoré and willow weaving, these aren't crafts you often find in craft books. I felt the needlecrafts section was very poor with nothing exciting in it at all, but is that because I've tried all these crafts?
Have you got this book? What do you think?
p.s. I seem to have accidentally posted twice today - I did actually make something too but you may have to flick back a post to see it!